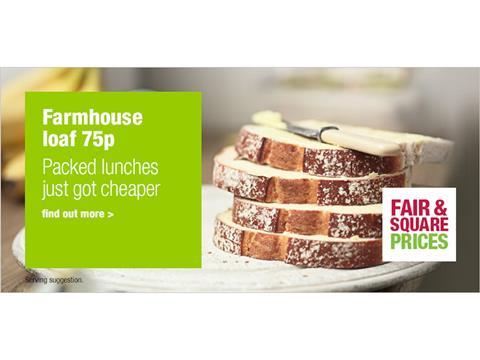 The Co-operative Group is slashing the price of hundreds of products in its food stores.
The society said the £100m price commitment, dubbed 'Fair & Square', would initially concentrate on essential lines such as bread, milk, eggs, chicken, bacon and bananas. Further lines would then follow.
Head of retail Steve Murrells promised earlier this year that lowering prices would be a "key priority" for The Co-op in 2014. Since January it has run a £5 off a £20 spend voucher promotion as well as a three-day flash sale on milk, eggs and bread.
The Co-op also revealed in its full-year results last week that it had reduced nearly 1,000 prices on products "that were most out of line with our competitors" in 2013, and that a 10% off voucher in December had generated redemption rates of 72%.
On the new reductions, Murrells said: "The Co-operative Food is changing. We have a clear ambition to be the UK's best community retailer, delivering delicious food conveniently, and we understand what we need to do to get there."
He added: "Our plans are challenging yet achievable. By introducing permanent price reductions on hundreds of key product lines, we are further responding to the needs of local people in providing them with a compelling and truly convenient shopping experience."
The price reductions are being advertised via a new TV ad campaign, which kicked off last night in the ad break of Coronation Street. The ads focus on why the products are important for shoppers with the line: 'It's important and that's why we charge so little for it'.
As part of the price commitment, The Co-op has also added four family-sized 800g loaves to its bread range. Priced at 75p, the Loved By Us lines include wholemeal, toastie and farmhouse.