They say every cloud has a silver lining. And if Brexit is the cloud, the silver lining could be the opportunity it presents for beleaguered butter and spreads brands.

If butter commodity prices rise as a result of post-Brexit changes, it could reverse the 12.7% slump in the average retail price of own-label block butter [Kantar Worldpanel 52 w/e 28 February 2016] and narrow the gulf between brands and own label, making brands more appealing again.

And if rising prices see shoppers switching from pricier butter to spreads, it's the brands that are best placed to cash in.

"There's a widely held belief that we will move from deflation to inflation in the sector as Brexit unfolds, and I think butter will be affected first," says Lee Willett, head of marketing at Dairy Crest. "If butter prices do go up, people may decide to come back into spreads."

For now, however, things are looking bleak. Total category sales have fallen 5% to £1.1bn, on volumes down 1.6%, meaning another £62m has been wiped off the value of the market over the past 12 months [Kantar Worldpanel 52 w/e 22 May 2016].

So what has been driving deflation? How are brands coping in the current climate? And which suppliers are best positioned to take advantage of the changes Brexit could bring?
"There's a widely held belief that BSM will move from deflation to inflation as Brexit unfolds"

- Lee Willett, Dairy Crest
Spreads have taken another battering, with value sales down 13.4%, on volumes down 11.3% as shoppers continue to switch to more natural butter products. Although spreadable (+5.6%) and block (+6%) butter volumes have risen, price cuts mean the losses in spreads are not being recouped. Block butter sales values fell 5% as average prices across branded and own-label block butters plummeted 11.7% [Kantar].

The mults have been cutting prices in a desperate attempt to regain market share from the discounters. The big four supermarkets have all suffered further losses in butters and spreads sales over the past 12 months, while Aldi has enjoyed value sales growth of 5.9%, on volumes up 11%, and Lidl has increased value sales by 0.2%, on volumes up 7.9%.

Waitrose was the only non-discounter to manage volume and value growth, boosting value sales by 2.8% on volumes up 4.6%. "Waitrose is in an enviable position because they worry about the discounters less," says Mike Harper, director of marketing at Ornua. "They've been able to retain more value in their category."

Meanwhile, ongoing range rationalisation in the mults has seen further delistings of big brands, such as Unilever's Utterly Butterly, which was kicked out of Tesco, Asda and Sainsbury's.

With less space on shelf, and average prices now 17% higher than own-label rivals, branded butters and spreads volumes have fallen 3.4%, while own-label volumes are up 4.7%.
TAKE-HOME SALES: BUTTERS & SPREADS
52 w/e 22 May 2016
Value
Volume
£(m)
y-o-y%
kg(m)
y-o-y%
Spreadable
424.307
0.7
94.074
5.6
Block
298.153
-5
73.41
6
Dairy Spreads
225.118
-13.4
108.885
-11.3
Functional
71.514
-0.6
11.162
3.1
Olive Spreads
65.205
-9.8
29.17
-4.2
Low Fat
58.137
-3
26.988
5.9
Sunflower
34.314
-14.6
16.219
-9.7
Other Dietary Needs
8.661
0.7
3.127
-6.9
Flavoured
3.946
2.9
0.414
6.8
Total Category
1189.4
-5
363.4
-1.6
Source: Kantar Worldpanel
Keeping it premium
In a bid to compete with own label, some BSM brands have been ramping up their value offer. Flora, for example, launched a '40% extra free' format of its ProActiv Light spread in April, offering shoppers a 350g tub for the same price as a 250g tub.

But Harper thinks that's the wrong approach. "The retailers want to use brands to combat the discounters," he says. "The price for own label should combat the discounters, but brands shouldn't be following a similar trajectory."

Ornua has taken a different approach with Kerrygold, and Harper claims volume sales of the Irish butter brand are up 5% while value sales are down just 0.1%. "We've tended to do shallower promotions and retained value in the category," he adds. "Block butter is phenomenally loyal and has a core set of users willing to pay more for a premium product. We don't want to be just considered a commodity."

Dairy Crest also reports volume growth for its Country Life butter brand, with volume sales up 7.8% and penetration up 18.4%. And the brand's block butter is its star performer, it claims, with value up 6.5% and volume up 24.5% .

At the same time, the company says Clover has gained a 1.3 percentage point share of spreads since it was reformulated with no artificial ingredients in September 2015, attracting 125,000 new households to the brand and resulting in sales of £72m.

Willet attributes this success to the company's recent £38m investment in a state-of-the-art plant in Kirkby, Liverpool, to consolidate its butter and spreads packing and "take that big step forward".

"The reformulation of the Clover recipe was very much thanks to the investment in state-of-the-art research and development capabilities at Kirkby, and as a result of this investment Dairy Crest has seen Country Life become the fastest growing butter brand in the last 12 months," he says.

With strong butter and spreads brands, Dairy Crest is well positioned to take advantage of any changes post-Brexit, he claims. "We have a foot in both camps. We're well positioned for whatever the market throws at us."

Kerrygold's recent investment in capacity means it is also well-placed to take advantage of post-Brexit opportunities.
Wyke Farms Farmhouse Butter
Launched: June 2016
Manufacturer: Wyke Farms
Wyke Farms has overhauled the pack designs for its premium Salted and Unsalted Farmhouse Butter blocks in a bid to revive supermarket listings for the range. The "luxurious" new packs feature illustrations depicting the brand's heritage (rsp: £1.20 for 250g)
Avocado spreads
Launched: June 2016
Manufacturer: Own-label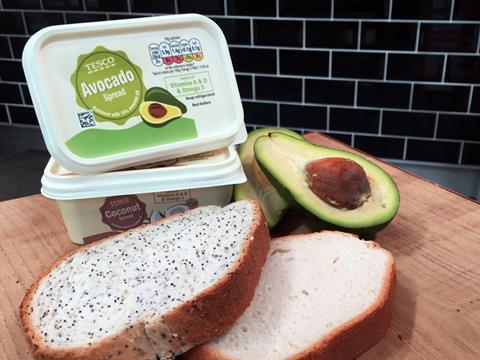 Asda and Waitrose have followed in the footsteps of Tesco with new avocado spreads made with a blend of avocado oil (24%), rapeseed oil and palm oil. Asda is selling its spread at £1.20/250g, while Waitrose's is £1.25/250g.
Kerrymaid Spreads
Launched: August 2016
Manufacturer: Kerry Foods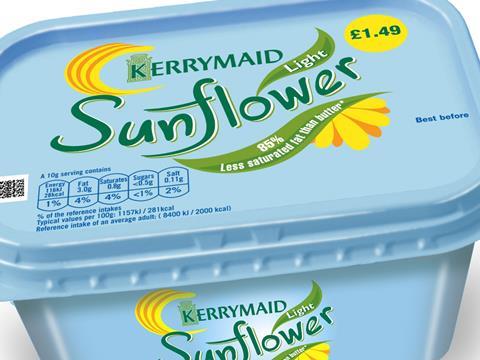 Kerry Foods is eyeing up opportunities in the independents with the launch of a four-strong range of price-marked Kerrymaid spreads into the convenience channel, including Buttery, Sunflower Light, Spreadable, and Olive.
The Softer Butter Co
Launched: August 2016
Manufacturer: Castle Dairies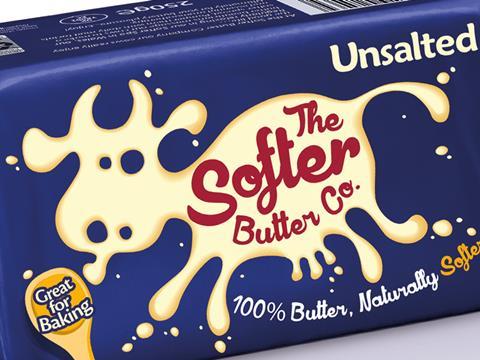 Shunning the vegetable oil used by most other spreadables, this 100% real butter is available in salted and unsalted variants. 'Butter Mmmassaged until its Softer', the blocks are 50% softer than standard butter lines.
In the last 18 months parent company Ornua, Ireland's largest exporter of butter, cheese and milk powders, trading in 110 markets, has opened production facilities in Germany, a dairy plant in Shanghai, an innovation 'hub' in Spain and offices in South Africa.

The company's latest investment is a €37m butter production and packing facility in Cork, due to open this month. Kerrygold Park will house an NPD, innovation and customer centre "to showcase the Kerrygold brand to new and existing global customers".

Kerrygold says the "vast majority" of its investment in the next two years will be in its £1.9m Kerrygold spreadable butter, which the company is relaunching in October with a new formulation and butter content "to match category leaders".

"We've never got a foothold in the market and we're making a big play to be much bigger in spreadable than we currently are," says Harper.

The relaunch includes a new premium-looking tub and "big" promotions - in contrast to Kerrygold's shallow promotion strategy for its block butter. The variant will also be on TV for the first time this autumn.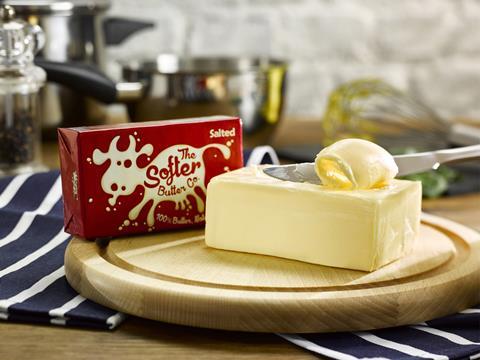 Caerphilly-based The Softer Butter Co is also making a play for the spreadables market, ­having just launched a butter it says is 50% softer than the major brands and took its team two years to perfect.
Made from the cream of British cows, Softer Butter launched in 160 Morrisons in August and rolls out to 50 Tesco stores in October.

"Adding vegetable oil is how big brands make their own butter spreadable before they sell it in tubs, but then it's not real butter, it's a dairy spread instead," says The Softer Butter Co's director, Nigel Lloyd. "Softer Butter has no vegetable oil or additives and can be used straight from the fridge."

What's more, Lloyd believes brands like The Softer Butter Co can benefit from the UK's decision to leave the EU.

"I am confident that flexible small and medium-sized firms like ours can take advantage of opportunities as they present themselves," he says.

The post Brexit-vote sterling slump is already having a positive effect on the export market. According to official figures from AHDB Dairy, UK butter exports between January and May this year stood at 18,825 tonnes, 62% more than the same period last year.

And while the EU remains the most important market for British butter - with volumes up 43% to 11,749 tonnes - non-EU volumes are in big growth, up 152% to 3,440 tonnes.
" Perhaps new markets such as North America could be the future for UK exporters"

- Nigel Lloyd, The Softer Butter Co.
"I am due to visit North America in September to look for export opportunities into these new markets - perhaps this is the future for UK exporters who may now need to look beyond the EU," says Lloyd.

Currency changes are also reducing the attractiveness of EU butter imports, which were down 7% to 9,839 tonnes.
Almost 50% of Tesco's own label butter and cheese comes from milk sourced from EU markets [Kantar Retail 2016], but the threat of higher costs and tariffs means more retailers are likely to turn to locally sourced and manufactured products.Indeed, a post-Brexit survey of UK retailers by Barclays published in The Grocer in August revealed 32% expect to source more from the United Kingdom as a result of the Brexit vote.

Spreads

While butter manufacturers are well placed to take advantage of future growth in the UK and abroad, dairy spread suppliers are having a tougher time.

In July SocGen analysts suggested Unilever should exit the BSM category altogether and opt for 'Sprexit' due to the ongoing underperformance of Flora, I Can't Believe It's Not Butter, Stork and Bertolli, leaving the company free to focus on personal care and emerging markets.

Unilever's CEO Paul Polman said in January the company was "looking at all options" and "wished to see improvements in 2016", but Unilever has not commented further.

One growth area Unilever is capitalising on is dairy-free spreads. It kicked off the January launch of dairy-free Flora Freedom as part of a £12.5m repositioning of the Flora brand backed by a 'powered by plants' campaign, aimed at highlighting Flora's health credentials. The NPD is the same price point as Flora's core variants (£1.70/500g).

"The free-from market is continuing to perform phenomenally well in 2016 and this trend is being driven by increasing consumer demand and brands investing heavily in free-from product development," says Unilever's brand building director for spreads, Caroline Jary.

"The amount of shelf space dedicated by retailers to free-from is also growing in correlation with the popularity of free-from products."

Hot on the heels of Flora Freedom was the relaunch of Dairy Crest's dairy-free Vitalite in March, featuring a reformulated recipe, new packs and the brand's first TV ad in 10 years. Further NPD is set to be unveiled under the Vitalite brand in October.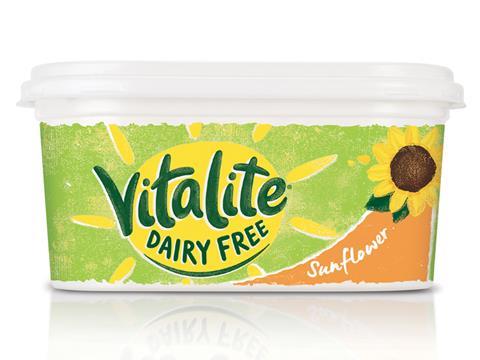 "Dairy-free is an important and growing segment," says Dairy Crest's Willett. "It tends to be more of an incremental purchase - a plus one - and not only offers the opportunity to attract new buyers into spreads, who might not have been using anything on their bread due to an intolerance or allergy, but also an opportunity to protect against people leaving the category by offering great-tasting alternatives."

Retailers are also seizing on opportunities around dairy-free - with Tesco launching what it claimed to be the UK's first avocado spread in May. The dairy-free spread, which contains 24% avocado oil and is a source of vitamins A and D and omega-3, is being pitched as an alternative to butter and margarine, and went on sale alongside a sister spread made with coconut oil (rsp: £1.20/250g).
"The free-from market continues to perform phenomenally well in 2016"

- Caroline Jary, Unilever
Another growing area of NPD is butter infusions. Lurpak is hoping to create extra usage occasions with the May launch of spreadable Lurpak Infusions, a three-strong range designed for use on 'new breads' such as wraps, pittas and flatbreads.
A blend of butter, rapeseed oil, herbs and spices, Lurpak Infusions comes in chilli & lime, smoked chipotle and sea salt & pink peppercorn flavours and will be supported by a 'Game On, Cooks' TV campaign voiced by Dutch actor Rutger Hauer from September.

The new Lurpak range follows the October launch of Tesco's own-label range of sweet and savoury flavoured butter 'logs' aimed at budding cooks, and has been developed to "encourage consumers to re-evaluate their daily bread occasions", according to Arla.

"We know that the trend for new flavour combinations is particularly popular with millennials and a great way to attract younger consumers into the category," says Ruby Ali-Brett, director of butter, spreads and margarines at Arla.

All this innovation is already having an impact on the market. Although from a small base, flavoured spreads is the best performing subcategory with value sales up 2.9% to £3.4m, on volumes up 6.8% year on year.

Which suggests Lurpak Spreadables could have more staying power than its Cook's Range of baking butter, 'mist' and liquid, which was delisted after 17 months on the shelves due to poor sales.
"The trend for new flavour combinations is particularly popular with millennials"

- Ruby Ali-Brett, Arla
Of course, what is really needed to turn the category around isn't flavoured butters, but a return to value growth for the market's biggest sectors - block and spreadable butter.

Post-Brexit price rises might offer a glimmer of hope, but whether it is the silver lining the category so desperately needs remains to be seen. In the short term, it is likely own-label pricing will continue to erode value, fuelled by rock bottom commodity prices for butter, and brands will have to work hard to justify their position.

For those that fail to innovate and invest, it could be Sprexit, rather than Brexit, that determines their future.