Dairy alternatives have gone nuts. Brits splashed out an extra £53.5m on free-from dairy products last year, with sales surging 19.7% on volumes up 18.5% [Kantar Worldpanel 52 w/e 22 May 2016].

Almost every free-from dairy category is in double-digit growth, with only butters & spreads in volume decline (-1.6%). And unlike in most traditional dairy categories, sales are up across all major retailers, not just the discounters. Soya milk remains the biggest subsector at £79.5m, but nuts and coconut milks are rapidly closing the gap, with sales up 43.6% to £74.7m on volumes up 43%.

So what is driving this seemingly unstoppable growth? And as demand for coconut, nuts and soya goes through the roof, what are the major processors doing to secure future raw material supplies and boost manufacturing capacity?
"Consumers are more interested in nutrition as they look to lead healthier and happier lives"
Lactose intolerance and a rise in veganism fuelled initial growth for the category, but more and more consumers are now replacing some or all of their dairy consumption with plant-based alternatives because they see them as more nutritious, claims Karen Rosen, founder of health brand Plenish, which has almond and cashew drinks in its range. "We are all looking for ways to lead happier and healthier and longer lives well into our 80s. It's driving consumers to become more savvy about nutrition."

That could explain why nut and coconut milks are showing such staggering growth compared with soya milk - which saw value sales rise by a relatively modest 3.3% year on year.

As a plant-based protein, soya might have the health advantage over cows' milk in some consumers' eyes, but it also contains high levels of phytoestrogens - a plant compound that could potentially disrupt hormones. In contrast, coconuts - a rich source of protein, calcium, magnesium, fibre, vitamin B-12 and vitamin without the phytoestrogens - are viewed by many health nuts as the elixir of life.

Even Alpro - the undisputable soya king - has expanded into nut and coconut milks to widen the appeal of its range. Alpro Almond and Alpro Coconut are now worth £46m and £10.4m - recording value growth of +41.9% and +73.3% year on year, says Vicky Upton, marketing controller at Alpro UK & Ireland. "Choice and variety are key drivers for the brand, and the category as a whole."
Brands' plant rooms fire up the engines of innovation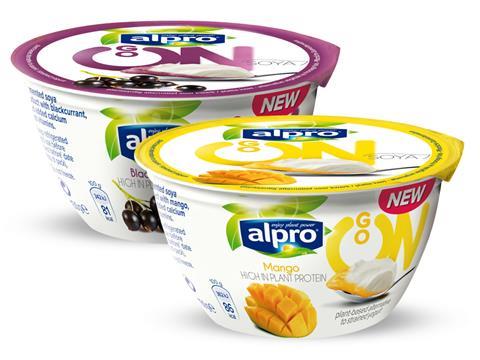 Brands still have the lion's share of the dairy alternatives market, with branded sales up 22.7% to £275m compared with own label's 5.8% growth to £50m. And with consumers becoming more familiar and adventurous with dairy alternatives, NPD continues apace.
Yoghurt and yoghurt drinks is perhaps the most dynamic subsector of dairy alternatives, with innovation helping drive sales growth of 19.1% on volumes up 28.3%.
Coconut Collaborative launched its first dessert pots - Choco Pots and Rice Pudding - at the beginning of the year, while rival coconut brand CoYo added salted caramel flavour to its lineup of yoghurts - which are made with coconut milk, coconut sugar and Himalayan salt crystals.
And Alpro extended its soya lineup into on-the-go small pots with Alpro Go On, which sits on a layer of fruit and is being marketed as a "plant-based alternative to strained yoghurt".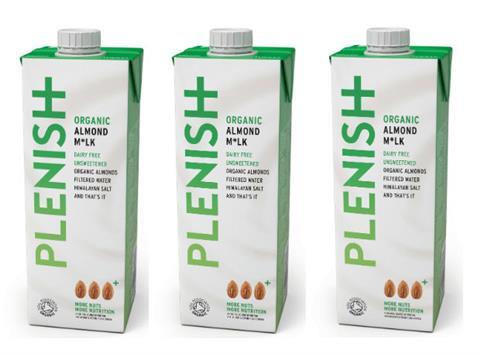 Brands have also continued to innovate around milk alternatives, with nuts and coconuts featuring heavily. Alpro's flourishing nut drink lineup was bolstered by an Unroasted Almond Unsweetened drink in May and a Cashew Original drink in June.
Cold-pressed juice brand Plenish this year launched Organic Almond Nut M*lk and Organic Cashew M*lk in 1-litre variants (rsp: £3.49) - which it claims have "more nuts" than the big brands. "Plenish decided to launch nut milks because we were not satisfied with the integrity of the plant-based milks on offer," says founder Karen Rosen.
Rude Health is also planning to launch a cashew drink in response to "demand for more flavours" says co-founder Camilla Barnard, who notes the brand's almond milks are increasingly being used by baristas for speciality coffees, and even by mixologists as a cocktail ingredient.
Supply challenges

Such rapid growth in demand for dairy alternatives does come with its own challenges. There may be dairy cows aplenty in Britain, but suppliers have to look further afield for coconuts, almonds and soya. And global supply chains are far more vulnerable to fluctuations in price and availability. Global almond prices soared last year following a drought in California, for example, while coconut commodity prices have been rising this year as supply tightens amid soaring global demand.

And then there are considerations around sustainability - with the need to build in supply chain protection for both the environment and workers.

Coconut Collaborative sources its coconut milk from Indonesia and is "very aware" of the importance of sustainability, says c0-founder James Saverdieck.

The brand has partnered with sustainability organisation Pur Project, and every year plants 5,000 coconut tree seedlings in both Indonesia and the Philippines, helping to support plantation employees and their families, as well as protect the local habitat and wildlife.

Plenish, which sources almonds from Spain and cashews from Vietnam and West Africa, has also taken steps to guarantee it has an ethical and sustainable supply chain - teaming up with the Soil Association to ensure all suppliers meet stringent standards.

Alpro, meanwhile, is tackling concerns around the sustainability of soy by bringing production closer to home. European soy production accounts for just 5% of the world's total, but Alpro has focused on forging relationships with European growers to boost supplies, and is on track to source 50% of its conventional beans and 85% of its organic beans from Europe by the end of the year.
" We are developing appropriate soybean varieties for NW Europe"
Most of this will come from France and Italy, but Alpro is also conducting growing trials in Northern Europe and aims to source 5,000 tonnes of Belgian and Dutch soya beans by 2020.

"Soya beans are sensitive to frost and grow best in a warm continental climate," says Upton. "We are in the process of developing appropriate soybean varieties for North West Europe with an early maturity lifecycle."

Dairy alternative brands are also investing in production capacity to meet surging demand. Coconut yoghurt brand CoYo recently invested £500,000 in its Kent production facilities, doubling capacity and introducing new state-of-the art equipment, while Alpro has just invested £25m in its Kettering manufacturing facility.
TAKE-HOME SALES: DAIRY ALTERNATIVES
52 w/e 22 May 2016
Value
Volume
£
y-o-y%
kg
y-o-y
Total Milk
241.1
21.5
212.2
19.5
Soya Milk
79.5
3.3
85.6
3.6
Nut/Coconut Milk
74.7
43.6
56.6
43
Rice Milk
13.0
8.1
10.6
11.5
Lactose Free Milk
62.7
28.7
50.4
29.5
Oat Milk
10.0
27.7
8.1
27.7
BSM
20.8
1.2
17.2
-1.6
Yoghurt & Yoghurt Drinks
43.5
19.1
29.4
28.3
Other free-from dairy
19.4
23.2
8.1
12.6
Total
324.8
19.7
267.0
18.5
Source: Kantar Worldpanel
"To be able to maintain the high level of growth we've seen over the past few years, we're planning to continue to invest strongly and the investment that Alpro has recently made in the Kettering site demonstrates the huge potential the company sees for the UK," says Upton.
Plenish's nut milks are manufactured in France, and the company currently has capacity to increase production by over 3,000 times. "We're ready for growth," says Rosen.

And with sales of dairy alternatives showing no signs of slowing down, that growth looks sure to come.