The SOS Dairy campaign reversed farm price cuts in 2012, but did it have a lasting impact on shopper and retailer behaviour?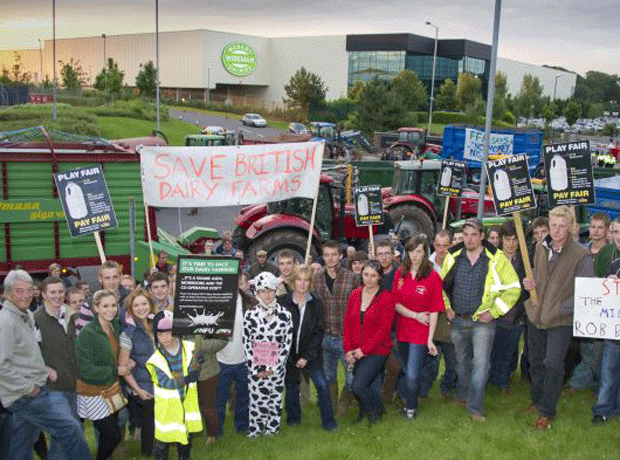 It started in late April 2012, when the farmgate milk price fell by two pence per litre. In July, processors slashed the price again. Initial farmer discontent turned to fury, culminating in a fiery gathering at Westminster Hall in London on 11 July. Shortly after came the launch of the SOS dairy campaign to reverse those cuts. Massive media interest and public sympathy followed, thanks to one of the most successful social media campaigns in grocery history.
Crucially, SOS Dairy wasn't just successful at getting media attention - it got results. The processors scrapped their autumn price cuts, with First Milk leading the way on 26 July and the others following the same week.
But 12 months on, what is the campaign's legacy? Did it make a difference to the way retailers sell - and shoppers buy - milk?
At the time, retailers were keen to show they were responsive and on the side of the farmers. Several either upped the premiums they paid to their dedicated producers, or paid their processors more, enabling the autumn price cuts to be cancelled.
SOS Dairy also prompted a flurry of activity from the dairy industry. The NFU, Farmers for Action and other farm bodies came together in a coalition; a voluntary code of conduct on contracts was agreed by the coalition, Dairy UK and then Defra minister Jim Paice; and - more recently - the NFU produced a new strategy document for the industry.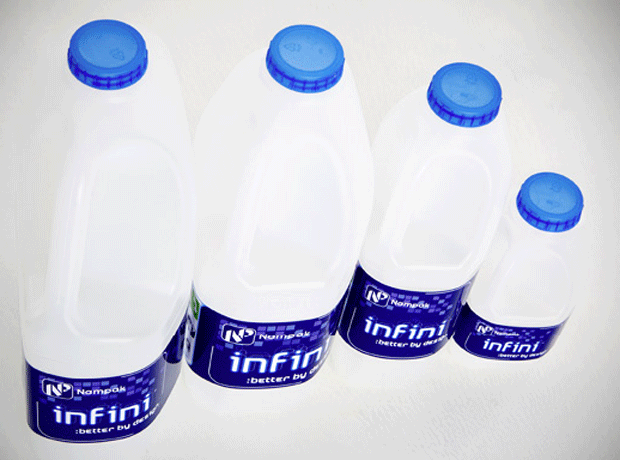 Lighten up! Going greener with a bit less bottle
The UK dairy industry is well on the way to its Environmental Roadmap targets of lightening its packaging load. Fifteen per cent of the material used in HDPE milk bottles is now from recycled sources and it plans to increase this to 30% by 2015 and 50% by 2020.
Nampak, whose Infini bottle was launched last May, says trials with a 30% inclusion rate of recycled HDPE are going well. "We're confident that we can achieve 30%," says head of engineering and innovation Ashwin Moorthy. "We're also in a good position for using 50% recycled HDPE."
At present, Infini is available only as a four-pinter, but Moorthy says a full range of sizes will become available in the next 12 to 18 months.
Rival bottle maker Alpla is also reporting good progress. Arla has chosen Alpla as its bottle supplier for its new Aylesbury dairy, using bottles that will be 20% lighter than standard versions and containing 15% recycled HDPE. By mid-2014, all of Arla's sites will be packaging milk in Alpla bottles that weigh up to 20% less than the industry standard bottles, and by early 2015 they will contain 30% recycled plastic.
Big changes are also afoot for milk cartons. This autumn, the UK's first carton reprocessing facility opens near Halifax, capable of recycling 25,000 tonnes of cartons a year at full capacity. "By the end of 2013, the aim is for 56% of UK local authorities to be collecting cartons from kerbside," says Tetra Pak. The company also plans to offer a carton made from 100% renewable materials in the UK by 2020.
By contrast, things have turned rather quieter for milk bags, which use 75% less packaging than bottles. They continue to sell well in Sainsbury's, but the retailer is now the only mult to carry an own-label bag.
Although the FFA pulled out of the coalition this April because the NFU didn't support its more hardline stance on milk protests, both maintain their joint efforts helped bring about a legacy of greater industry collaboration.
"SOS Dairy brought the industry together and showed us that, if we collaborate, we can achieve things," says FFA leader David Handley. This is echoed by NFU chief dairy adviser Rob Newbery, who highlights the "new spirit of collaboration" brought about by SOS Dairy and sums up the campaign's legacy as "the four Cs - the coalition, the code, collaboration and competition".
This is an important achievement, but when it comes down to sales and shopper behaviour, SOS Dairy's legacy looks rather less convincing. "The industry was very high profile with consumers, and I hope it created a reservoir of goodwill," says David Cooke, director of consultancy Promar International. "But one year on, consumers have a lot on their minds. Will it have fundamentally changed behaviour? I don't think so."
John Allen, managing partner at Kite Consulting, is also sceptical. Given SOS Dairy was prompted by farmer concern over price and value erosion, the amount of money coming into the industry should be a key indicator of the campaign's success, he says. "The more money coming in from consumers, the better it should be for farmers, provided there is an equitable distribution of the gain. I don't think either has happened."
At the height of the campaign, the dairy farmer coalition called on consumers to "not buy milk at Aldi, Lidl or Londis, and to think twice about buying it from Morrisons, Asda and the Co-operative", encouraging them to buy from the more farmer-friendly Waitrose, M&S, Tesco and Sainsbury's instead. And in a poll by The Grocer and YouGov at the end of July 2012, millions of shoppers vowed to switch where they buy milk.
But 12 months on, it's clear few have made good on their promise. Despite being named and shamed by the NFU and FFA, Asda increased its milk sales by 6.4% to 806 million litres in the past year - a much higher growth rate than Tesco, which increased sales by 0.4% year on year, Morrisons (up 0.8%) and Sainsbury's (down 2.7%) (see table p74).
Some experts point the finger at the continued focus on the 2011 tactics of single price points and everyday low prices.
"Asda is a prime exponent," says Alex Bandini, strategic insight director at Kantar Worldpanel. "Since moving to a £1 price point on its own-label four pints, it has been successfully getting milk into a higher proportion of baskets."
In addition to its £1 four pinter, Asda has fixed six pints at £1.48, "which has resulted in people trading up from four to six pints", says a spokeswoman, adding that price-marked packs reinforce Asda's consistently low milk prices. "We have also done a lot of work to increase milk availability in ex-Netto stores."
And it's not just Asda that's been pushing prices south. Despite their higher prices on standard own-label milk, Morrisons and Tesco continue to sell four pints for £1 through tertiary brands, and retailers' appetite for aggressive volume deals remains high.
Sales lagging
This is borne out by the sales data. Although the retail milk market has continued to grow in volume - with sales rising 1.5% to 5.2 billion litres - value sales remain far behind, rising just 0.2% to £3.2bn over the past year [Kantar Worldpanel 52 w/e 9 June].
This is a slight improvement on the previous year - between June 2011 and June 2012, value sales rose 0.1% on volume up 1.1% - but price inflation in milk continues to lag massively behind general grocery inflation, which stood at 3.9% in the quarter to 7 July 2013 [Kantar].
Outside the big four, retailers' milk sales have tended to track their general performance across all grocery sectors, with little evidence that shoppers have changed their buying habits. Waitrose, which is on the NFU/FFA 'good' list, has increased milk volume sales by an impressive 9.5% year on year, but one-time 'baddie' Aldi also did exceedingly well, increasing milk volume sales by 33%.
"While Aldi and Waitrose have enjoyed really strong growth in milk in the last year, this broadly reflects the strong performance these stores are both enjoying top-line," says Bandini. "Milk is an everyday basket item and so its growth can easily mimic the performance of the store it sells in."
The figures underscore the fact that long-term campaigning efforts are needed if farmers really want to change the way consumers buy milk, and retailers sell it.
"The campaign raised interest in British milk and dairy products, but this data shows that to keep the public on side and affect buying patterns we have to keep them in the public eye," says the NFU's Newbery.
"We need well thought out campaigns for British milk and products, need to keep telling them to buy British, and to buy from processors who adopt sustainable buying policies so that farmers can invest with confidence."
Green shoots
Meanwhile, on the face of it, there is little sign of the long-awaited de-commoditisation of milk. In the past year, own-label sales have grown 2.6% to £2.bn at the expense of branded milk, which has fallen 6.3% from £709.8m to £664.7m. This follows a similar 6% fall in 2011/12.
However, closer analysis of branded sales reveals the picture is not as bleak as it initially appears. A large proportion of the decline can be attributed to Dairy Crest's Country Life milk, which saw value fall 11% and volumes fall 14.4% [Kantar], largely because of Dairy Crest's continued retreat from the middle ground milk market.
Indeed, the UK's biggest milk brand - Cravendale - has returned to growth over the past year, having suffered a 1% drop in value and a 4.1% fall in volume sales the previous year [IRI 52 w/e 9 June 2012]. Its sales over the past year have risen 0.9% to just over £154m, and are up 0.8% in volume to 184.6 million litres [IRI 52 w/e 25 May 2013].
"The turnaround is down to heavy investment in advertising (£20m since 2011 on through-the-line), a new one-litre bottle, greater sales through new channels such as petrol forecourts, a regular on-pack loyalty scheme and a standard two-for-£3' price mechanic," says Mike Walker, senior director for branded milk.
The UK's most recent new milk brand - Müller-backed A2, which launched last October and targets consumers who struggle to digest milk - is also doing its bit to inject value back into UK milk. "Since its launch, 18% of A2 shoppers in the UK have been new or lapsed category shoppers," says a spokesman.
"Will SOS Dairy fundamentally have changed consumer behaviour? I don't think so"David Cooke, Promar Intl
Other added-value milk sectors are also reporting good progress. After a tough four years, the organic milk market is back in growth, despite distribution falling. Although sales are still down on a 52-week basis (by 3.3% in volume and 2.6% in value), the 24-week data shows a gain of 1.3% in volume and 1.4% in value [Kantar].
Other data sets show similar growth, with the last 12 weeks ahead of conventional milk. "This hasn't happened since 2007/09," says Richard Hampton, sales and marketing director of Omsco. "The data shows a strong picture, but we still need to build confidence and show retailers and customers that we have confidence in the sector." To that end, Omsco and the Organic Trade Board have been investing in consumer ads to promote organic milk, and more is planned for the back-to-school season this autumn, taking the total investment to £1.5m for 2013.
By contrast, the picture for long-life milk continues to look challenging - Kantar suggests volume sales are down 7.1% year on year on top of a 5.5% fall the previous year.
But Tim Smiddy, the new MD of long-life manufacturer Crediton Dairy, believes the fall is nearer to 4%. The decline is increasingly being offset by growing sales of extended shelf life products, he adds.
"The market is moving from ambient to convenience chilled products with extended life to help consumers reduce waste," he says. "There will be a lot of development in products to ensure more durable, tasty products over the next few years, and that will be good for the milk category as a whole because the more consumers waste the less they will buy."
It would be silly to suggest some of these positive trends - particularly for key brands and organic milk - are a direct result of the SOS Dairy protests, but it will nevertheless be gratifying for farmers, processors and retailers to see that there remains a willingness among consumers to pay extra for value-added milk.
As for the conventional milk market, it is encouraging that farmgate milk prices are at record highs now. The flipside is that the problem of farmer profitability has shifted from being largely milk price related to being cost-related.
"That's a much more complex issue to resolve," warns one industry source. "Some farmers are blockading factories again to try and get more price increases and will do so again, but the industry can't have milk prices determined like this for the long term. It isn't tenable."
Allen at Kite agrees: "We need to use this time when markets are good to make the industry fitter, more stable and competitive. We need producers to be profitable for three years out of three, not one year in three. The SOS legacy needs to be that, but we're far from there yet."