The dairy drinks sector breathed a collective sigh of relief when it emerged last summer that it was to escape the government's controversial soft drinks sugar levy. With added-sugar fizzy pop carrying the can, dairy drinks brands were left to enjoy a boom in sales, given they were considered by many parents and adult consumers as a healthy alternative to soda.
Value sales have rocketed nearly 14% across the category, with branded drinks up over 10% as milk-based beverages neared £170m in total sales [Kantar Worldpanel 52 w/e 21 May 2017].

However, recent events in Westminster have cast a cloud over the category, with a warning the government may be planning a u-turn on its decision and hitting milk-based drinks with the levy after all.
The volte-face follows sustained attacks over the alleged weakness of the Childhood Obesity Plan from Labour, the Liberal Democrats and the SNP, as well as health campaigners who claim the amount of sugar in milk shakes and other dairy drinks, despite their beneficial contribution to calcium intake, is driving up obesity and tooth decay among kids.

In July this year the government effectively warned dairy drink manufacturers they could join sugary soft drinks in the firing line of the levy unless they agreed to reduce sugar in their drinks.

The threat has upped the ante in the voluntary reformulation talks that kicked off between Public Health England and manufacturers of milk-based drinks, including all smoothies and milkshakes with at least 75% milk, that same month.

PHE has given manufacturers until 2020 to remove 20% of sugar from their products - with 5% to be removed by next year - or face having the levy extended to include dairy drinks.
So how have companies reacted, is the reformulation being asked for possible, and is there a danger the clampdown will have an adverse impact on the health of children and adults?
Dairy Drinks Category Snapshot 2017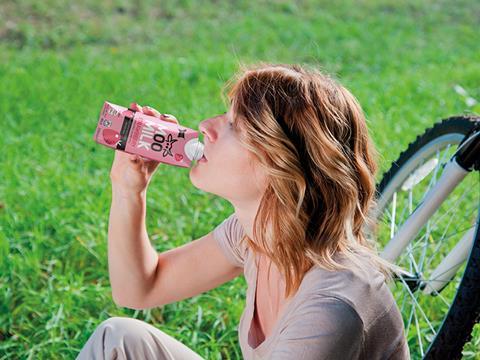 Alison Tedstone, PHE's director of diet and nutrition, told The Grocer in an exclusive interview in July she believed the amount of sugar in many milkshake products aimed at children was "indefensible".

Yet while dairy drinks manufacturers are responding to government and consumer demands for lower sugar, they claim the clampdown could bring huge extra costs, and risk unintended consequences for the nation's health.

Among those in the firing line, Müller says it is already investing a whopping £100m in technology and new products to respond to the call for lower sugar content. This includes a new filling line at its site in Foston, Derbyshire, and the creation of a centre of excellence for milk drinks and fresh cream at Severnside.

Müller recently reformulated and rebranded its Frijj range, replacing its '40% less sugar' lineup with 'no added sugar' variants. Its next big move will be to shrink its existing 471ml Frijj bottles in October 2017, replacing them with smaller on-the-go 400ml bottles.

Indeed, shrinking products - a tactic used by other sectors in response to the war on sugar - looks set to become a prominent theme for dairy drinks.

"Our research suggests that reducing the size and therefore the added sugar per portion will make Frijj more appealing to consumers," says Michael Inpong, chief marketing officer at Müller.

As well as reducing the size of its core Frijj lineup, Müller is also launching a new 900ml portion size, which it will market as a product for consumers to keep in the fridge for longer consumption periods rather than drink in one go.

Inpong says the scrutiny over sugar means suppliers have no choice but to consider radical moves on reformulation and portion control.

"Milk drinks represent a major area of opportunity for the dairy industry," he says. "However, with an increased focus on added sugar and an overall lack of investment in the milk industry for many years, to achieve category growth action is clearly required."

Nick Bartlett, head of sales and marketing at Crediton Dairy, manufacturer of brands including Moo, Mars Refuel and Flora Pro-activ, plus a key own-label supplier for the likes of Tesco, Asda, the Co-op, Morrisons and Aldi, says manufacturers were already well on the path to removing sugar before PHE became involved.

Crediton claims it has removed more than 375 tonnes of added sugar from its flavoured milk recipes over the past two years.

"We have been working on sugar reduction for two years. It's not as if we were not already acting on this," says Bartlett. "Last summer we took a lot of added sugar out of our Moo brand and own-label drinks for Tesco, Sainsbury's and Co-op.

"We took 20% of added sugar out for those customers. That's the equivalent of 94 million spoonfuls of sugar."

Having already done "significant work" to reduce the sugar in its drinks, Crediton will be well placed to meet any refomulation targets put in place, Barlett insists.

However, he warns the sector could be put at risk if suppliers are forced to reformulate too fast. "It's vital that you take consumers with you. Reformulation has to happen over a period of time," he adds.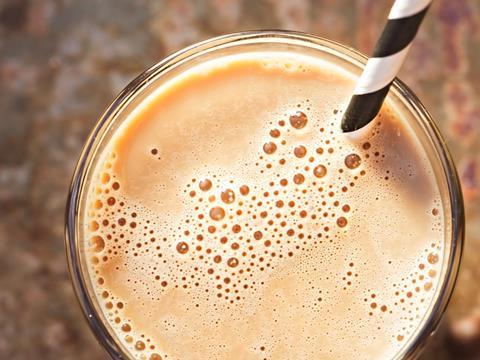 Can Arla's fizzy milk win where Tango soda failed?
Having already launched on-the-go bottles of Cravendale to position milk as a rival to soda, Arla is going one step further by developing fizzy milk.
It first hinted at plans for the "sparkling milk & fruit drink" at the end of last year, when it unveiled ambitions to triple revenue from milk-based beverages by 2020. The product would be trialled in the UK, Singapore and the UAE before rolling out to wider global markets, Arla said, although it gave no further details.
Arla will be hoping for more success than its soft drink rivals. Britvic was forced to axe Tango Strange Soda after less than a year on the UK market. Launched in March 2014, the carbonated mix of milk, fruit juice and water was three years in development and backed by a £6.3m launch, but achieved sales of just £3.4m. The brand said at the time it was "too challenging".
Coca-Cola trialled Vio carbonated milk drinks in the US in 2009, but they never came to Europe.
Asian markets should prove easier to crack, with milk soda drinks already widely popular. It is understood the first carbonated milk was launched in Japan by Calpis, a fermented milk brand that emerged in 1919 after founder Kaiun Mishima discovered the health properties of milk fermented with lactobacilli during a visit to Mongolia.
"The absolute key is ensuring that the nature of the product means they are still highly desirable. There is no point in having a product that ticks all the health boxes but which nobody wants to drink."

He also questions whether action against dairy drinks would be beneficial for kids' health in the long run, pointing to Crediton research suggesting half of primary schoolchildren do not drink any white milk - a disturbing figure that grows to two-thirds of children aged 9-11.

"It's crucial that we look at the number of children who are not drinking enough milk," says Bartlett. "I would say that if it's a question of drinking a wholesome product that's got the goodness of dairy with some sugar, that's surely better than not drinking any milk at all. What does the government want?"

The looming threat of the sugar tax aside, dairy drinks have also found themselves demonised by the government's front-of-pack labelling scheme, a key concern for manufacturers that, according to the latest Kantar Worldpanel figures, saw own-label dairy drinks sales grow 20% in value in the past year. According to Bartlett, the lack of differentiation between intrinsic and added sugar is making it almost impossible for own-label suppliers to meet supermarkets' demands regarding traffic-light thresholds.

"Meeting traffic-light thresholds for sugar has been an area of interest to retailers, due to their adherence to the traffic-light scheme for front of pack on own-label products," he says.

"Our ability to meet traffic lights is limited by the lactose content of milk drinks, therefore we would like to see intrinsic sugar taken into account in some way as part of this scheme.

"For example, a 330ml pack of flavoured milk would be in the red traffic-light zone even with zero added sugar, due to the lactose content of the milk. As would a plain white milk in the same pack format. This is not encouraging consumers to drink milk and thus gain all the nutritional benefits of this natural product."

Manufacturers are also calling for more recognition of the key differences around how milk drinks are consumed compared with other soft drinks.

Clare Denham, head of category and market strategy at Danone Dairies UK & Ireland, says: "We are very committed to the reduction of sugar in our products and are engaged as a category with the Public Health England sugar reduction strategy.

"This being said, we see a fundamental difference between dairy drinks and soft drinks. They serve very different consumer needs and are consumed in different quantities. Actimel, for example, comes in small 100ml servings and is clearly not designed to slake thirst. It also contains essential nutrients, which many soft drinks do not."

The threat of the sugar tax caps what has been a turbulent few years for the dairy sector in the face of changing government advice to consumers.

In March 2016 there was fury when the government released new advice urging consumers to dramatically reduce the proportion of their diet made up of foods such as cheese and milk.Under the new look Eatwell Guide, Brits were advised to hugely reduce the amount of dairy, a decision described as "baffling and disappointing" by Dairy UK.

Yet despite all the conflicting messages and warnings over sugar, key subsectors in the dairy drinks category have been seeing huge growth.

Coffee drinks, in particular, continue to enjoy massive value and volume gains, driven by premium brands, with value sales up 38%, according to Kantar Worldpanel.

Arla, which produces the Starbucks range for supermarkets as well as its coffee shops, says manufacturers have managed to grow the category while taking sugar out and upping communication around nutritional values to consumers.

"Consumers are interested in their health and wellness more so today than ever before, with calorie and sugar content being a key consideration at purchase," says a spokeswoman. "Starbucks clearly displays all nutritional information on pack to help customers make informed choices, and offers a wide range of choice for all coffee lovers seeking to enjoy a little lift whilst on the go."

In March Starbucks re-launched its Skinny Latte with a reformulated recipe including lactose-free milk with no added sugar and only 77 calories, and Arla says sales are flying.

Chocolate dairy drinks, which have seen less spectacular growth than coffee but still recorded a 8% year-on-year value sales increase, have also been reformulating. Mars, for example, has introduced no-added-sugar variants of its Mars Caramel and Galaxy flavours and recently launched Maltesers No Added Sugar in a 350ml bottle.

Danone's Denham claims dairy drinks, despite coming under the spotlight in the war on sugar, are still seen as a healthy choice by consumers.

"Dairy drinks tap key growth trends dominating shopper habits within fmcg at the moment," she says. "They are seen as a nutrient-rich snack offering a good source of protein and calcium."
Ongoing demand for flavours such as chocolate and caramel can be explained by a growing consumer thirst for indulgence that is running concurrently with the health trend, she adds. "Health considerations don't play a big role in purchasing decisions in these instances."

Another big consumer trend boosting sales of dairy drinks is convenience. With more and more shoppers skipping breakfast and even lunch, dairy drinks offer a convenient meal on the go option, "representing an opportunity to grow the away-from-home sector" says Denham.

Bartlett agrees that while standard flavoured milk brands like Frijj and Mars still represent a large part of the value and volume of the sector, on-the-go innovation around protein, breakfast and iced coffees is providing opportunities for the sector to expand. "Yes, clearly health is a driver for growth in the protein and breakfast sectors, but it's also other trends such as our busy on-the-go lifestyles driving the breakfast sector and our changing tastes towards more adult drinks such as iced coffees, helped by the out-of-home café culture," he says.

"The demand for more adult milk drinks will grow and outside the iced coffee sector as consumers seek different, healthier alternatives to traditional soft drinks sectors such as carbonates, which will continue to decline. As a result milk drinks should become a core part of the soft drinks offer."

While there is still a big opportunity for dairy drinks to steal market share from soft drinks, brands will need to keep innovating to keep shoppers on side.

"We expect the ongoing trend around health to remain the main driver of category growth," says Denham. "Consumers are expecting more of the dairy products they consume - less sugar, more protein and probiotics - and brands should keep this in mind if they want to succeed."

The dairy drinks sector may have seen its health halo slip, rightly or wrongly, but if manufacturers are right about the new opportunities for growth, as well as sincere about their commitment for reformulation of core milk products, the boom time for the category might not be over yet.