What will happen to the dairy sector after Brexit? That's the question we asked in last year's Dairymen. One year on, that question remains as pressing as ever. The industry reports there is still a huge amount of uncertainty on key issues. Access to key markets is at risk, potential labour shortages are a rising concern and the prospect of years of uncertainty fills many with dread.

The problem was neatly summed up by OMSCo chairman Nicholas Saphir in The Grocer in May: if cheese manufacturers want to sell their products overseas in two years' time, they will need to lay down that cheese now. But as Brexit secretary David Davis toils over a divorce deal with the EU, no one knows what standards they should be producing to.
Yet despite these obstacles, the dairy sector is slowly identifying where it could exploit some tentative post-Brexit opportunities. So where do those opportunities lie, and who is best placed to benefit?

Dairy businesses are doing their best to prepare for the world post-Brexit, says Dairy UK CEO Judith Bryans. They will be "trying to anticipate the potential of a dairy market that is rebalancing", establishing whether their product portfolio will need to change, ensuring they have a productive workforce, and working out how they will deal with costs associated with a new trading environment.

"But for now, they are doing this against a background in which they don't know all the questions, let alone all the answers, and where the sands can shift very quickly," she concedes.

"It's not surprising that for many in the dairy sector there is a concern about the timescale in which changes have to be made," Bryans adds. "A transition period could offer businesses some stability and that could help them make a success of Brexit."

It's a sentiment echoed by Arla UK boss Tomas Pietrangeli, who says a transitional trade agreement will be key. But whether UK businesses will get that transitional period remains to be seen.

In a major report published in August, free market thinktank the Institute of Economic Affairs suggested that no deal with the EU on trade after Brexit "does not mean disaster for the UK".

NFU president Meurig Raymond was quick to criticise the IEA's analysis, noting a hard Brexit could devastate the farming sector, as he urged the government to "maintain a deep trading relationship with the EU".
Will Brexit result in a cut in red tape - or an increase?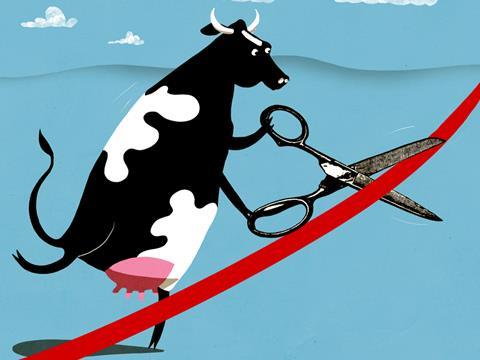 The UK dairy sector has little to fear from Brexit, suggests Rabobank lead dairy analyst Kevin Bellamy, but it is also unlikely the sector will benefit from a wholesale cut in red tape.
"The market is there for UK dairy to thrive, but I think talk of a 'bonfire of regulation' is a bit of a red herring," Bellamy says. "The issues that drive the bureaucracy that British farmers are unhappy about are the things that will need to be retained if we are to continue exporting. So there may be less European regulation, rather than less regulation on the whole."
In fact, post Brexit the sector may even have to adhere to more regulation if it is to thrive, says NFU dairy board chairman Michael Oakes. "The government has a role in supporting a fair and functioning supply chain through broadening the GSCOP and in turn strengthening the role of the Groceries Code Adjudicator, in addition to developing minimum milk contract terms and regulating on the collection and collation of better market data on traded prices and traded volumes."
Bryans warns that with 80% of the UK's dairy exports currently exported to the bloc, the possibility of moving to WTO default tariffs for agricultural products would not "be easy to absorb and would affect our competitiveness". Meanwhile, disruption to the "highly interlinked" British and Irish dairy sectors at the Irish border would also have "a major impact" on the sector.
But she does also foresee big opportunities: specifically an improved and streamlined export structure; a new UK-centric national agriculture policy that focuses on the environment, improving productivity and efficiency; and import substitution and a greater focus on food security.

"It has to be recognised that the industry cannot displace all the foods our consumers like to purchase, but for some products like yoghurt and certain cheeses there is a good potential."

However, such aspirations will "easily be neutralised" by a negative outcome from Brexit negotiations, says Arla's Pietrangeli. "The risks from Brexit are well known, and the primary focus of our work during the past year has been on scenario planning and how we can mitigate those risks.

"Our priorities for Brexit are for the continuation of free movement of goods and labour, and the creation of a post-Brexit agriculture policy that maintains competitiveness with EU farmers.

"Once that is all set, there will, of course, be opportunities," he adds. "We are both importing and exporting product - we're the biggest cheese manufacturer in the UK, and export to 69 countries across the world (21 of which are in the EU). Our export business is in double-digit growth, and with the UK potentially making new trading agreements after Brexit we can definitely see that business continuing to grow and posing new opportunities for us."
"Our priorities are free movement of goods and labour and a competitive agriculture policy"
Arla's rival Müller is equally bullish, and plans to invest £100m in its UK infrastructure by 2020 to build capability and capacity "to make new and innovative products for our branded and private label customers".

At the same time, smaller dairy companies are also eyeing new export opportunities thanks to the Brexit-linked crash of the pound. Becoming a more competitive exporter, in the short term at least, has been one of the main "flipsides" to the Brexit uncertainty, says Natasha Bowes, founder and MD of kefir brand Bio-tiful Dairy.

"It's impossible to tell whether Britain will ultimately win or lose from Brexit, yet I feel we can see some tangible benefits to the dairy industry so far and potentially more to come," she says. "The weaker sterling exchange rate has made me bring forward our export plans, for which we are currently working out the strategy. This will result in further business development and hiring more people, as well as engaging with more suppliers here in the UK."

The company is even now looking, where possible, to source its packaging supplies from the UK instead of the Continent to avoid being dependent on the turbulent euro exchange rate. "I know that a significant number of other dairy producers are doing the same," adds Bowes.

Her confidence in the future potential of British dairy exports is shared by Azhar Zouq, MD of Lancashire Farm Dairies, who says the safety and quality standards of dairy manufacturing in the UK are recognised as "leading the way" globally. These factors - alongside a cheaper product as a result of the weak pound - will make British dairy produce more attractive to export markets in both the EU and further afield, he suggests.

Even a dyed-in-the-wool remainer like Wyke Farms MD Rich Clothier is now looking positively towards a buoyant post-Brexit future thanks to the export opportunities opening up. Back in March 2016, Clothier told The Grocer he was worried the UK was "sleepwalking into a Brexit with no contingency plan". However, he has now reconciled himself to the result. "I've parked it, and I've moved on," he says. "It's now about making the best of what we've got."

Of all the UK's potential export markets, Clothier is most excited about India. "I sit on the CBI council, and there is a lot of excitement about India from across the UK manufacturing sector. We have strong cultural ties with the country, and as far as food is concerned they are very much dairy-adjusted - they eat a lot of cheese and already have the chilled supply chains and dairy categories."

However, the dairy sector will need government support to exploit these opportunities, Clothier insists. "The thing about developing markets is that governments do have a strong role to play. If anyone thinks you can just rock up in India and try and access a market of 1.2 billion people without that support, forget it," he adds.

"Accessing new markets is tough enough and requires a lot of front-loaded investment. Government needs to create the right environment to build exports, and that often means resisting the urge to interfere in local politics. If we want to be as good at exporting as the Irish we need to adopt that mentality, and there will have to be some compromises."

Developing a domestic agriculture policy uniquely tailored to the needs of UK farmers and dairy producers would also "reap benefits" Clothier believes.

"From a farming point of view, being in charge of our own legislation is a good thing, and it will give us the opportunity to really get behind things like Red Tractor, and push for country-of-origin labelling on dairy products," he says.

A bolstered Red Tractor scheme with stronger environmental credentials would be a "really strong driver" for UK dairy products, he argues, particularly in export markets, where UK provenance and a reputation for food safety play well.
"The UK now has the opportunity to create its own agricultural subsidy plan and reduce the red tape in dairy"
Lancashire Farm Dairy's Zouq also sees post-Brexit reform of the farm subsidy system as a "significant opportunity" for the industry. "The UK now has the opportunity to create its own agricultural subsidy plan based on our own requirements, to reduce the red tape involved in dairy farming and manufacturing, and to specifically tailor all of this to the needs and abilities of the UK dairy farmer," he adds.

And the industry can be more confident than ever that policy makers will take its needs into acocunt, suggests Arla's Pietrangeli. Arguably one of the most overlooked of potential positives to come out of the whole Brexit debate, he argues, is the way it has "served to refocus farming and the dairy sector, and helped to gain political attention we haven't had in the past". "It's positive and allows us as a co-op and farmers as a whole to be a voice in policymaking. During this process we have had conversations like never before, it has opened doors for us."

Reducing red tape and bureaucracy would make UK farmers more competitive, and given time (and investment), domestic milk production could be increased, which would subsequently reduce reliance on imports, Pietrangeli adds.

Cutting down on the amount of imported dairy consumed in the UK has long been a hobbyhorse for populist politicians. Indeed, who can forget former environment secretary Liz Truss's cringeworthy and much-memed appearance at the Conservative Party conference in 2014, when she said: "We import two-thirds of our cheese. That. Is. A. Disgrace."

However, her ambition to cut out that foreign muck might take a while to bear fruit, according to AHDB senior analyst Luke Crossman, who notes that while dairy exports grew from £1.08bn in 2015 to £1.19bn last year, so did imports (from £2.16bn to £2.27bn).

"The trade imbalance has improved a bit, but it is more a result of improving exports than reducing consumption of imported dairy," Crossman says.

But despite this slow progress, Lancashire Farm Dairies' Zhouq agrees with Bryans that there is a big opportunity in import substitution, which could herald a return to the "glory days of British dairy farming", with higher milk prices leading to more new farms and fewer closing their doors. "As the value of the pound has fallen against the euro, imported dairy produce has already been subject to inflation, creating opportunities for British produce. However, to meet this potential it requires recognition from consumers of the importance of British dairy produce," he says.

The UK is currently the world's third largest net importer of dairy by value, but this could be significantly reduced if Brexit sees the WTO's tariff import levy of 36% applied to dairy products. "We need to think big and invest in building a modern and resilient post-Brexit economy," says Graham's the Family Dairy MD Robert Graham. "By growing Britain's domestic production capacity we can develop, produce and sell more home-grown products, which in-turn can help support businesses, job creation and members of the public alike."

While smaller suppliers will have a role to play in building UK capacity post-Brexit, success will depend on continued investment in this country by Europe's dairy giants.

Thankfully, Arla remains "committed to the UK", regardless of the outcome of Brexit, insists Pietrangeli. "It's our biggest market, representing 26% of turnover, and we invested £37m in the UK last year alone."

Müller is also committed to making its UK business a success, and growing the domestic UK dairy category and displacing imports will be the company's main objective as we approach Brexit, says Müller Yoghurt & Desserts MD Bergen Merey. "Despite being an ideal place to produce milk, the UK is still heavily dependent on imported added-value dairy products that could be made here with milk from British farms, particularly in the yoghurt and desserts sectors."
"The UK is still heavily dependent on imported added-value dairy products that could be made here"
The dairy giant's plan to invest £100m in its UK infrastructure includes the doubling of capacity at its state-of-the-art Telford site, acquired in 2013, while a multimillion pound investment within Müller Milk & Ingredients will secure a sustainable and vibrant future for the fresh milk and ingredients sector in Britain, adds MD Andrew McInnes.

"Key areas of investment include the creation of a centre of excellence for flavoured milk and fresh cream at Severnside, enhancements to processing capabilities at Droitwich and Bridgwater, and new filling capabilities at Foston."

This is in addition to a £15m investment at its Bellshill dairy, creating a Scottish centre of excellence. Müller's £20m butter plant in Market Drayton has already made an impact in displacing imported butter, since opening in 2013, McInnes adds, and these investments will leave it well placed to do the same for yoghurt, desserts, flavoured milk and cream.

Müller's confidence in the future is echoed by AHDB chief strategy officer Tom Hind. "Opportunities for the market are not insignificant, and there are also big opportunities for inward investment. The challenge for the industry is how we can enable UK dairy to perform at its optimum."

With that in mind, the ball is now in the government's court to deliver the best possible deal for the sector.