It's official. Ice cream is no longer an occasional treat for when the sun is shining. Forget going to the beach or waiting for a Mr Whippy van to roll into town - curling up on the sofa with a tub and a spoon is the new normal. But while in recent years the shift to the sofa has benefited only premium tubs, the past 12 months have seen sticks, bars, lollies, cones and even standard tubs enjoy a revival. So what is going on?
Total take-home sales of ice cream are up 5.8% to £919m, on volumes up 3.6% [Kantar Worldpanel 52 w/e 21 May 2017]. Children's lollies are now the best-performing subsector, with value sales surging 16.3% on volumes up 16 %. But adult lollies (5.1%), chocolate sticks (9.3%) and cones (4.8%) have also bounced back into strong value sales growth after suffering losses last year.
Sales are up for both brands and own label, with own-label value sales surging 6.8% on volumes up 4.6%, while branded value sales rose 5.1% on volumes up 2.5%. This is an impressive turnaround on last year, when own-label volumes fell 2.3% and brands remained flat - and follows significant investment in the category by some of the mults. The Co-op, outperforming the big four thanks to strong growth from its mid-tier range, has been dedicating more freezer space to ice cream. "Ice cream is a hero category where we perform well, so naturally we give more space to this area," says Co-op frozen food buyer Emily Baker.
The retailer has increased the number of premium Irresistible lines, added sorbets to its lineup and is preparing to expand its offering further in 2018. "The biggest change we are seeing is that ice cream is becoming more snack-related so we're experiencing a spike in the handheld trend," adds Baker.
Ice Cream Category Snapshot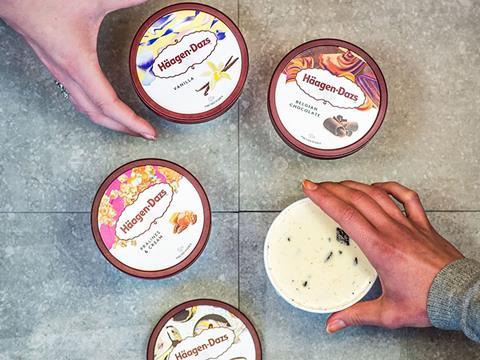 Tesco, Asda and Waitrose have also returned to value and volume sales growth for ice cream after extending their own-label offers, introducing new premium sharing tubs as well as new sticks, lollies and bars [Brand View]. And they haven't just given more freezer space to own label. Tesco, which led the big four with 5% value sales growth, has also overhauled its branded lineup in the past 12 months, with an increased focus on handheld and snacking. Among its newcomers are Wall's Feast Ice Cream Sandwich (rsp: £2.50 6x86ml), Cadbury Crunchie Blast Fun-Filled Ice Creams (rsp: £3 4x100ml) and Häagen-Dazs' new ice cream bar multipacks.
"Investment by some of the major mults has seen an impressive sales turnaround"

Häagen-Dazs has also picked up listings in Asda, Sainsbury's, Morrisons and Waitrose for the three-packs of 70g sticks, which it rolled out from convenience stores to supermarkets in February 2017. Available in salted caramel, white almond, and vanilla caramel almond (rsp: £3.49/210g), they are aimed at tapping growing demand for take-home handheld snacks, according to the supplier. It also recently launched four 'mini cups' collections.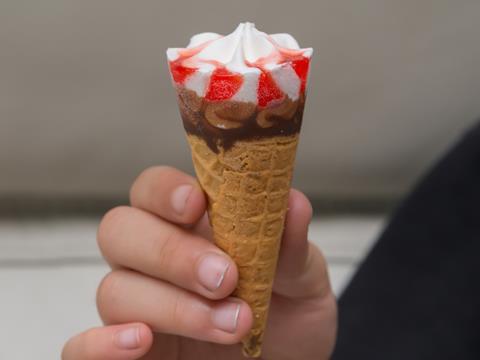 Shrinkflation: will ice cream be the next big victim?
More than 2,500 products have fallen victim to so-called shrinkflation in the last five years, according to latest figures from the ONS. But while chocolate and sweets have been a prime target, ice cream hasn't been too badly affected.
Only Unilever has made widespread changes to the size of its ice creams, and it claims those reductions were driven by health, not cost. After introducing a 250-calorie cap on single-serve products to help shoppers make 'healthier choices', it has reduced Magnum by up to 20% in size, while snacking tubs of Ben & Jerry's have been reduced by 33% from 150ml to 100ml.
Which isn't to say ice cream manufacturers aren't facing the same price pressures as their confectionery counterparts. Not only have they been hit by the sudden hike in the cost of imported ingredients since last June's Brexit vote, they have also seen a huge surge in the price of key ingredient vanilla.
Global supplies of vanilla have been tight since Cyclone Enawo hit Madagascar in March, destroying plantations and significantly reducing yields. The average price of Madagascan vanilla reached $753/kg (£588) on 9 August [Mintec], up 110% on the same week last year.
It means shrinkflation could well be on its way for the category, and brands should be wary that "consumers are well aware of the tactic" warns Sally Newall, MD at Simply Ice Cream, although she notes shoppers would be "equally opposed to steep price rises".
Brands that do decide to shrinkflate had better think of a good reason for doing so, adds Alex Hamilton from creative agency Isobel. "It could be to reduce the impact packaging has on the environment, or that large portion sizes have on health. If the brand doesn't have a reason or can't get their reasons across, they'll just look a bit greedy."

Keen to maintain the momentum in snacking sales, retailers and brands are now taking ice creams beyond the freezer aisles. One Stop added 14 ice creams including Ben & Jerry's 'Wich' sandwiches and Cornetto to its £3 lunchtime meal deal in April, while Unilever is launching secondary snacking freezers to showcase its new snacking range - including Solero strawberry smoothie and Feast sandwich. "Ice cream is a footfall generator as well as an impulse purchase," says Unilever vice president of brand building for refreshments Noel Clarke.

While handheld formats are enjoying a surge, premium tubs remain a fast-growing subsector of ice cream - value sales are up another 5.6% on volumes up 3.6%. Häagen-Dazs recently overhauled its premium tubs in order to broaden their appeal with millennials, replacing the black & gold logo with burgundy in line with its stick and mini cup ranges. "The makeover is centred around 'every day luxury moments' rather than a seasonal message and will broaden the appeal of Häagen-Dazs as a premium ice cream snack to be enjoyed at any time of year," says Arjoon Bose, marketing manager for Häagen-Dazs at General Mills. It comes as the brand faces tough new competition from Mars and Magnum, which have already gained listings in the mults for their latest sharing tub NPD. Mars and Snickers tubs rolled out in Asda at the beginning of the year, backed by a £9m media spend in 2017, while Magnum has picked up listings across the mults for its 440ml tubs launched in February.

Retailers are also finding more freezer space for tubs from smaller premium brands, which are innovating for year-round appeal. "We actually find that the autumnal months are very strong for our sales and we are just about to launch toffee apple ice cream for Halloween," says Sally Newall, MD at Simply Ice Cream, which makes Cook's own-label ice cream and has won listings in Co-op and Morrisons as a result of local and regional sourcing initiatives.

Of course, while weather isn't the be-all-and-end-all, there's nothing like a heatwave to help boost ice cream sales, which shot up 12% year on year in June [Kantar Worldpanel 12 w/e 18 June 2017]. And there's no reason for sales to cool down now the nights are drawing in and the weather is turning wetter. Says Baker at the Co-op: "Consumers want instant refreshment for a variety of non-weather related occasions including parties, desserts and nights in."