Milk brands are fighting back against plant-based alternatives with health-based NPD. But will it be enough to maintain sales?
Shoppers should "ditch milk" to save the planet, urged dairy alternative brand Oatly in March, as it launched its most blatantly anti-dairy ad push yet.
The campaign followed the "huge success" of the Swedish brand's It's Like Milk, But Made For Humans guerrilla campaign last year, and contributed to a surge in sales and even rumours it was planning to open its first-ever UK factory.
Oatly and rival Alpro's continuing success comes as the boom in plant-based alternatives to milk shows no signs of abating. Sales rose by 16.1% to £265.6m [Kantar 52 w/e 19 May 2019], as the category shifted an extra 24.2m units.
Of course, news that dairy alternatives are increasingly muscling in on the territory of milk is nothing new. But this latest assault comes amid a well-documented crisis in the liquid milk sector. Many processors have reached a "tipping point" due to wafer-thin profit margins, Müller Milk & Ingredients CEO Patrick Müller warned last December.
So how are sales of milk performing in the face of these challenges? And can milk fight back against the plant-based threat?
If dairy processors were in any doubt about the rise in popularity of plant-based milk alternatives, research by Mintel in July should leave them wondering no more.
From almond to oat and coconut to pea, plant-based alternatives are "making further inroads into the mainstream", Mintel said, with 23% of Brits consuming them in the three months to February 2019, up from 19% in 2018.
"From almond to oats, coconut to pea, plant-based alternatives are going further mainstream"
That figure rose to a third (33%) of 16 to 24-year-olds. Over 36% of this age group were likely to agree dairy farming had "a negative impact on the environment". In 2018, 79% were still consuming some dairy products, but that fell to 73% in the first quarter of 2019.
Despite this growing demand for plant-based alternatives, overall milk sales are holding up relatively well. Total value sales were up 3.9% to £3.25bn, according to Kantar, while volumes remained stable. "Dairy continues to be a key basket builder and it represents 25p in every £1 spent on fresh and chilled groceries," says Müller Milk & Ingredients senior category marketing manager Joel Barlow.
Sales of own-label milk rose 2.9% to £2.5bn, on volumes down 0.8%. This increase was largely driven by inflation in the mults. Waitrose followed Sainsbury's and Morrisons with a move from £1.10 to £1.15 for a four-pinter in January, citing an increase in the price it paid its dairy farmers. At the same time, Tesco, Lidl, Asda and Aldi all held their prices at £1.09, a significant increase on prices that fell as low as 85p per four-pinter at the height of the last dairy crisis in 2015 and 2016.
Branded and added-value milks, meanwhile, continue to deliver strong growth for the category. Total branded milk sales grew by an impressive 7.2% to £779.5m. Standard fresh value sales (up 7%) and filtered (up 11.2%) helped add almost £60m in sales, on volumes up 4.8% and 11.2% respectively.
Innovation
Among the brands enjoying success is Graham's the Family Dairy, which claims value sales of its Gold Top milk are up 17% year on year. "Dairy alternatives provide choice to customers," says MD Robert Graham. "However, British consumers are strong supporters of dairy and demand for new and innovative products within this category is growing rapidly."
With health a major factor behind the shift to plant-based alternatives, brands continue to focus on adding extra functionality to milk to tempt shoppers back to the dairy aisles.
"Consumers are seeking out delicious tasting healthier products made with ideally locally sourced ingredients they understand and trust," says Robert Graham. "Foods with functional benefits such as high protein, good source of fibre or gut health are a thriving market."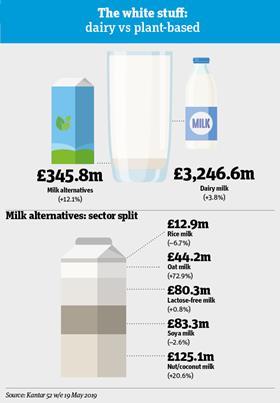 Graham's launched Protein 40 at the end of last year: a 100% Jersey milk containing just 1% fat and 40g of protein per bottle. Arla, meanwhile, has launched new Arla Goodness, which claims to be lower in fat than semi-skimmed but with 30% more protein and 50% of a person's recommended calcium intake in one 250ml glass.
This health-focused NPD helped boost sales of branded speciality milk, which surged another 16.9% to £114.3m, on volumes up 12.6%. Sales were also buoyed by standout performances from Arla's Cravendale and Best of Both, says Kantar analyst Bertie Lewis, with both brands also benefiting from increased promotions that persuaded shoppers to trade up from standard own-label milk.
As a growing number of people discover they have an intolerance to lactose, lactose-free is another lucrative sector of the milk market. Own label sales were up 160.9% to £9.6m, on volumes up 193.1% following retailer investment such as Tesco's launch of its own lactose-free milk (which achieved sales of £2.1m in its first year, according to Kantar's Lewis).
It's these non-standard milks that promise the best opportunities for growth, suggests Abigail Kelly, head of marketing at the manufacturer of Tesco's own-label lactose-free milk, Crediton Dairy. "Consumer attitudes to milk are changing. Whereas they previously used to say 'don't mess with my milk', there is definitely more of a willingness now – on the back of the success of dairy alternatives – to look at enriched or lactose-free milks, even if you don't have a diagnosed intolerance."
This has been driven by an acceptance of the need to enrich dairy alternatives with vitamins and minerals, she adds, leading to "more willingness to experiment" with speciality milks. "You're seeing that growth in the numbers. Arla, with products such as Best of Both, is doing a great job carving out new opportunities," she adds.
Returning to dairy
There is already evidence that speciality milks are starting to tempt shoppers back to dairy from dairy-free, Kelly suggests. Last year, Kantar data showed 36% of dairy-free shoppers would buy an enriched or specialty dairy product.
This growth has fuelled a significant change in the Crediton business from its heartland of long life and flavoured milk during the past couple of years, adds the processor's sales and marketing director Nick Bartlett. "We have invested a lot in people, our NPD team has doubled in size recently, and the main reason is that we operate in multiple categories, dealing with three or four different buyers," he adds. It's been a successful move for Crediton, which has seen a big rise in its own-label lactose-free, cholesterol-reducing and vitamin-enriched milks.
Cow's milk is also getting a boost from Dairy UK and AHDB's spoof public service announcement ads, which challenged perceptions among millennials and contributed to an increase in consumption, the industry bodies claim.
"Attitudes to milk are changing. There's more willingness to look at enriched milks"
Attitudinal research conducted after the initial wave of promotional activity last spring showed 8% of the campaign's target audience were less likely to cut down on their dairy intake, while 11% were less likely to replace dairy with alternatives, against a target of 3%. This success meant the campaign returned for a second round of ads earlier this year.
While the dairy industry is fighting back on health grounds, however, there is no sign of the assault from plant-based alternatives slowing down.
After unveiling a new brand identity in July, Alpro has set its sights on recruiting 18 million households on top of the 27.2 million already shopping in the category [ONS 2017].
"This new look is backed by game-changing NPD and a totally new multi-channel marketing campaign to ensure we are front of mind for the ever-increasing number of shoppers looking to buy and try plant-based," says Alpro UK & Ireland marketing director David Jiscoot.
Environmental impact
Oatly is also targeting futher growth. Having seen value sales climb by 89% to £18m in the past year, it expects sales to grow to £35m in 2019. This time, success will be driven by increased consumer focus on the environmental impact of dairy, suggests Oatly's UK general manager Ishen Paran.
"Sales of dairy alternatives up to this point have largely focused on the health angle, but the climate is climbing higher on the list of priorities for consumers," he continues. "People want to understand more about the environmental impact of their food and drink."
With shoppers starting to think more about their climate footprint, the environmental impact of a glass of the white stuff could well become the next big challenge for the milk sector to overcome.
Plummeting margins push processors to brink of crisis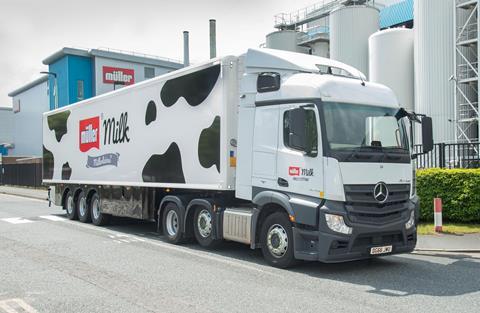 The profitability woes of UK milk processors first came to light last Christmas, when analysis of 2017 accounts by The Grocer revealed average margins had plummeted by almost 86% to just 0.14% across the UK's seven largest liquid milk processors.
Things hadn't improved in 2018, with Arla launching a €400m global cost-cutting drive in April to counteract "commodity price volatility and sharp cost increases since the Brexit vote".
That same year Tomlinsons Dairies, which supplies own-label milk to Sainsbury's in Wales, called in advisors to explore options for the business, while Hampshire-based Pensworth Dairies pulled out of liquid milk altogether, citing overcapacity in the market.
By December 2018, Müller Milk & Ingredients MD Patrick Müller had warned the liquid milk sector had reached a "tipping point". In February 2019, the dairy giant launched Project Darwin – a £100m "cost and margin improvement" programme, and by July it had announced plans to close its Foston dairy in Derbyshire.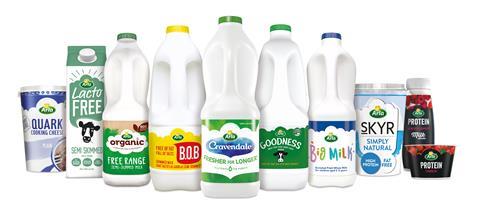 Despite these difficulties, Müller Milk & Ingredients senior category marketing manager Joel Barlow insists the company can ride out the current storm. "It is clear that in terms of profitability, the fresh milk sector has reached a tipping point, but we're confident Müller will succeed because we are well invested, progressive and efficient," 
he says.
Arla has also hinted at a brighter future. In February 2019, the c0-op claimed Project Calcium had delivered cost savings of €114m in 2018, dwarfing its initial target of €30m. This, combined with strong growth from its branded milks, had helped it "regain its competitiveness", it said.
"We continue to face major challenges, such as volatility in the global milk market and ongoing uncertainty about Brexit," said Arla Foods UK MD Ash Amirahmadi. "But despite these factors, we have delivered a strong performance and have been able to return all the net profit for 2018 to our farmer owners."
The Dairymen
From lab-made milk to butter shortages, our annual definitive guide to the dairy category is full of insight and analysis on the latest trends shaping the industry. This year, The Dairymen will explore how the UK's exit from the EU will affect British dairy, and ask how the industry can make sure it is prepared to tackle the supply chain pressures it might bring, as well as making the most of potential new export markets.
Gold and Platinum members will be able to download The Dairymen from 14 September. Subscribe now. We'll be publishing insight and analysis from The Dairymen online throughout September and October.


Kevin is The Grocer's fresh foods editor, overseeing our coverage related to the retail fresh foods sector, including dairy, meat, fish, poultry, fruit & veg and eggs, as well as the plant-based foods category.

He also assists in production of The Grocer's annual Dairymen supplement, while also writing about food commodities, sourcing, sustainability, politics and regulation; and has appeared as a commentator on both radio and TV on the state of the UK food industry.

Prior to joining The Grocer in 2014, Kevin wrote about retail financial services for a Financial Times business publication, and began his career as a journalist working for regional newspapers in Wales.

Follow Kevin on Twitter: @KevWhite77