Sales of dairy drinks are rocketing and players are lining up to claim more space in front-of-store chillers dominated by fizzy pop. So who's leading the race?
The race is on to claim valuable space in the chillers at the front of Britain's c-stores and supermarkets. Long dominated and often owned by the giants of fizzy pop, these chillers are prime retail space perfect for tapping the booming on the go market. And dairy drink players want in.

"Food to go has moved with the times far faster than drinks to go," says Nick Bartlett, sales & marketing head at branded and own-label supplier Crediton Dairy. "Food to go is mostly own label and suppliers have moved more quickly than the big drinks brands. There's an explosion of new exciting dairy drinks hitting the market. This is what millennials want."

Indeed, the flatbreads, bagels, sushi, salads and wraps now up for grabs at lunchtime in c-stores are a world away from the soggy sarnies that were once the mainstay of food to go. Yet it's still the same old pop brands - Coke, Pepsi, Sprite etc - that dominate the drinks choice in to-go. Why? And could that be about to change?
Dairy drinks are the fastest-growing sector in dairy right now. They're also one of the hottest spots in soft drinks. Sales have surged 8.5% on volumes up 6.1% [Kantar Worldpanel 52 w/e 20 May 2018]. In our April Focus on Soft Drinks, dairy drinks had the fourth-greatest volume gain after mixers, fruit carbonates and mineral water [52 w/e 25 February 2018].

Meanwhile, cola, lemonade, juice and juice drinks are in decline, leading many to conclude that it's time for retailers to relinquish some of the space held by fizzy pop at front of store to drinks with greater growth potential.

"It's very challenging to get space in amongst the fizzy drinks at front of store," says Amelia Harvey, co-founder of The Collective, which in July launched its range of kefir drinks, flavoured with such exotic ingredients as mango & turmeric and berries & hibiscus, in 220ml single-serve bottles to tap the on the go opportunity.
"Millennials care more about their health. The chillers here need to change to reflect this"
"Look at places like Australia, New Zealand and the west coast of America and the chillers are filled with intrinsically healthy drinks like kombucha, brands like Ugly Drinks and dairy drinks that are low in sugar and refreshing. Millennials are drinking less alcohol, exercising more and care more about their health. The chillers here need to change to reflect this."

There has been some change, of course. Growth in dairy drinks is being driven by three key areas: breakfast drinks, ready-to-drink coffee and protein-enriched products, following a huge wave of NPD from players large and small. But dairy drinks' progress into pop's heartland at front of store has been slow.

"Making breakfast drinks more widely available at the front of store in the chiller section will help encourage more people to buy into the sector," says Gavin Loftus, head of brand for Weetabix On The Go, the drink launched by the cereal giant back in 2014. Nielsen data puts the brand's value at £19m [52 w/e 2 June 2018], or 75% of the breakfast drink sector.

"Our main drivers of growth have been increased in-store presence, across chilled and ambient, as well as promotions that introduce new shoppers to the brand. Breakfast drinks are the most impulsive part of the cereal category and continue to grow so it's still a great opportunity for retailers to tap into the demand for a chilled breakfast on the move."
On the go opportunity
Indeed, Kantar's analysis suggests that demand for dairy drinks is being driven by growing demand from consumers looking for something they can consume on the hoof. "Growth is being driven by rising frequency," says Kantar analyst Chris Barron. "While shopper growth is stalling, those who do buy are doing so more often."

Yoplait is looking to increase shopper numbers by appealing to kids, with the March launch of a range of smoothies under the Petits Filous brand. "Frequency growth in the dairy drinks category is being driven by the increasingly busy lives that consumers lead, contributing to their need for on-the-go snacking," says senior brand manager Nina Shanahan.

"With this lifestyle change showing no signs of slowing down, the drinkables segment can capitalise further by providing relevant propositions. Tapping consumer trends is absolutely key to attracting new consumers into dairy drinks."

A catalyst for the change dairy drinks players crave came in April with the introduction of the sugar levy on soft drinks containing more than 5g of added sugar per 100ml. Dairy drinks are exempt from the levy. A month before the levy's introduction, CCEP launched its first ever dairy drink in the UK, Honest Organic Coffee.
"The appeal of RTD coffee is it has a high price per litre. It's the highest price in soft drinks"
The brand is packaged in 240ml single-serve PET bottles and is aimed squarely at the to-go market, CCEP customer marketing director Simon Harrison told The Grocer back in April. "Ideally it will be served from the chillers," he said. "The appeal of RTD coffee for our customers is that it has a very high price per litre - in fact it has the highest price in soft drinks - so it is very attractive to them."

The 24p CCEP now has to pay the chancellor for every litre of full-fat Coke it sells in the UK is clearly not the only factor driving the company's diversification. Globally, The Coca-Cola Company is already the number one RTD coffee player, and its recent £3.9bn acquisition of Costa Coffee suggests the category will be a major focus for the soft drinks giant, with further launches no doubt on the horizon.

It's obvious to see why, with industry players unanimous about the category's growth potential. "The penetration of RTD coffee is about 8% and total flavoured milk is at around 39%, so it has a long way to go before it gets to carbonates, which are sitting at around 89%," says Abigail Kelly, category controller at Crediton, which claims to be Britain's biggest RTD coffee manufacturer, producing own-label lines for the Co-op and Asda, as well as its own Arctic brand, among others.
How are dairy drinks acting on PHE sugar guidelines?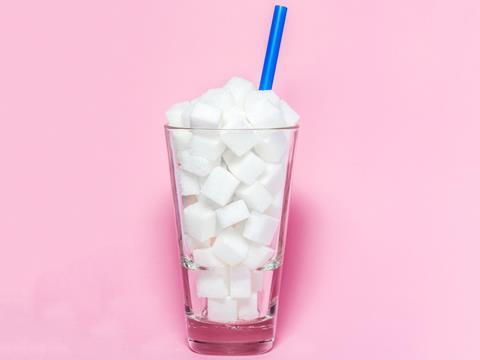 Dairy drinks might be exempt from the soft drinks sugar levy, but the amount of white stuff such products contain is still under scrutiny. PHE is calling on manufacturers to cut sugar content by a fifth by mid-2021 and cap the calorie count of single-serve dairy drinks to 300kcal. So what progress is being made?
In January, market leader Yazoo launched an advertising campaign for the No Added Sugar lines it launched last year. The aim, said communications manager Thuy Nguyen at the time, was to trumpet the claim that the range contains fewer than 100 calories per 200ml serve and no more sugar than a glass of semi-skimmed milk.
"We hope to reach 4.5 million families as part of the campaign, and encourage them to view Yazoo No Added Sugar as the perfect after-school treat that tastes great and provides kids with the goodness of milk," said Nguyen.
Number two brand Frijj also launched zero added sugar lines to its portfolio last year. The brand was also accused of shrinkflation last November after cutting the size of its single-serve formats from 471ml to 400ml while keeping the recommended selling price at £1.30. Müller said this followed research that found consumers thought the serving size 'too big'.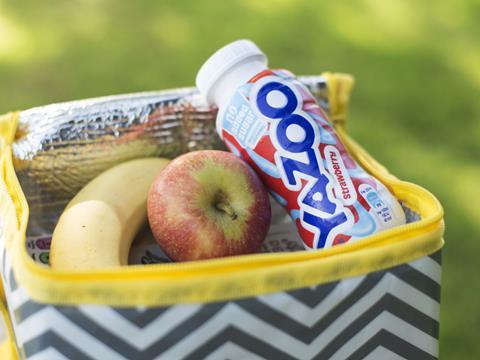 The research also found that many shoppers still wanted indulgence. "Our consumer research shows that some want healthier milk drinks, but some want them to fulfil a treat moment," says head of customer value Rebecca Oliver-Mooney. "Consumer snacking operates on a needs spectrum, from full health to full indulgence. We must provide options and choice."
In RTD coffee, health is of growing importance. "The trend for healthier alternatives has seen a further sales increase in the skinny sub sector," says Starbucks senior marketing manager Charlotta Oldham. "Relaunched in 2017, the Starbucks Chilled Classics Skinny Latte is lactose-free, contains no added sugar and is only 77 calories per cup. It's growing at 67% year on year."
Emmi UK also notes growing demand for less calorific coffee. "Dairy drinks are exempt from the sugar tax but the focus on the issue means the category is under the spotlight, so it's important to have a low-sugar option in fixture," says category development manager Eleanor Joyce.
Sales are indeed booming. Take-home sales data for RTD coffee from Kantar puts the sector in 38.3% growth to £28.1m. Caramel lattes are up 53.4% to £3.6m. And these numbers don't include on the go sales, meaning the true scale of the market is undoubtedly much bigger. Crediton expects its coffee sales to hit £20m next year. "With the growth brands like Starbucks are seeing, I can see the overall category hitting £220m by 2020," says Kelly.

And there's been no shortage of NPD - from everyone from Alpro to Nestlé with its new nitrogen-infused Azera Nitro products - to get it there. Again, Nestlé intends for Nitro, which is says has a "creamier and smoother" texture because of the nitrogen released into the drink on opening, to be served chilled to shoppers looking for a drink to consume on the go.

"This is a really exciting launch and promises to bring our premium Nescafé Azera brand to the forefront of the fast-growing chilled coffee segment," said Nestlé Beverages MD Neil Stephens on launching Nitro in March. "The launch of Nescafé Azera Nitro shows how our business is continually innovating and evolving with the times."

What might be surprising is how long it's taken Nestlé to jump in to RTDs, given its dominance of instant coffee. RTD category leader Starbucks, whose products are produced under licence by Arla, has delivered growth of 17.5% on volumes up 18.6% [Nielsen 52 w/e 17 June 2018], a feat it partly puts down to the variety of its portfolio.

"Choice and variety remain important to consumers and Starbucks is currently the only brand to offer a broad choice across its Chilled Classics, Doubleshot and bottled Frappuccino range," says Michael Lomas, commercial marketing manager at Arla Foods. "This year Starbucks also launched Signature Chocolate, inspired by the existing coffeehouse customer favourite - the first non-coffee dairy drink in the range."
Luxury options
This move makes one thing clear: there is still demand for more indulgent dairy drinks, in spite of the growing numbers of consumers who say they are trying to shun sugar. Further proof can be seen in the growth of the Shaken Udder milkshakes brand, which has gained listings in Sainsbury's, WH Smith Travel and Boots, where it is available on meal deal.

"We outperformed the ­market with 41% growth in 2017, which followed 39% growth in 2016," says marketing manager Flora Cannon. "This growth has been driven both by gaining ­listings with key retailers and also the introduction of various new NPD and packaging redesigns."
The big brands in this area - namely market leader Yazoo, Frijj and Mars Drinks - are under increasing pressure from own label, which is driving the lion's share of growth. At take-home, own label is up 16.5% to £52.4m on volumes up 17.3%, while brands have seen value rise 5.6% on volumes that have dipped 0.4%. This has been driven by a big fall in promotions: 58.4% of sales were on deal two years ago, and in the past year that's fallen to 41.6%.

"One-litre flavoured milk is almost universally own label and that has moved to EDLP," says Crediton's Bartlett. "The pound price point is where it's at. Meanwhile, either Yazoo or Frijj are on promotion in any one period slugging it out. They are driving volume. Value is being driven by coffee, breakfast and protein."

The growth in own label is also being driven by the discounters. While still under-trading in the category, Aldi and Lidl have seen value sales rise by 4.7% and 3.3% respectively. Aldi's decision to switch from Crediton's Moo Milk brand to own label (also produced by Crediton) helped drive own label's overall growth.
"Either Yazoo or Frijj are on deal at any one time slugging it out. They are driving volume"
The growth in own label is prompting some brands to invest in price-marked packs. "The retail market is moving towards EDLP, so when reviewing their product range, retailers should look out for price-marked packs to offer shoppers obvious value for money," says Michelle Frost, general manager at Mars Chocolate Drinks, which launched 350ml formats price-marked at £1.29 last year for the to-go market.

Of course it's not just the on the go market dairy drink players are going for. In the past year, a number of players have launched larger sharing formats designed for at-home consumption. Shaken Udder has launched the Uber Udder 750ml take-home format, while Alpro's new Caffè range is available in one-litre packs.

"We have recognised the importance of making Frijj available for all shopping missions so this year has seen the launch of our 900ml proposition, which capitalises on the take-home market," adds Rebecca Oliver-Mooney, head of customer value at Müller Milk & Ingredients. "We are targeting additional consumption occasions after research found that Frijj consumers wanted a larger shareable portion size that can be kept in the fridge."

In short, dairy drinks aren't just threatening traditional soft drinks in front-of-store chillers. They're also bringing the fight to the fridges in our homes.
Download the PDF version of this report
---
Back to the future: why doorstep milk delivery is undergoing a resurgence
1

2

3

4

5

6

7

8

Currently reading

The great dairy space race: The Dairymen dairy drinks report

9

10