As dairy-free lines muscle in on standard products' chiller space, dairy giants are being inspired by the alternatives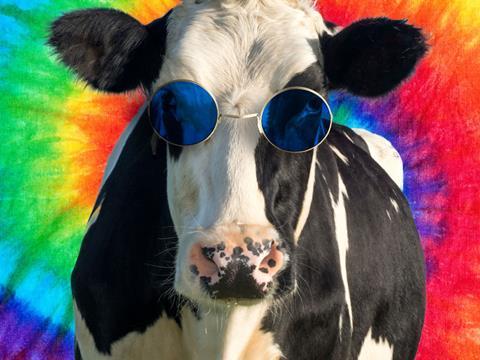 The markets are churning in dairy. As dairy alternative brands go mainstream and are stocked in chillers next to the sector's giants, many mainstream players are moving in the opposite direction and going alternative.

Müller moved into free-from in May with the launch of lactose-free Müller Corner yoghurts and in July Arla brought Finnish lactose-free yoghurt brand Ihana to the UK. Meanwhile, Danone is mulling the launch of vegan variants under the Actimel and Activia brands after buying Alpro owner White Wave Foods last year. Even Coca-Cola European Partners and Innocent are at it, having respectively launched plant-based brand Adez and a line in nut milks in the past year.

The attraction is clear. Every area in dairy alternatives is in growth. Brits have spent an extra £66m on the category, with the value of take-home sales soaring 17.4% to £445.8m on volumes up 13.9% [Kantar Worldpanel 52 w/e 20 May 2018].

That's not all. Waves of dairy alternative innovation have been rewarded by retailers disbanding rigid free-from chillers to move alternatives alongside their dairy counterparts. In and out of the supermarkets, barely a single dairy-dominated space has been spared the invasion of the alternatives. No wonder mainstream players are now heading in this direction too.
So far, only Danone is exploring plant-based options - with Müller and Arla no doubt reluctant to do the same given the conflicts it would cause with their farmers. However, lactose-free milk is in strong growth, offering traditional dairy suppliers the opportunity to win back shoppers switching to alternatives for health reasons.

Plant-based brands remain unfazed by this mainstream incursion into the alternative space, though. The market has plenty of room for growth, says Alpro head of marketing Vicky Upton. "Two out of three households aren't buying plant-based options," she says. "In what we're calling 'The Year of Plant Power', our aim is to realise the category's full potential by working with retailers and foodservice outlets to target those two out of three."

Indeed, all of the big four supermarkets now offer plant-based alternatives both in dairy chillers and free-from ambient aisles - a double win for the brands. Even the traditional milk round is facing competition from dairy-free. London dairy-free delivery service Mylkman has won funding to expand its business into another five cities. Meanwhile, Rebel Kitchen has hit the capital's streets to deliver to the doorsteps of urbanites in a nostalgic marketing push.
'Holistic' health
It makes sense to aim at this end of the market, says UK commercial director at Califia Farms Ben Dando. While the 'core' alternatives consumer is still aged 35-54 and female, more families and millennials are now buying into the category, he says. And they aren't just reducing dairy consumption for health reasons, adds Violife CEO Anthimos Misailidis. Instead, the "holistically health conscious" want a way to improve their health and the planet's.

Millennials are also part of the generation that's grown up with a coffee shop on every corner. And so a growing number of milk alternative brands are launching products for coffee drinkers. Frothability is a key selling point, with the likes of Rebel Kitchen advertising froth-friendliness on pack, while Oatly attributes the success of its Barista Edition to "behaving in the same way you would expect from dairy". Meanwhile, Alpro extended its For Professionals range used in Costa Coffee shops in January this year.
Such NPD is driving strong growth in alternative milk, with oat-based products delivering the strongest percentage gain, albeit from a small base, in the past year. This has been driven by the efforts of brands such as Oatly to establish oats as a more sustainable alternative to soya, claims Oatly general manager Ishen Paran.

"We see a lot of new companies bringing out NPD in dairy-free, so consumers have never had so much choice, but it's brands that exceed expectations around taste and nutrition that win the loyalty of consumers," explains Paran. "They're recognising oat milk is neutral in flavour, making it easier to make the switch from dairy without changing the flavour of their tea, coffee or cereal."
"Around 30% of people in the UK are buying into dairy-free compared with 40% in Europe"
Others tip dairy-free yoghurts and cheese for strong growth. "Dairy-free yoghurts and cheeses are still lacking penetration," says Misailidis. "Even a few years ago, a non-dairy cheese would have been considered a huge compromise - awareness hasn't matched the quality upgrade on the market."

Established brands are putting this to rights, with Nush following its kids-focused Tubes launch with a cheese alternative. Violife added more Conti-nental cheeses to its vast range while Alpro not only extended its line of yoghurts but cut sugar in them, before bringing a dairy-free ice cream to the UK in October last year. Add to that goat milk supplier Delamere's first branded lines of non-animal-based alternatives with its Planted range, and the category has never had more variety.

Which is exactly what's needed to fuel further growth. "Around 30% of people are buying into dairy-free in the UK compared with 40% in Europe. There is still a lot of opportunity out there," says Plenish founder Kara Rosen.

With headroom like that, it seems a safe bet that more dairy giants will go alternative in the months ahead.
Download the PDF version of this report
---
Innovations in dairy alternatives 2018
Click on an image to expand
Back to the future: why doorstep milk delivery is undergoing a resurgence
1

2

Currently reading

The new mainstream? The Dairymen dairy alternatives report 2018

3

4

5

6

7

8

9

10