Convenient, portion-controlled snacks are suffering as Brits plump for larger formats at home. How are suppliers adjusting?
Talk about a double-edged sword. On the one hand, housebound Brits were snacking on cheese like never before to stave off boredom and general feelings of doom during lockdown. That sent cheese sales soaring by 10% in value and volume [Kantar 52 w/e 12 July].
Trouble is, it wasn't necessarily snack formats that benefited. At home, it was easier to carve a small slice off a slab of cheese – or even chomp on an entire block, as pictured above – than pay a premium for individually wrapped formats. The same went for yoghurts. On-the-go packs lost a key part of their appeal: quite simply, very few of us were on the go.
The effect is evident in the sales figures. Although the value of the dairy snacking category rose 3.9% to £248.8m [Kantar], growth has slowed significantly. After all, this time last year, value sales were rising at a considerably faster rate of 10.4%.
Dairy snacking also suffered a penetration decline in May after 18 months of uninterrupted shopper growth. It's certainly a murky picture at a time when at-home dairy consumption has gone through the roof.
So, what does the future hold for dairy snacks? Will the reopening of schools help reinvigorate sales? Or does the long-term rise of working from home mean on-the-go formats are set to make a quick exit?
Lockdown was always going to hit the dairy snacking category hard. After all, children form a large part of the market. As schools closed, they no longer needed lunchbox-size snacks.
"With the number of out-of-home and carried-out occasions declining through lockdown and post-lockdown, shoppers have moved their spend into the more regular cheeses," says Kantar analyst David Taylor. He names blocks of cheddar and other territorial cheeses as the "key drivers of performance in the market during this period".
"With out-of-home occasions declining, shoppers have moved spend to more regular cheeses"
Crucially, these block cheeses offered shoppers a price advantage at a time when they were less willing to pay for convenience. See Cathedral City, for example. A 24g snack bar costs 65p at Tesco, equating to more than £2.60 per 100g. The latter price could also buy you a 350g block format of Cathedral City at the retailer.
What's more, the average price of dairy snacks has risen 1.5% over the past year, according to Kantar, as retailers cut back on volume deals and promotional activity.
So it's easy to see why consumers plumped for cheaper, larger formats. The same dynamic played out in yoghurt-based snacks. "There was a bit of softness during the Covid period – when the kids were at home, we saw a dip in sales of our portables like Frubes, tubes, pouches and drinkables," says General Mills marketing manager for yoghurt Joanna Goodman.
But not all areas of the market were hit to the same extent. On the branded side, dairy snack sales rose 5% to £232.7m, on volumes up 3.7% [Kantar].
The beacon brands appear to have held up well. Babybel, the UK's biggest snacking cheese, suffered just a "slight decline" of 0.5% over the spring lockdown period, says Bel UK group marketing manager Gaëlle Vernet [IRI 12 w/e 27 June 2020]. The brand has seen a "continuous upward trajectory" since measures eased in July, she adds.
On the flip side, own-label snacks plunged 10.4% to £16.1m. There is a reason for this disparity in fortunes. For starters, it's important to note that private label only makes up a tiny portion of the category, representing just 6.5% of its £245.8m value. And its proposition has generally lagged behind that of snacking brands.
"Own-label participation has always been relatively low," says General Mills' Goodman. "If there are strong brands which are driving growth and innovating and tackling the issues retailers are passionate about like health and sugar, then there's less incentive to push own-label harder.
"We have strong brands in place, and the cheese snacking guys do," she adds. "Which we're all continuing to support above the line: we've increased our media spend 25% to talk about the unique benefits."
It's not just media spend giving brands the edge. They are also quickly adapting to the new market conditions.
It may not look that way at first, considering innovation has taken a hit this year. "Last year NPD was a key driver for the sector. However, the impact of Covid-19 has seen NPD levels fall considerably, impacting the overall growth performance of the sector," says Kantar's Taylor.
Indeed, nearly all of the new products registered over the past year were minor extensions to existing brands rather than pioneering innovations.
But these extensions are proving vital to attracting shoppers in the so-called new normal. See Nomadic Dairy, which is launching its Yoghurt & Oat Clusters into multipacks of three, rather than the larger multipacks typically seen in the category.
"We've designed it specifically for single households and smaller family units, who are turned off by the much bigger pack sizes offered by other brands," says Nomadic Dairy brand manager Bethan Miles.
Too many companies, she argues, are "creating oversized multipacks – creating waste and misjudging the changing nature of our society".
That the brand's pots come with their own spoon played well with office workers when lockdown restrictions eased, she adds. "The spoon previously meant no one had to pick up cutlery from a basket in-store, but now, it means they also don't have to use shared cutlery in the office. In Covid times, that's a major consideration, and rightly so."
And, at the office or not, Miles stresses that Brits aren't snacking less since Covid-19 hit. They're simply snacking differently. "Contrary to popular opinion, if we analyse Kantar data, overall snacking, which is where we really compete, didn't drop off or disappear. It just moved in-home", she says.
Locked-down Brits "were looking for little pick-me-ups while confined at home" she adds – a pattern that could reemerge as Britain faces ever more local lockdowns and restrictions.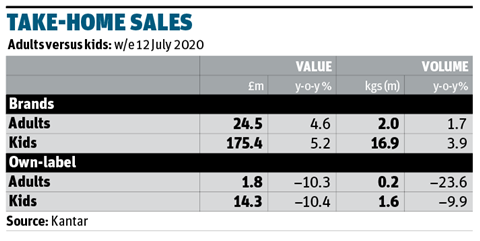 Healthy interest
In this environment, another factor that looks set to assume growing importance is health. As the link between the severity of Covid-19 and obesity is increasingly publicised, Brits are taking a keen interest in the nutritional content of their snacks. That means they are scrutinising health claims and ingredients like never before.
Certain claims are proving particularly potent. "The [brands] that are really growing are those who are talking about benefits like digestive health, which is often linked to immunity – and dairy-free of course, which was already growing well before Covid," says Goodman.
With that in mind, Goodman says adding a broader free-from snacks offer is "on the wish list" for General Mills. Frubes is the most likely candidate for adaptation, she reveals.
This shift towards healthier options is being reflected on the shelves. Retailers are rationalising ranges to make more room for more virtuous dairy snacks as winter draws near, Goodman says. "There is a lot of removing duplication and really trying to make things work as hard as possible," she explains. "They are really trying to pull out health on shelf and what the unique benefits are."
In this climate, shouting about health benefits is just as important as your ingredients – in terms of gaining retail space and educating shoppers. "For instance, a lot of shoppers don't know we fortify our kids' yoghurts with vitamin D, so they might happily give a child an adult yoghurt, which will not only contain vitamin D but is also likely to be an inappropriate portion," says Goodman.
The looming shadow of the government's new obesity strategy is another factor speeding up the move towards health-focused ranging. The focus on sugar means cheese brands are in pole position here, as their core product is virtually sugar-free.
"No-added-sugar ranges are important, but you have to be careful of the impact on taste"
Yoghurts have it harder. While General Mills' yoghurt snacks won't be banned from advertising or promoting under the new rules, Goodman says brands now have "always got to be looking to go one step further" on health, regardless.
That explains the launch of its No Added Sugar Petits Filous, which is just one of the many new snacking products flagging up low-sugar credentials. Yet that doesn't mean all General Mills ranges will follow suit.
"No-added-sugar ranges are important, but you have to be careful because it does have an impact on taste delivery," says Goodman. "You have to do it slightly more gradually than you would like to retain people's taste buds, because we're all used to a certain level of sweetness."
Nomadic Dairy's Miles similarly advocates a note of caution in the sugar reduction efforts. "We don't believe that today's consumers want 0% sugar and 0% fat products, especially when the replacements are nasties and stodge such as starch, stabilisers and artificial sweeteners," she argues. "The mouthfeel of such products alone turns people away from the category, it's a travesty."
Back to school
The good news is that if brands do manage to balance sugar reduction with taste, they stand to have a brighter future in the coming year. Goodman says the reopening of schools is giving brands an encouraging boost.
"We're set to have our biggest ever back to school period," she says. "Retailers are really getting behind it because a lot of schools currently aren't able to offer hot meals and are either packing lunches for children, or parents are sending lunchboxes in."
Of course, there are regional differences. "Every local authority is tackling it differently – it's not the case everywhere and it depends on the school's ability to provide that service, but a lot have actually reached out to us for products and we have signed some really exciting contracts to supply them," she says.
Goodman points out this has the added benefit of driving trial among kids who might otherwise not have tried the products.
Initiatives like this may prove vital in the coming months. Because Kantar's Taylor warns snacking brands will have to work hard to disrupt the habits formed during lockdown.
"With recent changes to shoppers' habits affecting the top selling lines it will be important to understand if shoppers simply switch back to more convenient snacking items or are willing to continue to use the cheaper blocks, particularly as the recession arrives," he says.
So for now, the outlook is cautiously optimistic. Britain's love of dairy snacking isn't going anywhere, and occasions are likely to rise with the return of schools. But, as the recession bites and old habits linger, it may be some time before dairy snacking returns to the stellar growth of years gone by.
Innovations in dairy snacking 2020
This article is part of The Dairymen - our annual guide to the dairy industry that's packed with insight and analysis on all the latest trends. To read the report, subscribe here.
A new sugar tax? The Dairymen drinks category report 2020
1

2

Currently reading

The perfect portion: The Dairymen snacking category report 2020

3

4

5

6

7

8