Aldi is now cheddar's fourth biggest retailer and brands face the axe as own label rises. So how can they avoid a grim future?
Strange but true: cheese reveals much about the world today and the direction it's heading. Of course, we're not talking tiromancy, the ancient art of observing the coagulation of cheese to divine the future (really, that was once a thing). It's sales figures we're interested in.
Cheddar may be flat, but dig deeper and changes in the way we're living and shopping are revealed. Aldi has for the first time achieved greater value sales of cheddar than one of the big four, for instance. Its market share now stands at 10.4%, versus Morrisons' 9.9%, making it Britain's fourth biggest cheddar retailer [Kantar 52 w/e 19 May 2019].
That cheddar brands are down 2.5% on volumes down 4.1%, the greatest branded loss in dairy this year, illustrates how the world is becoming a more challenging place for brands without a strong USP.
It's all connected, of course. As the hard discounters steal share of the market, the big four are strengthening their own-label offerings. Own label is up 2% in value, 1.7% in volume.
But if price is king, convenience is queen. Many shoppers are now too busy (or lazy) to grate or slice their own cheese. Pre-sliced and grated sales are up 5.3% to £280.9m, a trend that is helping to keep market value growing ahead of volume, just.
So who's winning? Who's losing? And what does all this tell us about how the retail landscape is changing in Britain?
"Brands have had a challenging year, under pressure from ongoing range rationalisation and an increasing price premium over an increasingly well perceived own-label competitive set," says Nigel Marchant, marketing controller at Saputo's Cathedral City, Britain's bestselling cheddar brand, up 10.1% on units up 10% [Kantar].
"Growth has predominantly been driven by own label, as retailers have driven down pricing while investing in comms to improve its quality perception. This pressure has driven brands to promote more heavily to deliver volume and shore up their place in store. This is creating an increasingly commoditised landscape."
"Brands have had a challenging year, under pressure from ongoing range rationalisation"
The numbers speak for themselves. Tesco relaunched its Creamfields budget brand last year and it has already achieved sales of £53.7m, making it the fifth biggest own-label range, says Kantar. Aldi's Everyday Essentials cheddar lines are up 16.4%, Asda's standard own label is up 10.3% and Simply Lidl is up 98.9%.
"Most of the major retailers have been really successful at getting the right products in the right tiers for the right consumers with their own-label lines in the past year," says Gordon Walsh, commercial director at own label and branded cheese supplier Ornua.
"I don't agree with the view that the market is being commoditised by the growth in own label. What we decided to do five years ago was try to drive as much efficiency as we could into our business, because we saw significant untapped potential in the supply chain.
"We've developed Europe's most efficient cheese packing site, for example. That means we can pass those savings back to our customers, who in turn pass them back to their consumers."
Price promotions
The growth in own label has led to fierce competition among brands, which has resulted in big losses for many of the major players. Britain's second bestseller Pilgrim's Choice has lost 17.4% of its value and shifted 21.4% fewer packs. Number three brand Lactalis McLelland Seriously is down an eye-watering 41.8% on volumes down 48.1%. Wyke Farms has lost 6.8% of its value and 1.5% of its volume. Of the top five brands, only Cathedral City and Ilchester are in growth.
"There is no denying that Seriously cheddar is having a challenging time in the market and is currently in value and volume sales decline year on year," says Lactalis McLelland sales director Mike Chatters, adding that the brand's Spreadable range is in strong growth. "The decline is primarily due to range changes in Morrisons. However, within convenience, Seriously is performing well with volume and value sales growth."
Others suggest the brand has been a casualty in the fierce promotions that have characterised the market in the past year. "Seriously has been sacrificed in the battle with Pilgrim's Choice and Cathedral City for space," says one source.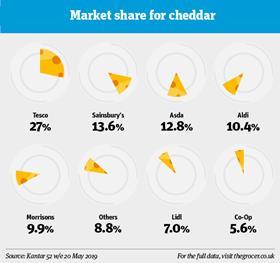 Kantar's read actually shows a 3.9% fall in sales on deal in the past year. This reflects the discounters and own label's growth (both rely more on everyday low pricing than high/low deals) rather than any significant decline in deals on brands. However, with margins facing the squeeze, many say brands are now rethinking such pile high/sell cheap strategies.
"The category is being reset," says Ornua marketing director Mike Harper, who is responsible for the Pilgrim's Choice brand.
"Deep promotions have led to a blurring between the roles of own label and brands. It is our belief brands should be at a premium to own label and that hasn't always been the case. For the past seven years we have been investing in Pilgrim's Choice to allow us to command a higher price per kilo. Clearly you can't add value to the category in this way without investing in your brand strength. That's what we've been doing."
The past year has seen a significant change in Pilgrim's promotional strategy, resulting in a 4.9% rise in the brand's average price and a slide in its sales, although Harper says that decline is now slowing.
"For the past 12 weeks we're broadly flat in value and down 2% in volume," he says. "I'm happy with those results. We are now not going as deep on our promotions."
"Deep deals have led to a blurring between brands and own label… brands should be premium"
In June, Pilgrim's announced it was forking out £2.5m on a new TV and in-store ad campaign entitled Dishes of Your Dreams, aimed at encouraging more shoppers to cook with the cheese. The campaign, which kicked off on TV in July, is a continuation of the 2018 Cheese Dreams ads.
Wyke Farms, meanwhile, is trumpeting its environmental credentials in a national magazine campaign in a bid to halt its decline. "One of the questions we get asked is what brands can do to fight back. I think it's really about having a true story that pushes people's levers," says MD Rich Clothier.
"Provenance and the environment are going to be even more important to consumers post-Brexit. A lot of those standards around point of origin, perceived quality and environmental standards have come from Europe. So if we do have a trade deal with the US there's no doubt in my mind that we would have to accept some of their standards. That means point of origin and environmental standards will become more important in maintaining trust with the consumer."
Territorial cheeses on the up as brands win listings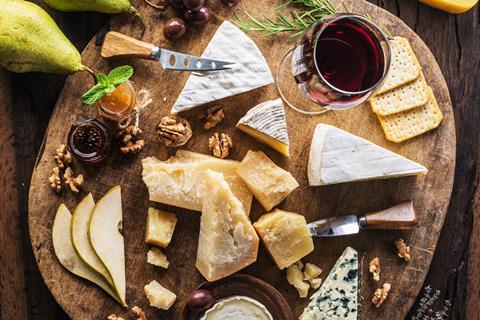 There's more to cheese than cheddar. That's the thinking behind red leicester cheese brand Red Fox's latest marketing campaign, and it's true if sales of territorial cheese are anything to go by.
Value sales of territorial cheese are up 4.6% to £233m on volumes up 4.4%, and red leicester is key to that growth with sales up 3.8% to £93.5m on volumes up 6% [Kantar 52 w/e 16 June 2019]. "Growth is being seen in both own-label and branded red leicester cheese – with brands up 38% on year," says Mike Hutchins, senior national account manager at Belton Farm, which makes Red Fox.
Butlers Farmhouse Cheeses is among the brands winning red leicester listings in the supers. The Lancashire-based company won a Morrisons listing for its new Firecracker Red Leicester in July, which commercial director Matthew Hall describes as "kissed with chipotle chilli", and is aimed at shoppers looking for a modern alternative to cheddar.
"This gives a modern kick to a classic territorial," he says. "It appeals to consumers looking for something a little more interesting from their cheese but wanting to stick with a trusty territorial."
And therein lies the challenge for territorial cheese players: demonstrating relevance in the modern world of cheese while positioning themselves as a premium alternative to core cheddar.
"British territorial brands can often be perceived as old fashioned rather than traditional, prized, treasured and time honoured," says David Hartley, MD at Wensleydale Creamery, which launched new brand The Yorkshire Creamery this month [September], featuring cheddar, red leicester and double gloucester cheese with a "Yorkshire twist". "There are some fantastic territorial cheeses available that have amazing product stories behind them, so it's important we celebrate the heritage and the amazing quality of the cheeses of this country."
It seems shoppers are prepared to pay more for cheese with a story. At £2.50 for a 200g pack of Red Fox's Aged Red Leicester and £2.10 for a 200g block of Wensleydale Creamery's Yorkshire Wensleydale in Waitrose, shoppers are paying significantly more for territorial cheeses than the market average of £1.20 for 200g of cheddar.
Premium cheddar
Saputo is investing in its premium Davidstow brand with a national sampling tour. "Davidstow has had a strong year, growing volume by 9%," says Marchant. "It has benefited from refocused distribution, centred around stores in more affluent postcodes, and the launch of Three Year Old Vintage into Sainsburys."
Indeed, the boom in budget own-label lines doesn't mean we're losing our appetite for more premium cheddars. Somerset cheese producer Godminster is a good example of the growing appetite Brits have for premium cheeses that offer something more than the mainstream offerings.
"Our bestselling line last year was our 200g Vintage Organic Cheddar," says commercial director Derborah Bradfield, who points to the company's new Black Truffle Vintage Organic Cheddar (rsp: £7.50) as proof of further premiumisation. "Our Vintage Organic is more than 'just a cheese' – in its beautiful burgundy wax it makes an eye-catching addition to a cheeseboard."
"Retailers are doing a good job communicating the tiering of their own-label propositions"
Catching those eyes is crucial, adds Clothier at Wyke Farms, which relies on supplying mostly upper tier own-label products to a variety of retailers and foodservice players for about 40% of its revenue.
"If it's just a race to the bottom with cheese that doesn't reflect our values, then it's not of interest to us," says Clothier. "Many of the retailers are now doing a very good job in communicating the tiering of their propositions. Lidl has done a great job with Deluxe and Tesco has done well tiering off the Finest lines against Creamfields."
Walsh at Ornua points to the fact that value and volume sales of own label are up as proof that most are getting their ranging right. "It suggests they are getting the balance right," he says. "For all the investment they are putting into the value tier, they are also getting a decent performance out of the standard and top tiers."
This, clearly, has cost some brands dearly. But as the big four reduce their branded offerings, the discounters and mid-tier players such as B&M and Home Bargains are increasing the branded lines they're stocking. At the time of writing, a 350g pack of Cathedral City was going for £2.50 at B&M, while Tesco was selling the same SKU for £3.50. Wyke Farms has lost space in Waitrose and others in the past year, but Clothier says growing sales through Lidl and Home Bargains is helping to offset this.
Retail performances
The numbers reflect the success or otherwise of the retailers' ranging, as well as larger shifts in the retail landscape. Aldi and Lidl are up 13% and 10% in value respectively, while Asda is the best performing big four player, with value sales down 1.6%. Morrisons and Tesco are down 2.2% and 2.9% while Sainsbury's has lost 5.9%. Some suggest this is evidence that Sainsbury's has been too aggressive in stripping brands out of its portfolio and focusing on its value own-label lines.
"I don't think they have the balance right," says one source. "They are focusing too much on price and forgetting a key reason people like to shop in the multiples – choice. Shoppers like to pick and choose from a well differentiated range. And, of course, it gives the retailer the ability to drive value into the category."
There's more than one way to add value, of course. Convenient options such as grated, sliced and snacking formats have delivered growth worth £15m in the past year, according to Kantar. "Whilst rationalisation is a focus and own-label retail pricing is increasingly competitive in block, there are opportunities for growth in areas such as convenient formats and snacking cheese," says Cathedral City's Marchant, pointing to the brand's growing range of slices, snack bars and kids snacks.
Without new formats and interesting products, such as healthier lines (see below) that stand out, there'll be trouble on the cards for brands.
Can healthier lines lure the young back to cheddar?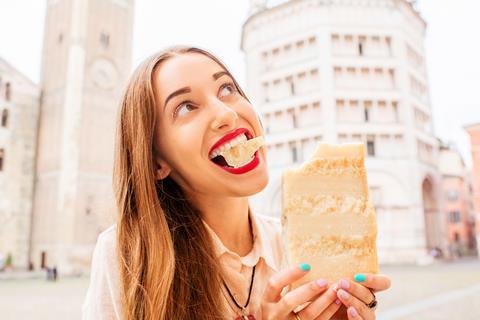 Cheddar brands have a problem: they're finding it increasingly difficult to cut it with the younger crowd.
"A notable challenge lies in maintaining branded cheddar's relevance with younger shoppers," says Cathedral City marketing controller Nigel Marchant. "They're more price sensitive, so they're switching to own label and the discounters. And they're changing their consumption away from cheddar altogether."
A key reason for this is concerns over health. "Health as a reason for food choice continues to grow and this is reflected in the growth of the reduced-fat everyday cheese sector," adds Marchant. "Younger demographics overindex in lighter cheese."
Hence the brand's growing focus on health-orientated lines. October saw the reformulation of the Cathedral City kids' snacking range to a lighter recipe and the launch of lactose-free blocks. In June, the brand launched Cathedral City 82, a product claiming to contain 50% less fat and 33% fewer calories than standard cheddar, while still tasting like a higher-fat option.
However, healthier options don't just appeal to younger consumers.
"Health and wellbeing is a growing trend in the cheese market," says Stephen May, director and founder of Lo-Col, which claims to be the UK's only cholesterol-reducing cheese. The brand is aimed primarily at over 55s, and has just 25% of the saturated fat of standard cheddar.
"With rates of diabetes and high blood pressure rising, plus an ageing population, there's a perfect storm happening that dairy products offering an added health benefit can capitalise on."
The Dairymen
From lab-made milk to butter shortages, our annual definitive guide to the dairy category is full of insight and analysis on the latest trends shaping the industry. This year, The Dairymen will explore how the UK's exit from the EU will affect British dairy, and ask how the industry can make sure it is prepared to tackle the supply chain pressures it might bring, as well as making the most of potential new export markets.
Gold and Platinum members will be able to download The Dairymen from 14 September. Subscribe now. We'll be publishing insight and analysis from The Dairymen online throughout September and October.