From pasteurisation to machine learning, we look at the tech that has helped the industry evolve – and what might change it even further
When it comes to tech, the dairy industry has championed some nifty innovation. It started with simple inventions that took the pain out of work. The milking stool, made with three legs so it wouldn't wobble on uneven ground, saved crouching. Then there was the ergonomic carrying pole – or milkmaid's yoke – for buckets of milk, which reduced the number of trips from cow field to farmhouse.
As we entered last century, scale and safety became the focus. In 1930, rotating parlour The Rotolactor was unveiled, capable of milking and washing 50 cows in 12-and-a-half minutes. The electric milk float was invented to meet growing demand for doorstop deliveries. And pasteurisation became the standard.
Yet that example of pasteurisation shows how UK dairy has sometimes been slow to adopt new technologies. In a 1943 paper championing compulsory pasteurisation of milk, for instance, British bacteriologist Graham Selby Wilson wrote: "Objections are frequently raised to it on pseudo-scientific grounds, but the real objection in the past has been financial, and has come from the producer-retailers."
That aversion to change remains. Take robotic milking machines. Market penetration is still low, with about 10% of the UK's cows milked by robots – although market leader Lely expects to double the number of installations to 6,000 in the next five years.
"The track record indicates that the UK lags behind comparable high-income countries in effective agricultural technology use," says Professor James Lowenberg-DeBoer of Harper Adams University.
He believes that could all change, as market conditions force a growing use of tech. "The UK agri-food sector is facing unparalleled challenges created by the confluence of climate change, food security concerns, and the farm policy and trade changes linked to Brexit," says Lowenberg-DeBoer. "To respond to these challenges, UK farmers and agribusinesses need access to the latest science and technology."
The government is encouraging these developments through its Farming Innovation Programme, designed to boost productivity, sustainability and resilience. Since launching in late 2021, its has announced more than £123m for industry-led R&D.
The resulting pitches, farming minister Mark Spencer says, "showcase the range of possibilities available for driving up productivity and solving some of the industry's biggest challenges". In August, £14m was made available to the sector in two research and feasibility competitions.
While Lowenberg-DeBoer says government-backed projects "tend to be conservative", the sector is not without moonshot ideas. Take cell-based milk. Startups like TurtleTree aim to make this in a factory using mammalian cells. For now, it is using lactoferrin protein in a lab – "a proven-to-scale technology we can harness to hit price parity right out of the gate" says chief scientific officer Aletta Schnitzler.
Because, like all innovation, it requires cash. "Achieving profitability in the short term will support our cell-based milk project," she adds.
It's just one example of game-changing innovation in dairy over the years.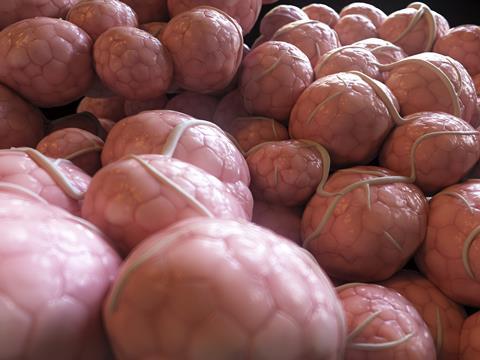 Cell-based milk
Real cows milk, but without the cow-milking process
Genuine cows milk without the cows. That's the promise of cell-based milk, which is made by harvesting mammary cells from a cow's udder.
Those cells are then arranged atop a fine mesh in a bioreactor, and fed nutrients and hormones to induce milk secretion.
"Cell-based is the only technology with the ability to produce milk in its entirety," according to TurtleTree, one of a handful of startups working on the technology.
"This cell-based milk could then be made into cheese, ice cream, yoghurt, or other dairy products that would be indistinguishable from traditional dairy products – in taste, texture, and nutritional value."
One Canadian company –Opalia – is planning to start pre-pilot production next year.
"We are 100% focused on manufacturing a dairy product that negates any potential harm to animals and eliminates the massive environmental impact of traditional dairy products and production," says the company's CEO & co-founder Jennifer Côté.
However, while mainstream cell-based milk remains the long-term aim, scaling production is proving difficult and expensive.
So in the meantime, players in the sector are focusing on the more achievable tech of precision fermentation, which uses microorganisms to produce animal-derived ingredients.
These are added to plant-based milks to improve their nutritional value, taste and texture.
Some have already reached market, like US company Perfect Day's Cowabunga and Bored Cow milks.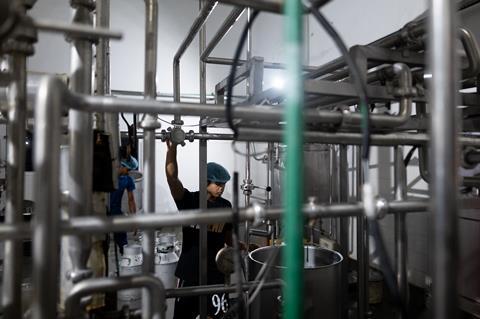 Pasteurisation
The bacteria killer that ended tuberculosis-related deaths
Milk is a paradise for bacteria and other pathogens. As late as the 1940s, 2,000 people in England and Wales died every year as a result of tuberculosis from milk.
While Louis Pasteur's 1886 experiments with wine gave the process its name, it was more than three decades later that German chemist Frans von Soxhlet suggested milk sold to the public be pasteurised.
It was met with resistance for decades before becoming the standard.
Raw milk was banned in Scotland in 1983, shortly followed by most of the US.
In England it can't be shop-bought, but in recent years fads have resulted in sales soaring – and farmgate vending machines have made it more readily available.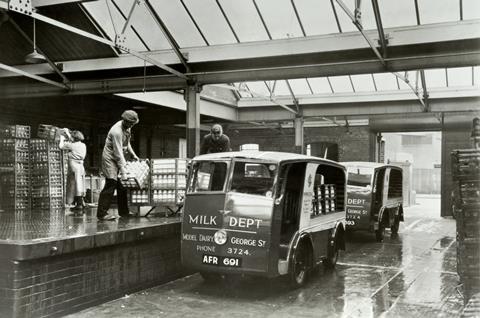 The electric milk float
The silent dairy delivery vehicles that could still make some noise in industry
The Express Dairy Company was the first to experiment with electric floats in 1932. Having proved successful, it led to the replacement of all horse-drawn vehicles with a fleet of well over 2,000 floats.
Versus diesel or petrol powered, the electric floats could complete their rounds in near silence – an important consideration given their delivery hours – and proved more economical to operate in the constant stop-start conditions.
Their popularity only grew, and in the early 1970s, 99% of UK households had milk delivered to their door, according to Andrew Ward in his book No Milk Today. But the rise of the supermarkets soon put an end to that.
Now, electric delivery vehicles are on Britain's roads again. Hundreds of them are making rounds for companies like Milk & More, which has one of the largest electric fleets in the country.
Supermarkets are investing too, in both emissions-free vehicles that look like standard vans and in electric-assisted cargo bikes designed to navigate congested cities. It looks like a renaissance for electric dairy delivery.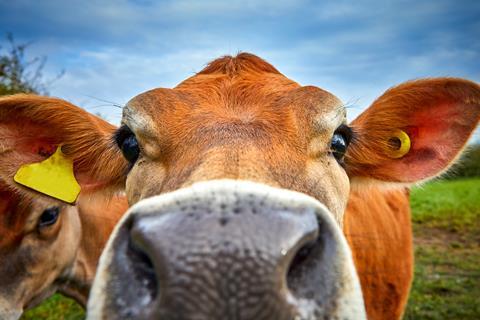 RFID ear tags
The tags that kicked off the digitisation of dairy
Humans have sought to mark their livestock for centuries. But the UK's BSE outbreaks of the 1980s and 1990s led to a surge in electronic identification ear tags, which make use of radio-frequency identification tech.
In a farm setting, a reader sends out a radio signal that is picked up by the microchip. The chip sends back its unique identity number.
The ear tags themselves are unassuming – but they kickstarted the digitisation of dairy, allowing direct reader-to-PC communication, removing the need for manual counting and paperwork.
They also allow for far greater traceability of cows and, thanks to their ability to automatically open gates, swifter segregation.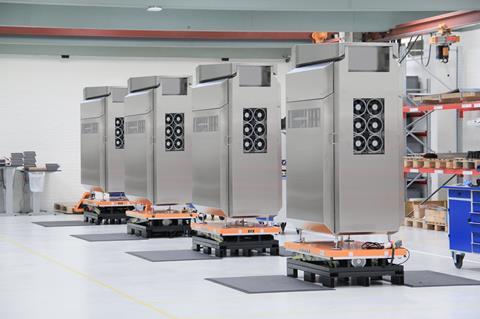 Raslysation
The next step on from pasteurisation? Using UV light to inactivate bacteria
Pasteurisation has been revolutionary for the dairy industry, but it is not without its downsides. It's not only time-consuming, but can also lower product quality, reduce nutritional value and consumes vast amounts of energy in heating and cooling.
Danish company Lyra says the future is 'raslysation', which uses UV light to eliminate unwanted micro-organisms in milk, whey and brine to extend shelf life of the final product.
While UV can be used effectively on water, the opacity of the likes of milk "has been the challenge", says Lyra.
For the rays to inactivate all bacteria in the liquid, they must all be illuminated. The company's solution has a "unique design geometry" that "creates a turbulent flow to ensure the entire volume of liquid is exposed to UV light".
This technique saves 60% to 90% of the energy consumption and 60% to 80% of water consumption in comparison to pasteurisation, Lyra adds.
The company has partnered with Arla Foods Kruså to apply the tech to brine used for salting salad cheese cubes between reuses.
Remote shepherding
Collars to track and monitor cows' health
New Zealand business Halter leases solar-powered and GPS-enabled cow collars to farmers. The devices are packed with sensors to detect movement and heat, tracking "27 different behavioural trends", including resting times, grazing activity and walking speed.
Once Halter maps their farm by drone, farmers can track their animals in real-time via an app.
The collars can also make noises and vibrate to train the cows to move away from an area – allowing farmers to establish "virtual fences".
As Halter puts it, the system "translates human intentions into signals that an animal can understand, and animal behaviour into insights a human can understand".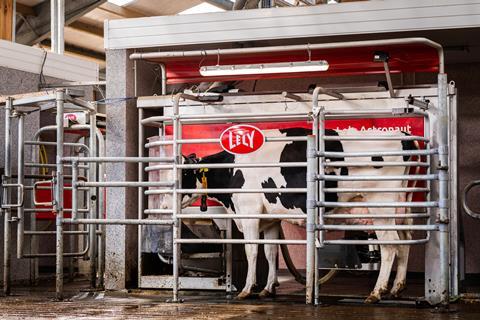 Robotic Milking Machine
Machines that allow the cows to decide when it's milking time
This machine allows cows to choose when they are milked. By walking to the device, cows can activate it – and a robotic arm attaches to their teats.
"With free cow traffic, the cows decide themselves when to eat, drink, relax or be milked," says UK market leader Lely. Cows have even been observed waiting for the queue to die down. "A healthy and stress-free cow means more milk in the tank," Lely adds.
Research from Cheshire's Reaseheath College found cows on robotic systems choose to make 3.7 daily visits on average to be milked, compared with twice on a traditional system. Average daily yield is increased and resting time lengthened.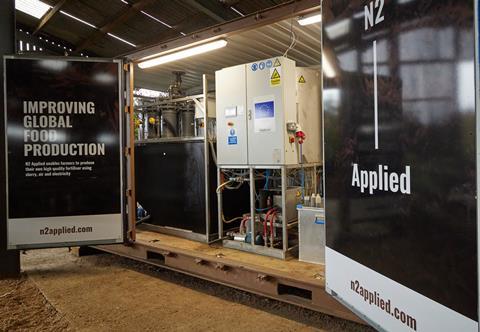 Slurry zapping
'Lightning' enriched slurry that doesn't stink
Slurry is creating something of a stink. The government is cracking down on open storage, while consumers are enraged by polluted rivers – and the stench.
Using a scientific technique that applies air and electricity to slurry like a "bolt of lightning", Norwegian company N2 Applied performs a "plasma conversion" that locks in methane and ammonia.
"The end product is a nitrogen-enriched organic fertiliser, which has the same characteristics as normal slurry but with significantly less emissions," says N2 Applied CEO Carl Hansson. It's practically odourless, too.
If the N2 method were adopted across the UK dairy herd, it could deliver 20% of the NFU's emission reduction target for livestock, the company claims.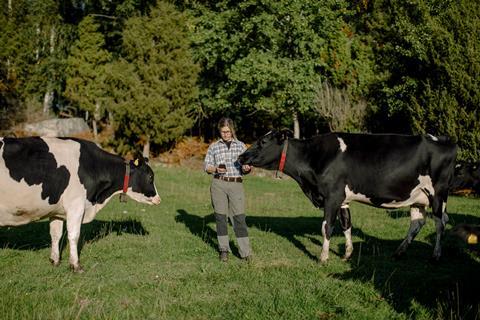 Virtual assistant
Need some advice on a farming decision? Why not ask Norm?
One of the most promising uses for generative AI is here: a virtual assistant that can impart information in the form of a natural conversation.
In April, US farmer-to-farmer network FBN launched Norm, built on ChatGPT's language model and trained on high-quality agronomy content. Users can ask questions like "Is this weekend a good one to plant soybeans?" or "What are the pros and cons of a farmgate vending machine?"
"We don't think Norm will ever be a replacement for your agronomist," FBN says, but it is "a valuable tool".
The group is welcoming members to use Norm to find its "limitations, strengths and wildest responses".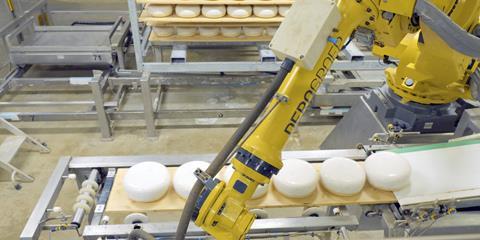 Machine learning
Artificial intelligence that helps make cheese production more consistent
While generative AI is generating much hype, old-fashioned, machine learning-based AI is having real impact on the dairy sector.
Take Netherlands goats cheese brand Amalthea, which works with about 50 farmers. "The big challenge is that milk is the raw material used to produce cheese and, by nature, is very unstable and inconsistent over the seasons," explains Amalthea CFO Joris Aarts.
For each batch, the business used to set a target yield based on best guess and experience. "In the past, we had to do these milk yield calculations manually, and we were only able to do this once per week, or sometimes once per month," Aarts says.
Production issues were identified by manually processing data and analysing it on a weekly basis, and deviations from target yields were tackled by urgent intervention on the factory floor.
Now an AI – created in partnership with Infor – does the same job. "The AI makes cheese production as stable and predictable as possible, in terms of quality and yield, so that our customers are happy," Aarts adds.