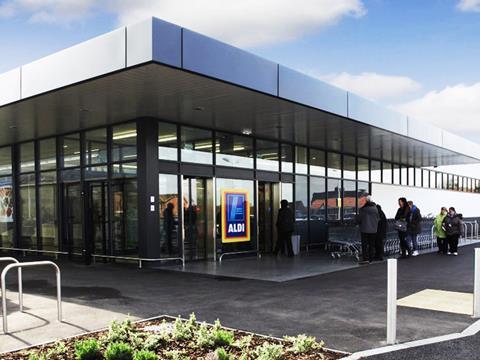 Aldi made its first guest appearance of the current Grocer 33 year this week, and naturally it was cheapest - but its latest victory margin was its narrowest yet.

Aldi offered the lowest price for 30 lines this week, with 27 of these exclusively cheapest. However, at £43.30, it was just £3.80 cheaper than runner-up Asda. That's a 8.1% price gap over Asda. Last time we featured Aldi (in June) the margin was 10.8%.

The biggest price gaps in percentage terms were on the pantyliners and mint. On the other hand, Asda offered the lowest price for five lines and was exclusively cheapest for the Guinness draught.

Despite its competitiveness, Asda is still shipping sales, according to the latest market share figures from Kantar. Asda sales for the 12 weeks to 26 January were down 2.2%. The figures, released this week, made bleak reading for the big four in general, with Morrisons down 3%, Tesco 0.9% and Sainsbury's 0.6%.

Tesco claimed third spot this week, though at £53.09 it was £5.99 more expensive than Asda and £9.79 more expensive than Aldi, a 18.4% difference. It offered the lowest price for three products and was exclusively cheapest for the kitchen towels.

At £56.82, Sainsbury's came in £13.52 more expensive than Aldi, a difference of 23.8%. It didn't offer the lowest price for any of the products on our list.

Aldi was 24% cheaper than Morrisons' £57, though it did manage to offer the lowest price for two items.

Waitrose came in fully £20.23 more expensive than Aldi at £63.53, a difference of 31.8%.

In terms of promotional activity, it was Asda leading the way with 12 offers, considerably more than any of its rivals. Aldi, Morrisons and Tesco all carried seven deals, while Sainsbury's and Waitrose had just three deals each.
What is The Grocer 33?
Our unique mystery shopping service has been tracking prices, service and availability at all of the major mults for over 20 years.