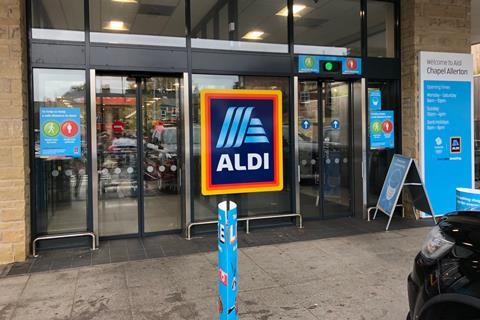 Guest retailer Aldi bagged its first Grocer 33 win since 2016 this week, with its Hednesford branch racking up 74 points including a perfect score for availability.
Our mystery shopper said she felt safe thanks to Aldi's traffic light system and a hand sanitising station just inside the store, though "the entrance to the store felt quite cramped" due to the special offers.
She praised staff, who were busy restocking and tidying shelves but promptly provided directions when asked for item locations. Staff were "considerate" of customers and made sure the restock trolleys were not causing an obstruction. There were "no gaps on shelves".
Cashiers made sure to call customers over to the quieter tills to ease congestion at busier ones, she noted, and shared a "friendly" chat with her "efficient and polite" cashier.
Trailing Aldi by three points was Morrisons in Stockport, which scored well with our shopper even though one of the fish fridges had stopped working. The situation was quickly resolved as the fridge was emptied and cleaned, and the stock was redisplayed in another section. In addition, the fishmonger was "very helpful", coming out from behind his counter to help her find the fish that had been moved.
Staff went "above and beyond" and the cashier was "outstanding" and "very happy in her job", while a new Party Products area was "beautifully presented". The main issue for our shopper was availability: four items were out of stock.
Waitrose in Worcester Park snagged third place with 67 points, despite six items being out of stock – the lowest availability of the week.
Our shopper also noticed gaps on shelves as restocking was taking place, but said staff were helpful and went to the effort of checking the stockroom for requested items.
The Benfleet branch of Sainsbury's had "a good layout". However, there were long queues, with not enough tills open.
While the pizza counter was functioning, the deli and hot food counters were closed and the bakery was serving bread but not the usual fresh cakes.
Our shopper asked more than one staff member about some of the items on her list, but a couple of them appeared confused by the product descriptions and weren't familiar with some items.
The overall customer service experience was pleasant, and the checkout operator was "friendly" but didn't ask if any bags were needed, or whether our shopper had a loyalty card.
Fifth place this week went to Tesco in Axminster, which was well below Sainsbury's score at only 50 points. Our shopper was disappointed to note a broken glass incident, which had still not been cleaned up over 30 minutes later.
Another concern was that trolley shelters in the car park were overfilled and unattended. She said staff throughout the store were polite, friendly and helpful, but there could have been better queue management.
Our Asda shopper went to an old, small Stoke-on-Trent store, as opposed to a newer, bigger one just down the road. Perhaps not surprisingly it was "old and scruffy" the entrance wasn't wide enough for two-way customer traffic, and no one was checking if shoppers were wearing a mask. Inside it was "basic but tidy" and shelves were well-replenished, though three items were out of stock and a further five items were not stocked due to its size, but staff were helpful and patient with enquiries.