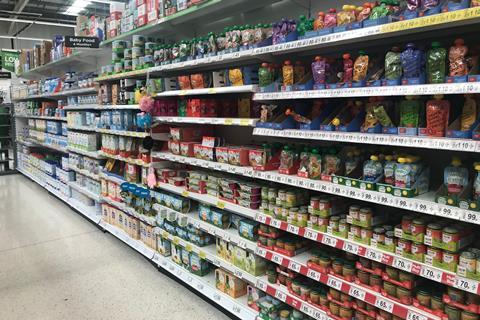 Asda is back to its winning ways having been knocked off its perch last week by guest retailer Lidl.

Without the presence of the discounter this week, Asda recorded a comfortable victory over its rivals. The Walmart-owned retailer's £74.90 total was £4.04 cheaper than runner-up Morrisons. Asda offered the lowest price for 20 products with 12 of these exclusively so.

These dozen items included the meatballs, bananas, Merchant Gourmet chestnuts and Heinz Beanz.

Asda was also the retailer to offer the most deals this week with 12. Morrisons carried 10 promotions, Tesco nine, Waitrose eight, Sainsbury's seven and Ocado six.

Morrisons offered the lowest price for nine lines and was exclusively cheapest on three. These were the Bloom London Dry Gin, Mrs Elswood Haimisha Cucumbers and nectarines. A £5 saving on the gin meant Morrisons was selling it for just £20 compared to £24 at Asda, £24.50 at Tesco, Waitrose and Ocado, and £25 at Sainsbury's.

Tesco came in third, but at £82.33 it was £7.43 more expensive than Asda. Again there was little impact from its much-vaunted new year price cuts.

This week Which? surprisingly named Sainsbury's the cheapest supermarket after new research. However it was only fourth in our mystery shop this week: its £83.17 total was £8.27 more expensive than Asda. It was the cheapest retailer for the cheddar, shallots and crumpets.

Although just over £10 more expensive than Asda, Waitrose was only £2.06 more expensive than Sainsbury's. It was also exclusively cheapest for the Alpro soya milk.

The upmarket retailer also came in significantly cheaper than Ocado. The online specialist was £14.81 more expensive than Asda at £89.71. Ocado offered the lowest price for five lines, but none exclusively so.