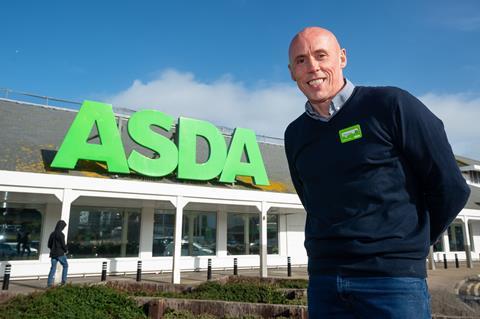 Winner: Brighton Marina
Store manager: Darren Evans
Opened: 1989
Size: 51,000 sq ft
Market share: 23%
Nearest rivals: Lidl - 0.9 miles, Morrisons - 2.2 miles, Waitrose - 3.0 miles, Sainsbury's - 3.1 miles
Store data source: Analysis by CACI. Call the market planning group on 020 7602 6000
Your store has quite an unusual location - tell us about it. The store is built in what would have been the sea. In fact, it's a famous Instagram spot. About 150 yards from the store there is a place that was recently voted one of the top 10 places to have a selfie in the UK, so Asda's social media department tells me.

Has the store been hit by storms Ciara and Dennis? Being in a shop by the sea with the two storms is one of the reasons I'm so pleased to win this award, as it's not been easy. I would like to thank our drivers in particular who have been out in this. We haven't had a single cancelled order despite the weather.

How have you reacted to concerns over the coronavirus? I ran it past my area managers and we decided to order lots of anti-bac handwash for all our staff, and have cleaned all the tills and self-service equipment. We've had a few comments from customers who appreciated what we're doing.

How is modern technology changing the store? It is having a massive impact. There are now 62% of customers using self-service. It's very popular. Scan & go is also proving popular and we've got about 9% of customers using the handsets now.

Asda reported double-digit online growth this week. How are you doing on that front? We are a nine-van operation taking £200,000 a week and just in the past 18 months we've taken on three new vans. It's really busy - we're up to 94% utilisation so we're pretty maxed out.

Asda has been trying a lot of innovation this year. What is your favourite part? You have to adapt if you want to remain in this market. I think a great example is the plant-based products and free-from. The range is amazing compared to what it used to be. Having three children, two of them being vegan, I understand their feelings and frustration when they can't get what they want - but I think they would be happy with what we're doing.