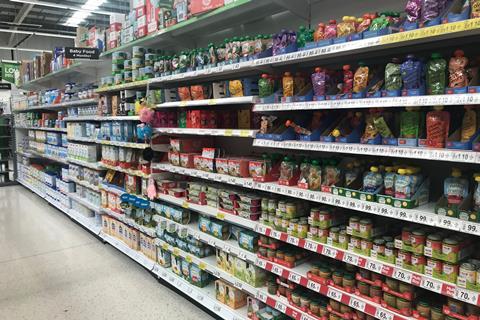 Asda continues to outmanoeuvre its main supermarket rivals on price with its fifth consecutive Grocer 33 pricing win this week.
At £55.48, the Leeds-based supermarket undercut runner-up Morrisons by £5.32. Asda offered the lowest price on 22 of the 33 items on our shopping list. Thirteen of these were exclusively cheapest, including the bourbon biscuits, kiwis, chicken breast fillets and Nurofen tablets. Its premium own-label chenin blanc was significantly cheaper than its rivals' offers.
At £60.80, Morrisons offered the lowest price for nine products and was exclusively cheapest for the own-label spaghetti rings and Lurpak butter.
The Bradford-based retailer also had the most deals this week. Morrisons had 10 promotions compared with Asda's eight, Sainsbury's and Tesco's five each and Waitrose's four.
Based on its shelf-edge prices, Tesco came in third at £61.88. This was £6.40 more expensive than Asda. It offered the lowest price for 10 products but was only exclusively cheapest for the baking potatoes.
It loyalty cardholders would have saved a further £1.75 through its Clubcard Prices promotions. This would have been enough to nudge Tesco into second ahead of Morrisons, but it would still have been £4.65 dearer than Asda at £60.13.
Sainsbury's offered the lowest price for 10 products and was exclusively cheapest for the Cravendale milk, mangoes and pancakes. However, at £62.80 it lagged behind Asda by £7.32.
Waitrose was a long way off the pace this week. It was £14.10 more expensive than Asda at £69.58. This was despite offering the exclusively lowest price for the Birds Eye peas and Illy espresso coffee. However at £9.99, its Waitrose No.1 Cederberg chenin blanc was more than double Asda's Extra Special version.