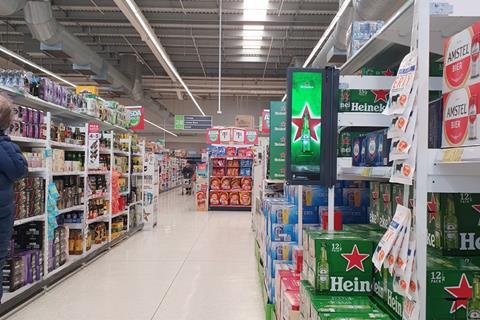 Asda's Eastlands store secured a resounding victory in this week's Grocer 33 off the back of excellent availability. The Manchester branch stocked all 33 items on our list but availability was good throughout.
Our shopper was particularly impressed with the bread section, which was fully stocked during her Saturday morning shop. The seasonal aisle featured a wide range of Easter eggs, the pizza counter was attractive, and the "neat" chicken counter seemed very popular. She also liked the digital advertising around the store.
The only real negative was a shop floor encounter with a staff member who was not particularly friendly when she asked for help finding the Greek yoghurt.
Waitrose in Cowbridge came second with 77 points. Our shopper said the flower display in the foyer looked great and the No Fuss Feasts and Wake Up Weekend promotions were "very eye-catching".
End-of-aisle and Easter promotions were also enticing, and the fruit & veg section looked full. The branch also earned top marks for shop floor service and tills & checkout as staff were helpful, knowledgeable and respectful.
However, it struggled with availability. And there were several unmanned cages left around the shop.
Tesco's Poole store was clean and tidy, with wide aisles and a logical layout.
Staff were mostly young and cheerful. They were busy working hard to replenish shelves and maintain the store's standards but went out of their way each time she asked for help.
She also noticed that management was walking around looking "brisk and efficient". She was impressed by the variety of services available in store, from the bakery to the pharmacy, café and even a barber shop.
In the end, she took home 30 items (one out of stock and two not stocked).
Fourth-placed Sainsbury's also fared well on the shop floor and checkout service front. Our shopper noticed that staff at its New Cross Gate superstore worked efficiently in pairs yet were mindful of customers. She also noticed what appeared to be a team of managers "visibly interested" in the displays and taking care of details in store.
Another eye-catching feature was the "tempting" Patisserie Valerie section, and our visitor found the own-brand cakes enticing and well-priced. However, the final score was affected by lower availability in some areas, with our visitor only taking home 28 items.
Guest retailer Lidl offered an "overall pleasant experience", though it scored averagely for shop floor service and availability. Because its Crowthorne branch is a small store, five of our items were not stocked there. However, our shopper noted it was generally well stocked for its size – particularly the fruit & veg section. The fresh bakery was "a winner".
On the downside, there was only one shop floor staff member available for the entire store. He was helpful and pointed our visitor to the right aisle, but did not walk her there.
Morrisons Telford took bottom spot this week. There were a couple of spillages coned off but no one was cleaning them. There were also a few unmanned restocking trolleys with empty cardboard boxes obstructing aisles. The store signage was helpful but layout was not intuitive in many places.
The branch also seemed quite short staffed. On the other hand, availability was fairly good and the food counters all looked good.