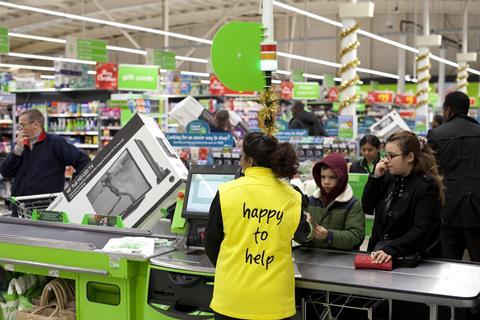 Asda came up trumps in our special Christmas Grocer 33 and in so doing took its seventh consecutive pricing victory.

Our Christmas basket contained all the necessary food for a Christmas dinner such as turkey crown, pigs in blankets, brussels sprouts and Christmas pudding, as well as plenty of alcohol and party food.

Asda's £91.22 total was £6.44 cheaper than runner-up Morrisons. It offered the lowest price for 19 items, though just four were exclusively cheapest. Of these, three were festive favourites: the pickled onions, smoked salmon and turkey crown, which at £12 was £3 cheaper than Tesco, a fiver cheaper than Morrisons and Waitrose and £5.50 cheaper than Sainsbury's.

Morrisons offered the lowest price for 15 lines and was exclusively cheapest for five. It beat all its rivals on the pork chipolatas, profiteroles, red cabbage and breadsticks. A focus of Christmas trading at Morrisons in recent years has been its keen pricing and promotions on alcohol lines - and this week it was £1.25 cheaper than the other retailers on the Barefoot wine and matched the lowest price on the Heineken and Gordon's Gin.

Third-placed Tesco was the place to go for the pigs in blankets and prepared brussels sprouts. Its £97.93 total was £6.71 pricier than Asda.

Sainsbury's was £13.54 more expensive than Asda at £104.76. It was cheapest for 11 lines, exclusively so on the pork joint, pork pies and sour cream & chive dip. However, due to the timing of promotions it was selling the Glade air freshener at £8, which was double the price at Asda and Tesco and £3 more than at Morrisons.

Waitrose was exclusively cheapest for the KP peanuts but overall it was a long way off the pace this week. Its £122.24 total was £31.02 (34%) more expensive than Asda's.