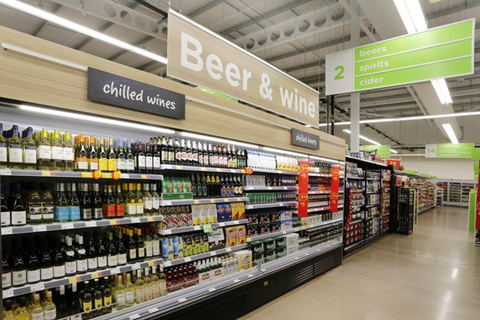 In a historic week for Asda, with the CMA indicating it will issue a green light for the £6.8bn takeover by the Issa brothers and TDR Capital, the supermarket has made it four Grocer 33 pricing wins in a row.
At £57.07, Asda was £4.06 cheaper than runner-up Morrisons, whose shopping list came to £61.13.
Asda offered the lowest price for 19 products and was exclusively cheapest on 11 lines. These included the Cadbury Giant Buttons, chicken breast fillets, lemons and Magnum ice creams.
The product making the biggest difference was the Hop House 13 lager. A rollback from £12.50 to £9.97 meant Asda was £2.53 cheaper than Morrisons, which at £12.50 was also the most expensive.
Aside from the beer, Morrisons was particularly competitive this week. It offered the lowest price for 14 products and was exclusively cheapest for 10, just one less than Asda.
These were primarily own-brand lines such as the beansprouts, blackberries and turkey steaks. It was only exclusively cheapest on one branded line – the Mr Kipling fruit pies.
Tesco came third with a total of £63.27 based on its shelf-edge prices. Even factoring in its Clubcard Prices, the retailer would still have been £4.81 more expensive than Asda and 75p more expensive than Morrisons.
It carried the lowest price for nine lines but none exclusively so.
Sainsbury's was exclusively cheapest on the Dairylea cheese slices and chicken pasta salad. It came in £6.90 more expensive than Asda at £63.97.
Waitrose meanwhile was even further off the pace. At £70.73 it was £13.66 more expensive than Asda. It wasn't exclusively cheapest on any items and matched the lowest price on just one.