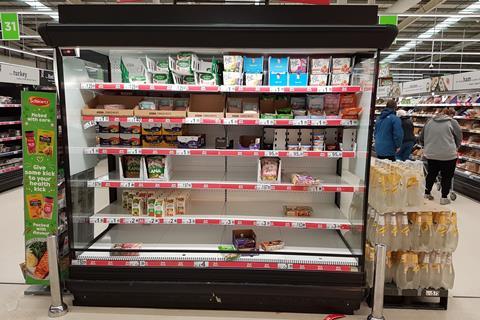 Asda has claimed a fifth straight Grocer 33 pricing win despite the efforts of a more competitive Morrisons.
At £57.88, Asda came in £1.53 cheaper than its fellow Yorkshire-based retailer. Asda offered the lowest price for 13 products with eight exclusively so. Of these, seven were fresh or own-label lines. Its only exclusively cheapest branded line was the four-pack of Stella Artois bottles.
Morrisons, which this week reported a 2.7% jump in like-for-like sales in Q1, offered the lowest price for a dozen lines and like Asda was also exclusively cheapest for eight products. These included the Ambrosia custard, kidney beans, Brussels pâté and Gallo risotto rice.
The Bradford-based retailer also ran the most offers this week. It had 11 deals while Sainsbury's and Tesco had six each, Asda five and Waitrose just four products on deal.
There was little to choose between Sainsbury's and Tesco this week with the former edging out the latter by just 2p. However, they were both over £4 more expensive than Asda. Sainsbury's was cheapest on 10 products and exclusively cheapest on eight.
At £62.01, Tesco offered the lowest price for six products and was exclusively cheapest for three. These were the bananas, medium whole chicken and Maris Piper potatoes.
Tesco did become more competitive when factoring in its Clubcard Prices promotions, but not by much. Clubcard holders would have saved £1.40, taking Tesco's total down to £60.61. This was still £2.73 more expensive than Asda and £1.20 more expensive than Morrisons.
There were no exclusively cheapest items at Waitrose. The upmarket grocer matched the lowest price for just two lines – the Fever-Tree tonic and Warburtons loaf. It was £15.36 more expensive than Asda.