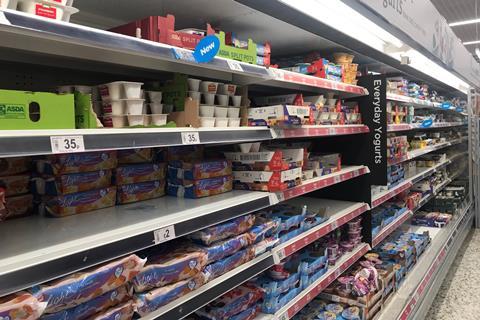 Asda extended its winning streak to four weeks as it secured another comfortable victory over its rivals.
It has still only been beaten once during the current Grocer 33 year, which began in June.
At £67.90, the Leeds-based retailer came in £5.67 cheaper than runner-up Tesco. Asda offered the lowest price for 15 products, with eight exclusively cheapest. These included the Activia yoghurt, San Pellegrino mineral water and the 10-pack of draught Guinness following a £1.25 Rollback to £10.
Tesco offered the lowest price for six items and was exclusively cheapest for two: the Cadbury Double Decker bars and the Rubicon drink.
Its Clubcard Prices promotion would have made it more competitive. Loyalty card holders would have received a discount of £2.45, £2 of which was off the cans of Guinness. This would have brought Tesco's total down to £71.12 and closed the gap with Asda to £3.22.
Third-placed Sainsbury's matched Asda in terms of exclusively cheapest items with eight. These included the double cream, chicken thighs and VO5 styling spray. However, it ultimately came in £6.21 more ex-pensive than Asda at £74.11.
Morrisons was a further 4p more expensive than Sainsbury's at £74.15. It offered the lowest price for seven items and was exclusively cheapest for five including the strawberry cheesecake and Oreo biscuits.
It also had the most items on promotion this week with 14, though only five of these were straightforward price cuts. The remaining nine were multibuys.
Asda had the next highest amount with 10 deals, while Waitrose had eight, Sainsbury's had six and Tesco had four.
Waitrose was exclusively cheapest for the red cabbage, ginger and pears. However, at £83.90 it was £16 more expensive than Asda.