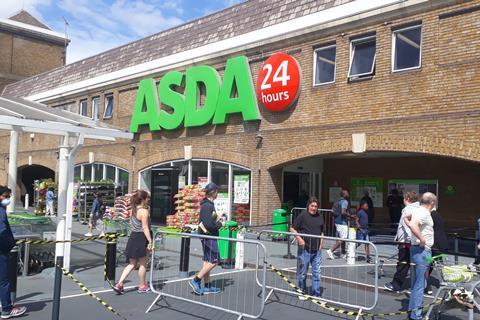 Asda has continued its winning ways this week with a second victory in a row in the new Grocer 33 year.
The Leeds-headquartered retailer bagged a comfortable win with a £67.39 total, which was £6.19 cheaper than nearest rival Tesco.
Asda provided the lowest price on 22 lines, with a whopping 15 exclusively cheapest. The retailer also ran fewer promotions than last week – it offered just six, four of which were price reductions. Morrisons, by contrast, had eight, while Sainsbury's had four and Tesco and Waitrose ran two promotions each.
There was a big saving to be made on the Aussie Colour Mate conditioner at Asda, which rolled back the price to £2.65 compared with £4 or more at the rest of its rivals. The majority of its exclusively cheapest items however were own-label, including easy peelers, decaf tea bags, organic mushrooms, hot cross buns and red onions.
Tesco was the cheapest on eight products, but only two were exclusively so: the pâté and Wall's Cornetto cones.
Morrisons was exclusively cheapest on the free-from spaghetti thanks to a half-price deal, as well as the Fage Greek yoghurt. But despite running the most promos this week, the Bradford-headquartered retailer was still £6.79 more expensive than its Yorkshire rival.
Sainsbury's was £10.58 off the winning place with a total of £77.97. However, £5 of this was thanks to the Absolut Vodka coming off promotion. The retailer offered nine items at the lowest price, with five exclusively cheapest, including the Fanta, Warburtons thin bagels and three own-label lines.
Waitrose was well behind again on price, coming in at £16.52 more expensive than Asda at £83.91. It was however exclusively cheapest on marshmallows and the Bonne Maman sponge cake.