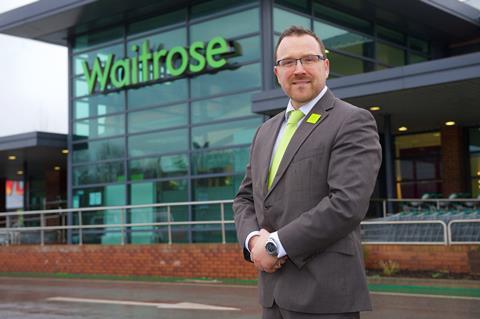 Winner: Waitrose Preston
Deputy store manager: Ellis Wilkinson
Size: 29,000 sq ft
Opened: 2012
Market share: 5.8%
Nearest rivals: Lidl – 1.4 miles, Aldi – 1.5 miles, Morrisons – 2.3 miles, Sainsbury's – 2.7 miles
Store data source: Analysis by CACI. Call the market planning group on 020 7602 6000
Christmas is all-important in retail so how did it go? We had a very slick Christmas period. It was well organised centrally, well organised in branch and well executed. And we got some great customer feedback about the range and availability. The Waitrose 1 products were excellent and our showpiece item. Really great quality at a great price, and they received great feedback from customers in store. Mince pies were popular as always, and the puddings also sold well.
Has there been a significant slowdown in January? We are getting back to normal, but we are actually still seeing quite good growth. We are growing online as we spread ourselves more across the north west. And we are still registering year-on-year growth overall.
How is the January savings event going in store? It is driving customers into store, as always. We have great products on offer for healthy eating, and special buy items from John Lewis that are very popular; two brands working together in synergy. We are seeing a really big increase in vegan and vegetarian, and low and no alcohol options as people look to drink less in January?.
How has your expanded vegan range been received? Growth is brilliant. It is the biggest growth area in the branch. The impact for us, as it becomes increasingly popular, is ensuring the stock discipline we have in store is accurate so we can keep availability high. The new expanded range means that vegan lines now take up a large area of the branch. Wind the clock back two years, there was an offer on shelf but now it has presence and is compelling. The range is very good quality and I do eat it myself. I often opt for a vegan or vegetarian option to make sure I have a balanced diet. It is great quality, a good price, healthy and very tasty.
It was clear from this week's mystery shop that all retailers struggled to recover after the Christmas period, with stock levels low across the board. How do you stay on top of availability? Our growth in sales puts more demand on core products and what my team does is make sure we have accurate stock discipline and accurate details of the availability. And we have done that consistently across Christmas into the new year and throughout early January. I have a strong team who do the discipline that look at demand and stock levels to make sure it is accurate.
All our shoppers said stores looked depleted and messy on this shop, with lots of staff working to restock shelves. How do you manage restocking? All the partners are very conscious of customers in branch but we still have to keep a focus on replenishing during the day. We have a night team that work every night, but during the day, particularly over the festive period, we have to actively support that. And that feeds through to why you see such a good availability result in the shop because we engage in it through the day as well.
The mystery shopper said she felt Waitrose was "a lot more expensive" than other supermarkets. Has that perception hampered trading at all? We are still seeing year-on-year growth. If that is a perception out there it certainly isn't felt in branch. We pride ourselves on the quality of product we produce. We also have some fantastic incentives that help customers try new products with a view to beginning to purchase on a regular basis.