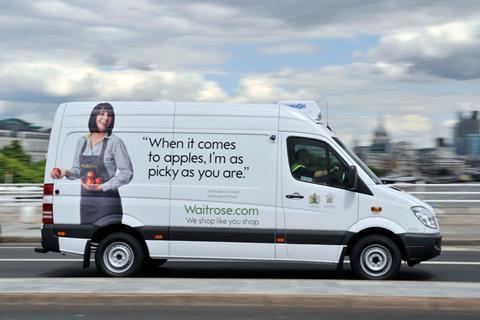 Name: Helen Keppel-Compton

Job title: Online capability director, Waitrose

Charlie Mayfield has said 2020 would be a year of dramatic growth for the online business. What is Waitrose doing to ensure this? We announced early last year our target to triple the size of Waitrose.com to a £1bn business, across three years. We're well on the way. Christmas was a particular highlight for online, with our sales increasing by 16.7% for the seven-week period.

What is being done to help encourage larger basket sizes? We find our customers already recognise our quality and value of our online offer and do a full shop on Waitrose.com. We have also been investing in offering more flexibility around basket sizes and convenience for customers, with our Waitrose Rapid trial, which we've now extended.

How are preparations going for the end of the Ocado contract? Our teams have been investing in our online service, and our second customer fulfilment centre is due to open in Enfield in the spring, to respond to the high demand in North London. We already deliver to nearly 84% of active UK postcodes.

What is Waitrose doing to keep the use of plastic (and single-use plastic) down online? We're really committed to cutting down plastics and packaging. For our online deliveries, the default option is for shopping to be delivered without carrier bags - our drivers deliver it in a crate and ask customers if they would like help unpacking it. With Waitrose.com - as in our shops - we offer a wide range of loose fruit and veg, and where small bags are used they are home compostable.

Do you have new services in the pipeline for this year? We're planning significant further investment this year to continue to build on the service we offer - whether further work on our website, on our customer app, or on the service we offer, such as increasing slot availability. Recent investments include adding our Entertaining (food made to order) service to our iPhone and iPad apps. We've also been expanding our trials of While You're Away following positive feedback, and have extended our Waitrose Rapid trial to more postcodes.