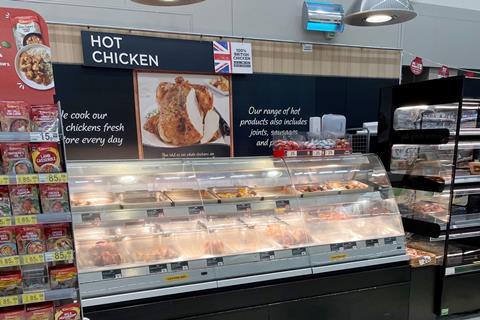 Asda picked up its first store of the week award since mid-December, and only its fourth of the current Grocer 33 year.
Its Swansea store provided our shopper with full availability, though in this case that was only 32 items as she forgot to buy the soup. The store also delivered on pretty much every other metric as it notched up an impressive 91 points.
The car park was well maintained and the short queue to access the store was being well managed by a friendly marshal. Once inside our shopper described the store as "of a high standard".
For the most part, staff were extremely friendly, helpful and knowledgeable – including knowing the Hop House 13 had been moved from its usual location for a special beer promotion.
It was a comprehensive win for Asda, with runner-up Sainsbury's quite a distant second on 70 points.
Our shopper found its Cheltenham store a little dark and gloomy "with no natural light". The store was generally well stocked with full promotional displays – however she only managed to pick up 24 items. There was only one out-of-stock item but eight items were not stocked, due to the small size of the store.
Our shopper enjoyed all her interactions with staff, even if they ended up with finding out that an item wasn't stocked. Staff were nevertheless all helpful and friendly. Our shopper reserved special praise for the checkout operator who she said "would be the bright spot in some people's day".
Availability was a big headache for Waitrose Haywards Heath on this Saturday afternoon shop. It notched up 63 points in total – not helped by zero for availability, with six products out of stock and one not sold.
Parking was easy, the store was clean and tidy and our shopper found the wide aisles useful. Staff were friendly enough but were not overly helpful and did not take her to the items she was looking for.
Morrisons in Aldershot was just a point behind Waitrose on 62. Again availability was an issue with two products out of stock and four not sold.
Our shopper found the "vast" car park well managed and clearly signposted in terms of which trolleys were clean or waiting to be cleaned. The store also had trolley sanitisation stations at both entrances. Overall, Covid security measures were strong throughout and our shopper said she felt very safe at all times.
Inside, our shopper also felt the layout was excellent. However, there was more of an issue when it came to finding staff to help with her enquiries. She also was a little frustrated at the tills. She approached two different checkouts only to be told they were just closing and so had to find a third – she did not spot any notices to indicate they were not in use.
Propping up the table this week was Tesco Dereham with a disappointing total of 42 points.
Continuing the availability theme – four out-of-stocks and three not-stocked items amounted to a score of zero out of 20.
In terms of staff, she felt they "seemed a bit chaotic" as they were mainly busy trying to restock empty shelves. On occasions this did lead to obstructions being created by abandoned trolleys. Our shopper noted plenty of services and promotions available but she noted "they were not overly attractive and I did not feel drawn in to look at the products on offer".