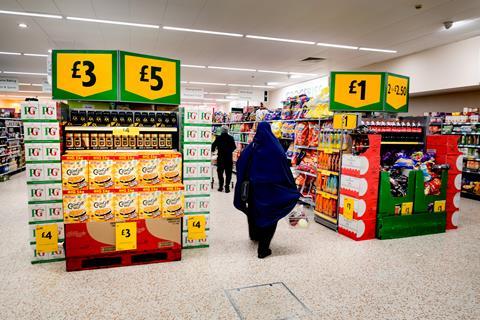 Morrisons has squeezed out Tesco this week to take its second pricing win in three weeks – and its third in this Grocer 33 year.
The Bradford-headquartered supermarket beat Tesco by just 8p with its total basket of £84.40.
The pair each offered the lowest price on 14 items, with Morrisons exclusively cheapest on just two and Tesco only three. However, the two retailers offered the most promotions this week. Morrisons ran deals on 10 products, with seven on price and three multibuys. Tesco had 11 promotions, including two half-price products and three multibuy deals.
Both chains registered big savings on the Martell VS Cognac, with Morrisons offering £5 off and Tesco £6.
Morrisons was also exclusively cheapest on own-label free-range eggs and Lizi's granola, while Tesco had the exclusively lowest price for Billington's sugar and Billington's Barista sugar, as well as the cognac.
Asda came in third despite having 22 of the cheapest products and 11 lines with the exclusively lowest price. Nine of the exclusively cheapest items were own-label, with differences between its rivals being as low as 1p and no more than 60p. Rollbacks on the Amoy sauce and Warburtons bagels also meant Asda was cheapest on these lines. The Leeds-based retailer, which was £2.67 more expensive than Morrisons, has now failed to register a Grocer 33 win for six weeks.
Sainsbury's was £7.89 off the pace as it managed just nine cheapest products – none exclusively so – and only ran six price promotions.
Waitrose ran the fewest promotions – just four and only one price deal – and managed just three cheapest products, with none exclusively lowest. It was £13.01 more expensive than Morrisons.