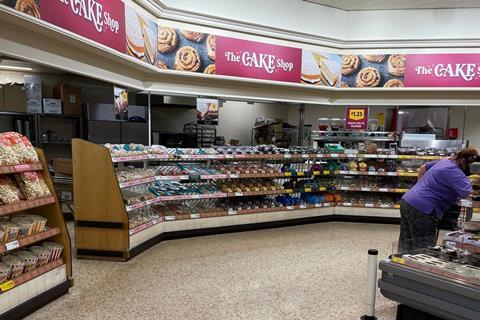 Morrisons in Swansea stood out in this week's Grocer 33, racking up 88 points amid some average performances from rivals.
Its success was mainly due to strong availability despite the driver shortage. The only out-of-stock item on our mystery shopper's list was the own-label chicken thighs.
Our shopper highlighted the store's appealing food counters, as well as great customer service. She was impressed by the wide variety of options found at the "striking" bakery area, as well as at the fish, deli and Pie Shop sections.
Staff were helpful and engaged in friendly interactions. In addition, the till area was queue-free, allowing for a swift checkout experience.
Tesco's Leeds store came in second with 77 points, faring relatively well on availability. There was only one out-of-stock and three not-stocked items.
Although staff were busy restocking shelves, they were helpful and showed our shopper around whenever she couldn't find a product.
The store was large and spacious, and our shopper noted the food counters looked well stocked and appetising.
However, deals were mainly aimed at Clubcard holders.
Things that prevented the branch from scoring higher included the "messy" sanitising station at the entrance, some of the fruit shelves looking quite bare, and the fact our shopper had to wait some time at the till for a staff member to attend to a minor barcode problem.
Waitrose's Glasgow branch scored 60 points. Our shopper only managed to pick up 24 items due to three out-of-stocks and six not-stocked items.
The store's food counters, which were well stocked and looked attractive, were one of its strongest points. Shop floor staff were all friendly, polite, and wore face masks. The store was tidy and there were no trolley obstructions, but our shopper did find the layout quite confusing and noticed the floor looked somewhat dirty.
Sainsbury's and Asda tied on 52 points. The former's branch in Balham did not fare particularly well as customer service proved flaky at times. She found customers had to make a real effort to receive assistance as staff were busy restocking and did not provide much help.
She was also bothered by some staff members not wearing their face masks properly, and felt Covid restrictions had been too relaxed. For instance, there was no one at the door ensuring customers were wearing masks or respecting social distancing measures (her visit was prior to 18 July, when masks stopped being legally required).
Despite only picking up 27 items on her list, our shopper noted there were plenty of alternatives available. She also pointed out that the store was well organised and that the bakery counter was attractive. Overall, though, her shopping trip felt very "routine".
Asda in Biddulph also provided a underwhelming experience as "significant gaps on shelves", particularly in the chilled department, translated to a low availability score. Five items were out of stock.
Plus, although the store was large, the aisles were quite narrow, which meant restocking and online grocery trolleys caused some obstructions.
The bakery, hot chicken and pizza counters were open, but the remaining ones were closed. Our visitor felt there should have been less space devoted to the clothes and home departments and more given to grocery. However, she did credit staff for their friendliness and willingness to help.