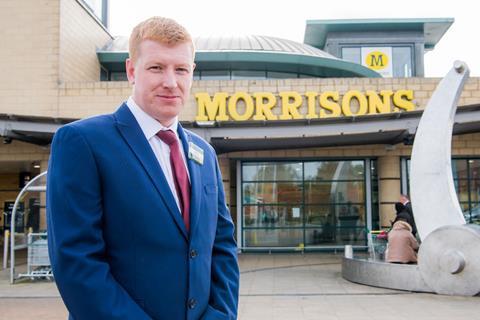 Winning store: Morrisons Speke, Liverpool
Store manager: James North
Opened: 2005
Size: 43,500 sq ft
Market share: 12%
Nearest rivals: Iceland - 0.2 miles, Co-op - 1.5 miles, Asda - 2.1 miles, Sainsbury's - 2.1 miles
Store data source: Analysis by CACI. Call the market planning group on 020 7602 6000
Have you got one of the new electric car charging points? Yes, it went in a couple of weeks ago and it's early days but I think it's great. Not only is it better for the environment but I think it gives us a captive audience as it makes sense for people to do a shop while their car is charging up in the car park.

Have you made any other changes recently? We've had a real push to improve the café offer. The café is a really important part of the store. It's a great way to really engage with customers and get their loyalty and it's been one of the priorities since I joined six months ago.

How has the V Taste vegan range been going down? It's gone down really well and not just with vegans. More and more of our customers are looking to eat less meat. We did a customer tasting session of the products and the feedback was very positive.

Do you do a lot of free tastings for customers? Yes, especially on our Market Street aisle. I think it's something that sets us apart a bit from other retailers, especially when you have others that have been closing down their counters. I think the counters have also been really good for those customers worried about environmental issues because they can bring their own containers. We've had a lot of people taking advantage of that.

Our mystery shopper said one of the first things she noticed was the pop-up fireworks stand. Do you think Morrisons will follow Sainsbury's in getting rid of them? I think there are a lot of families who shop at Morrisons who really like having the fireworks stand there. We are very strict with our over-25s policy and we make sure we are responsible. The stand looks really good and adds theatre.

How worried are customers about Brexit? Obviously there is a bit of an air of uncertainty at the moment. I feel people just want it all to be over.