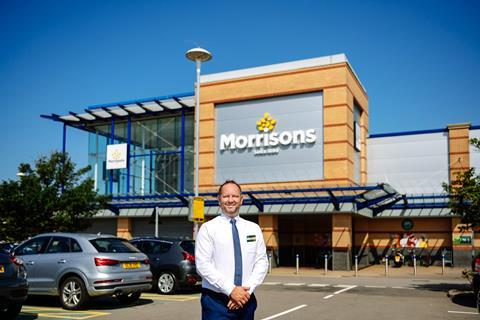 Winner: Morrisons, Swansea
Store manager: Ryan John
Opened: 2006
Size: 43,000 sq ft
Market share: 7%
Nearest stores: Tesco – 2.3 miles, Asda – 2.6 miles, Sainsbury's – 7.1 miles, Waitrose – 30+ miles
Store data source: Analysis by CACI.
Call the market planning group on 020 7602 6000
You've had your own battle against Covid – what is it like being back on the frontline and how are you? I was on a ventilator for a week at the start of the year, so I know exactly how serious this illness can be, and I was a fit and healthy 40-year-old bloke. I was diagnosed with pneumonia in January and sent home and given antibiotics. They didn't realise I had Covid. But I had to go back into hospital as I was so ill and my blood oxygen levels had gone through the floor, so that's when I was diagnosed.
What was the support like from your store colleagues? The support I had from my colleagues and the company was fantastic. I was off work for a month and they gave me the time to recover. I think the fact I've had Covid means my colleagues understand if sometimes I'm a bit overzealous on safety and cleanliness in the store.
What is the situation with social distancing restrictions in store? With us in Wales, masks are still mandatory and two-metre distancing is still required. We've got other measures in the store, for example at the salad bar we still have people being served rather than a self-serve system. I think with Wales as a whole the people have been very understanding, and there has been a feeling that health is the most important thing. I've had no problems with customers getting fed up with restrictions.
Have you seen another shift to online because of fears over the latest wave? There's still strong demand for online – we've got seven vans so it's quite a big operation and we haven't seen a big drop in that. But at the same time, we haven't had a drop in numbers coming into store. In fact, our footfall is in a very good place.
Has the heatwave had an impact on sales and availability? It's been lovely and Swansea has such lovely beaches, so people have been coming out in their numbers. We've seen the usual impact on beers, wines and barbecues so it's been all about making sure we have great availability. It's been really strong.
Have you had any changes to the store since you've been back? We have just had new freezers installed. The last one was 15 years old so the new system is a huge difference, and we've had hundreds and hundreds of new frozen lines added. The customers are really happy, and we are soon having new fridges installed which will make it even better. It allows us to have much more stock and of course it's also much better for the environment. It also looks very slick with a lovely black gloss design.
How will you feel given your experience when restrictions are finally lifted? I think there will be an element of cautiousness. I wouldn't wish what happened to me on my worst enemy, but I am just so glad to be back doing the job I love. And the most important thing is that my wife and three children are well. None of them has had Covid despite what I've been through and the main thing for me is that they are fit and healthy.