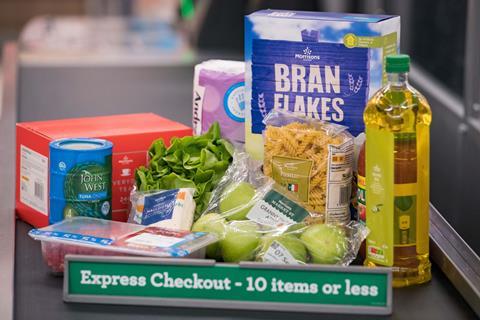 Morrisons came out cheapest in the final pricing survey of the current Grocer 33 year, marking its second victory in the past four weeks.
At 57.28, Morrisons came in £1.40 cheaper than runner-up Asda. The Bradford-based retailer offered the lowest price for 15 products and was exclusively cheapest on six items: the asparagus, beef quarter pounders, Casa Luis cava, feta cheese, guacamole and Walkers crisps.
Morrisons had deals on a dozen items this week including deep discounts on items such as Cadbury Mini Rolls, Lurpak spread and Robinsons squash.
Among the other retailers, Sainsbury's and Waitrose each had eight promotions while Asda and Tesco both had six.
Asda comfortably had the most weekly wins this year but is currently without a victory since mid-May. This week it offered the lowest price for 18 products and was exclusively cheapest for 11. Of these, six were fresh produce and own-brand lines, while five were branded products.
Sainsbury's took third place this week. At £60.73, it was £3.45 dearer than Morrisons. It offered the lowest price for eight lines but none exclusively.
Tesco was a further 2p more expensive at £60.75. However, members of its loyalty scheme would have saved a further £1.66. This would have bumped it up to third place but still left it £1.81 pricier than Morrisons and 41p more expensive than Asda.
Tesco offered the lowest price for eight products. It was exclusively cheapest on four: the bananas, chicken breast fillets, oranges and roast beef slices.
Waitrose was considerably more expensive than the big four this week. It came in at £74.42, making it £17.14 dearer than Morrisons. None of its products were exclusively cheapest and the upmarket retailer only matched the lowest price for two items.