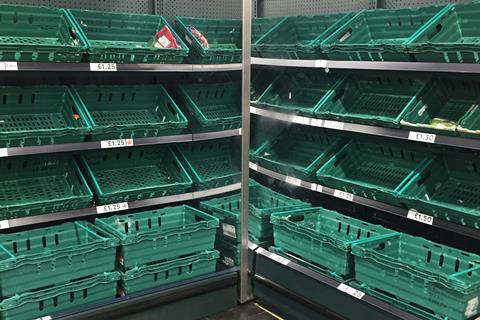 Waitrose got off to a winning start in the first week of our annual Grocer 33 competition. In a low-scoring week for this late Saturday afternoon shop, our service and availability winner, with just 69 points, was its Raynes Park, London branch.
Quite a few items, including the vinegar and own-label red potatoes, were either out of stock or not stocked, meaning our mystery shopper walked home with only 25 products.
But the store's "outstanding" customer service helped it to prevail, thanks to attentive shop floor staff who, while occupied with restocking, were "more than happy to help" check for missing items. The fact that the floor team wore headsets to communicate directly with the stockroom meant getting assistance was "quick and easy".
The store looked "in good order" with clean shelves, and the layout meant our shopper found it easy to find all her groceries and not have to chase back to find any missing items.
She also appreciated the speedy checkout, with no queues, while all store signage was clear and accurate.
Solihull's Sainsbury's branch was just four points behind. Our shopper noted that despite not being busy, security were present and making sure people followed the rules while staff were actively helping customers even when not asked to do so.
In contrast with Waitrose, the branch also did well on the availability front, with only one out-of-stock item. However, the checkout was "disappointing" as only a few tills were open, making it harder to social distance. Moreover, the checkout employee rushed through the transaction without greeting our shopper.
At 57 points the Tesco Ilkley store was another struggling with availability: it had run out of a lot of items by the time our mystery shopper went for her grocery haul on Saturday afternoon, meaning she walked home with only 28 items. She was told it had been an "incredibly busy" day.
To its credit, a spillage in the milk area was swiftly taken care of by a team member. Our shopper also noticed lots of Aldi Price Match signage dotted around the store. The branch was described as easy to navigate and staff were all "well presented". Most were friendly and helpful in trying to help her locate some items, though not all.
Recycling bins near the entrance also needed emptying.
Asda in Reading took the fourth spot this week mainly due to the lack of stock on the fruit and vegetable section and staff's inability to properly help when asked about product availability. Our shopper left without five of the 33 items, with those missing including the own-label honey and Warburtons white loaf.
The shelves were described as "a little messy" and the checkout operators swapped halfway through our mystery shopper's transaction. The total score was a lowly 40.
Morrisons in Dereham came in last. The store appeared "run down", according to our shopper, who said there were leaks around the freezer area and exposed electrics. In addition, there were not enough staff on the shop floor, forcing her to walk from one end of the store to the other to find someone to help her out.
There were also quite a lot of customers queueing at the checkout area as only four tills were open. However, the cashier was friendly. All in all, the Dereham branch appeared "in need of a revamp", warranting it only 38 points despite scoring highly on availability.