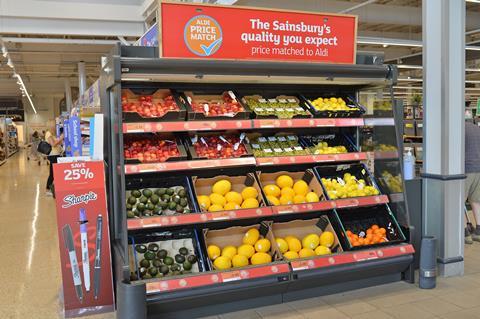 Sainsbury's West Green store in Crawley was our store of the week with 73 points on this tricky Friday night shop.
Sainsbury's scored well on service and availability. The store standards were average: "There were lots of restocking trolleys, but they were carefully placed.
"There were some gaps on the shelves, which were particularly noticeable in the fruit & vegetable section."
The store scored full marks on shop floor service: "Staff were easy to locate, and happy to help when asked." Assistants took our shopper straight to the product location "even when it was just round the corner".
Our shopper only had to wait a minute to be served at the checkout: "By the time I had placed my shopping on the checkout the assistant was ready to help me."
Overall the shop was "pretty quick and efficient" with "helpful staff". Just one item was out of stock and one not stocked, giving the highest availability score this week.
Waitrose took second place with 62 points. The High Wycombe store scored very well on shop floor service but fell short on availability. The shop was "well laid out" and it was easy for our shopper to find most products.
Floor assistants were "friendly and helpful" and happy to look in the stockroom for several items.
The checkout assistant "wasn't chatty, but got on with the job perfectly".
However, our shopper "was quite shocked to find so many item from the small list to be out of stock". The store scored poorly on availability with four items out of stock and one not stocked.
Morrisons Stoke-on-Trent came third with 52 points. The store was "clean and tidy" with "shelves stocked, or being replenished".
Our shopper was not impressed by the layout, which "doesn't make for an easy flow of shopping".
There were plenty of staff members available, but they gave inconsistent assistance.
Checkout service was very good – the assistant asked whether our shopper would like any help, and then "didn't rush things, so I could pack easily".
Tesco Durham came next with 46 points.
Store standards were poor, with the fruit & vegetable section having "a lot of empty spaces, with stock a little untidy and some in the wrong place". Some items were "a little wilted".
However, the layout was good: "This store has a very spacious feeling with wide aisles and corridors, no obstructive displays and well organised areas."
Our shopper had a hard time locating staff when needed, but all staff members were helpful: "They all checked the stockroom, either in person or by using their hand-held computers."
Our shopper waited six or seven minutes to be served, and the checkout assistant was slow scanning the items. There were errors on the receipt.
Asda Blantyre came last with just 45 points. Our shopper's first impression was not positive – a queue to the kiosk blocked part of the exit.
Our shopper then found it impossible to find a staff member during the whole shop, despite walking "up and down the store several times". There were limited checkouts open, but the checkout assistant "was friendly enough".
Availability was very poor, with the store scoring zero points.