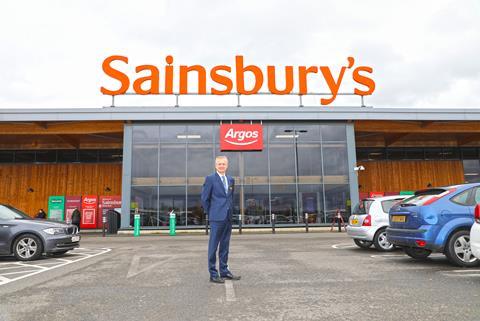 Winner: Sainsbury's Leicester
Store manager: Fraser Stevenson
Opened: 2013
Size: 94,000 sq ft
Market share: 10.1%
Nearest rivals: Lidl - 1.4 miles, Asda - 1.9 miles, Co-op - 2.3 miles, Tesco - 2.6 miles
Store data source: Analysis by CACI. Call the market planning group on 020 7602 6000
You were the only retailer with a full basket this week. How come availability was so good? We are one of the largest stores and we have a fantastic offer with Argos, general merchandise, clothing and beauty. We try really hard to make sure we have good stock control routines, balancing our displays to sales and delivering good availability.

Have you seen any panic buying though? It has been really busy over the past week or so and we are definitely seeing customers stocking up on some products, such as toilet paper, hand sanitiser and dried food. We've just tried to merchandise and replenish what we can as quickly as we can to put customers first.

Has that put a strain on the store and staff? We have a great team here; they all pull together. It is an ongoing picture. As quickly as we get deliveries in, we are restocking the shelves. We are a big store with big displays, and we get deliveries 24 hours a day. We've tried to keep any availability issues to a minimum and make sure we can give the best offer we can. Alongside the increase in sales we have seen an increase in deliveries and a step-up in the size of deliveries. There is nothing we haven't got in stock. We are just making sure everybody can get what they need while demand is so high.

How is group communication around the situation? Are clear emergency procedures in place? We are getting great communication from the centre, with really good advice and support when we need it. We are informed and up to date on the situation. We are following the important advice on handwashing. Those elements are important to try and limit the risk of any issues developing.

You scored high marks for shop floor service too despite the extra pressure from coronavirus fears. How do you keep staff motivated? We trade very highly at the weekend, so we are always very busy on Saturday and Sunday. We try and encourage colleagues to do the best they can for customers, work together as a winning team and prioritise standards and service at the weekend. I'm really proud of the great work they do. We do get great feedback from customers on how friendly our colleagues are. And we try and spend as much time on the shop floor with staff as possible to encourage them to give that great service. Any feedback we get from customers is regularly celebrated across the team to recognise those doing a great job.