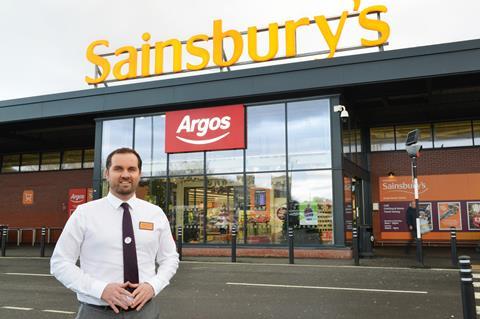 Winner: Sainsbury's Liverpool
Store manager: Gareth Halliwell
Opened: 2017
Size: 43,000 sq ft
Market share: 4.2%
Nearest rivals: Lidl - 1.1 miles, Tesco - 1.5 miles, Iceland - 1.8 miles, Asda - 2.3 miles
Store data source: Analysis by CACI. Call the market planning group on 020 7602 6000
Our mystery shopper was impressed with staff in store. How important is customer service? It is paramount. Liverpool is one of the friendliest cities in the world, so my team's job is to recruit the best colleagues that fit our values using the wonderful recruitment tools we have available. It is the best group of colleagues I've worked with throughout my 19-year career here. We have staff huddles twice a day and service is discussed at both. Service is on the agenda in every conversation. We are already talking now about how we can win big shops at Christmas. It is important we make sure the customers shopping with us now get the best service possible so they trust us when it comes to that big shop at Christmas.

How are preparations going for Christmas? Every year we hold off until after Armistice Day before we launch Christmas. Our team of Christmas helpers were working hard overnight on 11 November to get ready this year, putting up decorations and dressing the tree in the foyer. We're starting to see the core range, getting Christmas lines in across food, GM and clothing. It's full steam ahead.

Are you confident of a strong Christmas in store? 100%. I'm sure there are things in the minds of customers with all the uncertainty of Brexit and the upcoming general election, but it is not something we are hearing in store. Colleagues are engaged to deliver a great Christmas for customers, delivering the best standards, the best availability and the absolutely the best service. We are a relatively new store, but our staff will use the experience from the last two Christmases to ensure we deliver an amazing festive period for our customers.

What do you think of the Christmas ad that launched this week? It's a great ad and it recognises our 150th birthday and the heritage of Sainsbury's. It is the story of Sainsbury's first Christmas, as well as tracing Nicholas becoming Santa Claus. Ultimately, it shows Sainsbury's as a long-serving British institution that shoppers can trust.

How has the new range of own-label products been received by customers? Customers have bought into the new range. That lower entry price point is important for the area. The appearance of the products feels like a branded product. The quality is also fantastic. For me, it has been a real success.

Has the BBC series Inside the Supermarket created a buzz? Colleagues have told me customers are talking to them about the programme and how it showed Sainsbury's in a really good light. You can recognise the fantastic colleagues that work for this company and the wonderful products we sell. It can only be a positive thing.