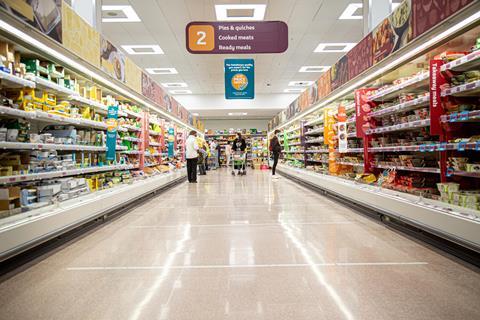 Sainsbury's bagged its first store of the week award for over a month, as its branch in the White Rose Shopping Centre in Leeds edged out Waitrose in Burgess Hill by a single point.
Sainsbury's racked up an impressive 81 points even though it was the only store to record an out of stock this week. Our shopper picked up 32 items bar the unavailable parsley.
Our shopper was full of praise for the friendly staff, who seemed to all be getting on well with each other. She shared a laugh with one team member who, when she asked for help locating one item, pointed out it was directly behind her.
She also felt safe in the store thanks to its "peaceful and calm" atmosphere and its wide aisles. Her only criticism was the signage "which wasn't particularly helpful".
While none of the products on our list were out of stock at Waitrose, the smaller nature of the store meant our shopper only managed to pick up 27 items as six were not stocked.
He described his overall experience of the store as "great" – his only concern was that he did not feel the pay and display nature of the car park was made clear enough and thus was left worrying he may be landed with a parking ticket.
Our shopper said the clean and well-stocked store had a "good layout and plenty of space to shop freely". Staff were "very friendly and helpful with my needs". This extended to the manager opening a till for him as he arrived at the checkout.
Tesco in Wrexham took third place this week with 74 points. This was despite being the only store to provide a full shopping list of all 33 items.
The busy store lost marks as our shopper had to navigate her way around at least 10 restocking trolleys. It was also marked down at the checkout when she discovered she had been charged twice for the Cathedral City cheese slices.
The amount of restocking in progress did mean there were plenty of staff on hand to help. While staff were friendly, they were not all knowledgeable. Our shopper asked two members of staff to help locate the Arla dairy drink, neither of whom could find it. Our shopper then asked a third team member in another aisle who found it for her in the same place she had asked for help originally.
Asda's Harpurhey store in Manchester was a couple of points behind Tesco with a score of 72. There were no problems in terms of out of stocks and our shopper felt the store was well stocked in general, barring a few gaps in the fruit & veg section. He picked up 30 products in total due to three being not stocked.
Our shopper felt staff could have offered to do more to check if the missing items may have been in the storeroom. However, they did escort him to the relevant fixture to look for the items before declaring they were not stocked.
He had a short wait at the checkout and said the operator was polite "but could have been a little more engaging".
Fifth place this week went to Morrisons Swindon on 62 points. Like Asda, our shopper picked up 30 items – with no out of stocks and three not-stocked products.
He felt the car park was very busy and not easy to navigate. Once inside, he found the store was also busy and quite small in nature but our shopper generally enjoyed his experience and was impressed by the range of products, counters and services it offered.
He felt more checkouts could have been open but queues "were generally well managed".