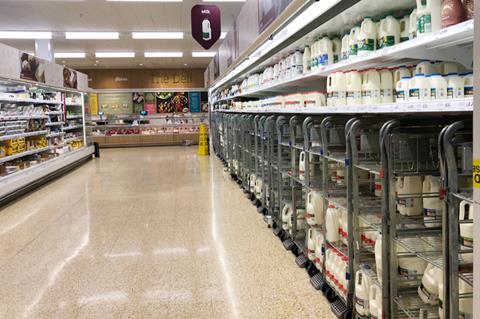 Sainsbury's has taken top spot for the fourth time this Grocer 33 year - its first win since September. Its £65.88 basket was 79p cheaper than Asda.

Sainsbury's pushed hard to become more competitive on price in the run-up to Christmas, with outgoing CEO Mike Coupe emphasising a return to "everyday low prices".

In a basket that was 5.5% cheaper month on month Sainsbury's offered the lowest price for 11 products and was significantly lower on most of the five lines where it was exclusively cheapest. It was 99p cheaper than Asda on Alpen (£1 cheaper than the rest), at least 49p cheaper on the Blue Dragon sauce, and a whopping £1.49 cheaper on Kelly's Cornish Ice Cream than Asda and Tesco (£1.50 on Morrisons and Waitrose).

It offered 12 deals, with all being price-only promotions. Sainsbury's was also cheaper or the same price as Asda on 14 other items.

Asda, which was still cheapest on 19 items, did better on own label, with blueberries, celeriac, galia melon, chillies and naan bread coming in exclusively cheapest. It was also exclusively cheapest on three branded lines: Cravendale milk, Warburtons bagels and Filippo Berio olive oil.

Offers on Birra Moretti lager and Bisto gravy granules helped Morrisons register six exclusively cheapest products and come in just a penny more expensive than Asda, beating it on three own-label veg lines as well as Cauldron tofu.

Tesco, which was £4.42 pricier than Sainsbury's, only managed to be exclusively cheapest on the half-price toothpaste, red onions - better than half price - and Ainsley Harriott soup.

Waitrose came in almost £15 more expensive than Sainsbury's and had only three cheapest products, none exclusively so.