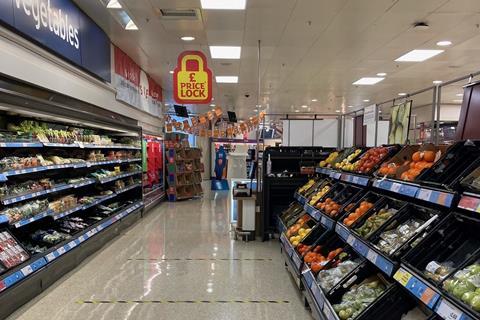 Sainsbury's took the lead in what was another problematic week for availability across the board in this week's G33. Racking up a total of 68 points, the retailer's Portadown branch was described as "well presented" by our mystery shopper.
But though most aisles were fairly well stocked, quite a few items from The Grocer's shopping list were unavailable, with six out of stock and five not stocked. It meant our visitor only managed to buy a total of 22 items, so it scored zero for availability this week.
However, staff were plentiful and "very helpful", and the shop was quiet considering it was a Saturday morning, which meant there were no queues at the checkout.
Next was Tesco, trailing Sainsbury's by five points. While our visitor noted the Pontypool store seemed well stocked and clean, there were eight items missing on her list, with the most noticeable gaps in the soft drinks aisle.
Some products appeared misplaced "in order for shelves to look fuller". Still, our shopper liked that there were shelf labels letting customers know when a product would be back in stock.
Staff were knowledgeable and helpful too, double checking for stock in their apps and asking colleagues when necessary. The checkout experience was smooth and the assistant polite.
Morrisons in Bracknell scored 51 points. Our shopper thought the fruit & veg section offered a good selection, but noticed empty shelves in several aisles.
Our visitor was impressed with the hand sanitiser stations dotted across the store and noted the food counters seemed "popular with customers".
But she also noticed the restocking trolleys caused an obstruction in some aisles. And aside from those replenishing the fresh produce section, she struggled to find staff.
All the checkout tills were operating, but the store layout did not allow for an efficient queueing system, which meant our shopper waited "a little longer than usual to be served". Still, the till assistant was friendly, polite and asked for her Morrisons card. Overall, she purchased 27 items as four were out of stock and two were not stocked.
Just one point behind was Waitrose Solihull. Despite scoring the highest on availability this week, our shopper said there were "very few items on some shelves". While none of her 33 items were out of stock, three of the items she bought were the last available.
Staff were friendly and willing to help, making sure to check on their handheld devices for any stock queries. While the shop was not crowded, our shopper waited over 10 minutes in line at the checkout because the shopper in front wandered off a few times to pick up forgotten items.
Asda was last this week with 31 points. Its Croydon branch was described by our shopper as "unmanaged and unattractive, a very cold environment, almost like a warehouse". She noticed the glass on the entrance and exit doors was broken and covered with cardboard.
Staff were busy restocking, but the trolleys blocked the way for customers. There were several empty shelves, and the clothing department was "a complete mess".
Our shopper managed to buy 26 items, as six were out of stock and one was not stocked.
Staff were helpful and her till assistant was "pleasant" but overall the branch was not enticing and did not make for a good shopping experience.