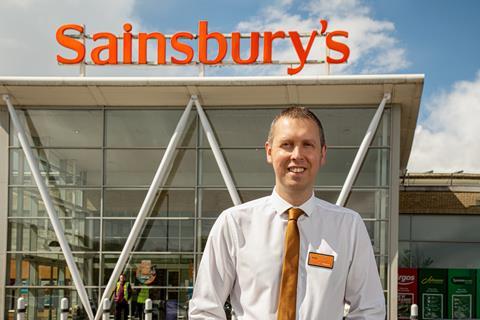 Winner: Sainsbury's White Rose Shopping Centre, Leeds
Store manager: Phil Butterfield
Opened: 1997
Size: 51,000 sq ft
Market share: 7.7%
Nearest rivals: Morrisons – 2.9 miles, Asda – 3.1 miles, Tesco – 5.1 miles, Waitrose – 7.0 miles
Store data source: Analysis by CACI.
Call the market planning group on 020 7602 6000
You joined the store a week before the first Covid lockdown. How did you cope with that? It certainly was a baptism of fire. One day I was doing the handover with the previous store manager and the next we were heading into panic buying and then lockdown. Over the next couple of weeks we had to learn to do things completely differently while trying to understand what our shoppers' needs would be. At the same time I was obviously trying to get to know my new team. The main way of doing that was spending time with them on the shop floor and in reality that has continued throughout the last year.
Did the crisis bring everyone together? It really did and I am so proud of the team here and how they coped with everything they had to deal with – our online orders doubled overnight, Argos orders tripled. The whole team responded brilliantly, including those working in the in-store concessions. At the end of the day I am proud of everyone who works in this sector whether it's Sainsbury's, Tesco or Aldi – they all deserve great credit for their efforts.
Your store is part of a shopping centre. How did the shutdown of non-essential retail affect you? It did have an impact – our store serves a wide range of shopper missions from customers doing a full shop, online and then those visiting the shopping centre or local office workers using it more as a convenience store. So that changed a bit and with most of the other shops closed it did feel quite eerie for a time. However we owe the shopping centre a debt of gratitude as we were able to use it to manage queues, meaning that unlike a lot of stores we didn't have customers getting soaked in the rain while waiting to get in. It is great now to see all the stores back open as it creates a real buzz.
Sainsbury's has launched a new summer range recently. How is that going? I think the range is fantastic and we are looking forward to helping everyone eat better. There is a wide range of vegan products as part of that, which is going very well. We just need a bit more of the sunshine to go with it. Overall I think Sainsbury's is bringing in around 1,900 new lines this year. The pandemic meant a lot of NPD either slowed down or stopped last year, so it's great to be able to offer these new and fresh products.
Are you starting to see a renewed demand for food-to-go products as lockdown eases? We are seeing that, particularly where we are in the shopping centre. Obviously we were all doing a lot of scratch cooking at home but as the non-essential stores have reopened and we are seeing more commuters, it has impacted food-to-go sales. This week we have just revamped our meal deal offer which has been perfectly timed. There are around 300 new products and hundreds of possible new combinations. The new range has also been launched with 16% less packaging – the work Sainsbury's is doing on sustainability is another reason I am proud to work for this company.