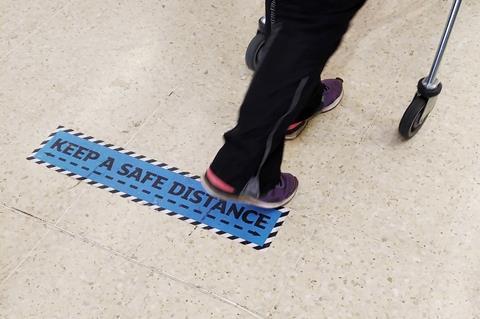 It wasn't a stellar week in terms of the scoring, but it was one of the most competitive, with just five points separating four retailers and winner Sainsbury's edging out Tesco by just one.
Sainsbury's Tooting took the win with 73 points. Our mystery shopper was full of praise for the store standards, ease of navigation and the service she received from staff.
At just 18,000 sq ft of selling space, the high street store is on the small side, but our shopper said the wide aisles allowed for customers and staff to keep their distance effectively. She said the store was so well organised "it was possible to relax and enjoy the shopping experience without worrying about bumping into other people and rushing to get out".
She received excellent assistance from staff when needed and observed staff providing other customers the same attention.
In terms of availability, there was one out-of-stock item, with four not stocked.
Our shopper at Tesco Bridlington similarly had a pleasant shopping trip, with the store scoring high marks for standards, layout and service.
But availability was the main issue that prevented it bagging the victory. Like Sainsbury's, there were four not-stocked items but also three out-of-stocks. Our shopper found the fruit & veg section had been hit particularly hard.
All of the staff she interacted with were polite and helpful, including a very pleasant checkout operator.
Asda's store in Longsight, Manchester and Waitrose's in Crewkerne, Somerset, tied on 68 points.
Our Asda shopper found the store generally clean and tidy. His experience with staff was mixed – some team members appeared knowledgeable and were able to suggest alternatives to not-stocked lines, but one member of staff who told him to "hang on" while she went to see if a product was available never returned.
Availability was an issue with two products out of stock as well as two not stocked, and our shopper highlighted "a few noticeable gaps in the fruit & veg section".
Stock levels were the biggest concern at Waitrose. Our shopper only managed to pick up 28 lines due to four out-of-stocks and one not-stocked product. Our shopper also spotted "quite a few empty spaces throughout the store".
Her dealings with staff all went well, beginning with the greeter who wiped down her trolley on entering to those on the shop floor who were able to help her locate items , as well as the polite and "elegantly dressed" checkout operator.
While there was little between four of our stores this week, Morrisons in Newcastle-under-Lyme was well off the pace on just 41 points.
The highlight for our shopper was the in-store music playing 1960s, 1970s and 1980s classics. These seemed to lighten the mood and she pointed out she "was not the only customer bopping along to the tunes".
Apart from that and excellent checkout operator Val, the store performed poorly. "Crowd control was non-existent" with no one stopping shoppers streaming in and ignoring the hand sanitiser. Our shopper felt the store was cramped, not helped by "dozens of small sales units in the aisles" making it hard for customers to keep apart.
Staff were hard to spot as they appeared to be dressed in plain black t-shirts and only a few had name badges. In terms of availability, there were two items out of stock.
This week's results:
WEEK 41: Friday, 02/04/2021 (11.00am - 1.00pm)
WINNER
Asda
Morrisons
Sainsbury's
Tesco
Waitrose
Location
Longsight, Manchester
Newcstle under Lyme
Tooting, London
Bridlington
Crewkerne
Date
02/04/2021
02/04/2021
02/04/2021
02/04/2021
02/04/2021
Time slot
11am - 1pm
11am - 1pm
11am - 1pm
11am - 1pm
11am - 1pm
Shop starts
11:10am
11:46am
11:20am
11:25am
11:47am
Visit Duration
01:05
01:19
01:05
01:05
01:04
Shop Duration
01:15
01:28
01:20
01:15
01:22
Car Park (10)
8
2
9
10
10
Car park management (3)
2
1
2
3
3
Queueing time to park and finding a parking space (2)
2
0
2
2
2
Exiting the car park (2)
2
0
2
2
2
After exiting your car please rate your experience before entering the store? (3)
2
1
3
3
3
Feedback
There was no queue to enter the car park and it was easy to find a space. The entrance was clear, but not staffed and there were hand sanitisation facilities available.
Usual average car park. The store has two entrances so they were using a one way system which was signposted once you arrived at the door, earlier warning would have allowed customers to keep apart better. There wasn't anyone on the entrance to either check for masks, prevent people streaming in (which they were) or encouraging customers to use the sanitizer stations. I wainted inside for a few minutes and apart from me, only one other person stopped to clean their hands or the trolley. Crowd control non-existent.
There were very few cars and no queues to either enter or exit the car park. It was in very good order, clean and no litter at all. Trolleys were neatly stacked in the trolley parks but there were so many of them that they extended out of the park area and into the road area of the carpark. This meant that any cars did have to drive round a series of obstacles.
Lots of cars but no problem in finding a space quickly
The trolleys were spray sanitised by a staff and a staff let me enter the store.
Store standards (20)
17
5
15
18
13
First impression (6)
6
0
4
6
4
Displays (4)
3
1
2
3
2
Fruit & vegetables section (3)
2
1
3
2
2
Store standards - remaining sections (3)
2
0
3
3
2
Obstractions (2)
2
1
1
2
1
Spillages (2)
2
2
2
2
2
Feedback
The store was generally clean and tidy. In the foyer, there was an attractive flower display. Around the store, there were several Easter offers available including lamb leg joint and save 25% when you purchase 6 bottles of selected wines. Product availability was generally good, however, there were a few noticeable gaps in the fruit and veg section.
Fruit & veg - WHY have every cabbage, lettuce and cauliflower in a separate plastic bag? I thought Morrisons were claiming to be eco friendly? The store is cramped, but they don't help customers keep apart when they have dozens of small sales units in the aisles. There was one extremely bad corner, the unit with all the half-price "use by today" bargains was right on the corner and lots of people wanted to get to it causing a crowd and a "traffic jam".
The store was extremely clean and tidy. Everything was very well stocked and items were well displayed. The end of aisle areas and offers were largely Easter related so lots of flowers at the entrance, lots of chocolate items, hot cross buns and alcohol deals were visible. The fruit and vegetable section looked excellent, the produce was in great order and well displayed with good stock throughout. There were no spills anywhere and all the fixtures were in good order.
There were some empty slots in the fruit & veg section
The store was quite busy and I noticed quite a few empty spaces throughout the store. Also I came across quite a few trolleys with personal shoppers. One particular shopper stayed in one position for a long time and was blocking the tea section. When I approached the area to see the teas, the shopper didn't move the trolley thus I needed to squeeze next to it to get an item.
Store layout and services (10)
10
6
6
6
8
Did the store layout seem logical and intuitive? (4)
4
2
4
4
4
Available services (6)
6
4
2
2
4
Feedback
The store was logically laid out and it was fairly easy to locate the items I was looking for. There was only one counter for meat and it was well stocked and neatly presented.
Like all Morrisons they have a huge range of services. Static units include Photoshop, Coinstar, a whole wall of Amazon yellow collection boxes. They have a take away coffee and cake bar - the Barista bar aswell as a cafe. There is fresh fish, butchery, bakery, deli, salalds, sandwich making, pizza, hot food to go - chicken, chips and a separate pie shop. In one corner they have created a complete Party Shop - a bit of forward planning there, I think
The signs in the store were all accurate and very helpful both above the aisles and sticking out from the shelves - eg easy to find the freezer aisle and once there easy to find vegetarian items. The store is organised in a very logical manner and it was easy to find items without having to backtrack. The aisles were wide enough but there were very few customers in the store so no crowding in any areas. There is a food to go area with sandwiches, salads, snacks and fruit pots but no visible promotions available. There is a Sushi counter and a deli bar but again there were no noticeable promotions. These fixtures appear to be very new and there is also another counter that is completely empty and not in use. There was no click & collect service in evidence.
The in store bakery was well stocked, the fish & deli counters only had a limited range of products
When I entered the store, immediately I saw some Easter related items which were attractively displayed. The counters were attractively displayed.
Shop Floor Service (20)
15
3
18
18
19
Finding a member of staff (5)
3
1
5
5
5
Shop floor staff helpfulness in locating items (5)
3
0
4
4
5
Shop floor staff diligence and hard work in replenishing shelves and picking in-store orders (5)
4
2
5
5
4
Staff presentation (5)
5
0
4
4
5
Feedback
The staff were neatly presented and were reasonably helpful when I made my enquiries. When I asked a female staff member with long, red hair whether there was any Deli Kitchen flatbread available, she apologised and replied "no". When I later asked the same lady whether there was any Warburtons Artisan Tiger Gluted Free bread, she replied that it wasn't stocked at this store. I then asked a male with short red hair whether Biotiful dairy organic kefir was available, to which he explained that they only stocked the non-organic varieties. I also asked a female with long, dark hair whether there was any Taylors of Harrogate hot lava Java coffee available to which she replied "hang on". However, unfortunately, after waiting for a few minutes, she did not come back to me with an answer.
When I eventually found a staff member I realised why I couldn't see them. They were all wearing plain black tee-shirts and trousers. Only a couple seemed to have name badges. They just looked like customers. Ridiculous idea.
There were lots of staff available and it was very easy to find someone at all times. I could not find the IPA required but there was a staff member in the same aisle and he gave me excellent directions and checked I had found it. I witnessed other staff members assisting customers elsewhere in the store. Staff were restocking and were careful not to obstruct customers and move aside as and when required. All staff were neat and tidy, wearing uniforms and face masks.
All the staff I talked to were very helpful. Some staff in the store were not wearing badges.
When I entered the store, immediately I saw some Easter related items which were attractively displayed. The counters were attractively displayed.
Tills and checkouts (20)
10
13
17
20
16
Rate how well managed were the queues leading to the tills? Were a sufficient number of checkouts open for the volume of staff? Were staff on hand to advise on checkouts with shorter queues, or manage social distancing (5)
2
0
5
5
5
How long did you have to queue? (5)
0
4
4
5
4
Please rate checkout staff on their customer service (8)
6
7
6
8
5
Was the till receipt free of mistakes? (2)
2
2
2
2
2
Feedback
There were several checkouts open, however, I had to wait for several minutes before one became available and I did not spot anyone guiding customers to open tills. The checkout service was friendly and pleasant. I was greeted with a smile and I was asked whether I needed any bags. My items were scanned through very quickly and with care. I was then asked for payment before being thanked for my custom and handed a receipt. Finally, as I finished my packing, I was offered a friendly farewell.
Val on the checkout was the highlight of the day. She was excellent. They did have all the tills open, so there were no queues but they didn't have anyone on duty checking distances or crowds.
There are very few staffed tills and each one was in use so I was next in line to be served. There are lots - about 30 - selfservice tills but few of them were in use. There were no staff managing the queues. The staff member made good eye contact and said hello. She waited until I had my bags ready to pack and handled the items well. The flour left flour on her hands and she handed me a plastic bag to wrap it separately. She did not ask for my Nectar card. When I tried to use my direct debit card it was declined but she said the machine was "playing up" and gave me directions to try again which worked. The receipt machine then chewed up the receipt and she had to open it up and clear it which she did easily and then printed off a duplicate receipt for me without my asking. She apologised, said goodbye and wished me a Happy Easter.
Very pleasant lady on the checkout, she asked me if I had any coupons to redeem.
The till staff was elegantly dressed and handled items carefully. The language used was polite.
Availability score (20)
8
12
8
0
2
Of the 33 items on your shopping list how many were:
Available (up to 20)
29
31
28
26
28
Out of stock (-4 per item)
2
2
1
3
4
Not stocked (-2 per item)
2
0
4
4
1
Number of items bought
29
31
0
26
28
Availability %
93.5
93.9
96.6
89.7
87.5
Please note down the items on your shopping list that were out of stock (please highlight the products that have managed to get a satisfactory substitutions)
Product 1: Taylors of Harrogate Hot Lava Java coffee 227g
Product 2: Deli Kitchen Greek style flatbread x4 320g
Product 1: OL Breaded chicken steaks
Product 2: Linda McCartney frozen vegimince
Product 1: Finger rolls
Product 1: Asparagus
Product 2: Savoy Cabbage
Product 3: Warburton's artisan tiger gluten free
Product 1: Own Label Macaroni Cheese 400-450g
Product 2: Flake Chocolate bar 4x26g
Product 3: Own Label Berry Medley 220-250g
Product 4: Warburtons Artisan Tiger Gluten Free 400g
Please note down the items on your shopping list that were not stocked (please highlight the products that have managed to get a satisfactory substitutions)
Product 1: Warburtons Artisan Tiger gluten free 400g
Product 2: Biotiful dairy organic kefir 500ml
N/A
Product 1: Nuii Dark Chocolate And Nordic Berry Stick 3x90ml 270ml
Product 2: Deli Kitchen Greek Style Flatbread X4 320g
Product 3: Head & Shoulders Citrus Fresh Shampoo 500ml
Product 4: McCain Hash Browns 625g
Product 1: Biotiful Dairy Organic Kefir
Product 2: McDougall's plain flour
Product 3 Deli Kitchen Style flatbread
Product 4: Nuii Dark Chocolate & Nordic Berry Stick
Product 1: Nuii Dark Chocolate And Nordic Berry Stick 3x90ml (other flavours were available)
Please give any other details or info about your shopping trip, good or bad
N/A
It was very crowded (lots of children !!) and as no one was checking for masks or sanitising I felt a little unsafe. The store layout could have been cleared of loads of small display units which would have helped us spread out. As usual, profit is more important than customer welfare. The only saving grace - I don't know who was in charge of the instore music, but they deserve a bonus. 60/7- classics, Chain Reaction and Walk of Life, brilliant and I wasn't the only customer bopping along in time to the tunes !! Thanks for that.
This was a good shop. Everything was extremely clean - fixtures, chillers, floors and shelves - there were plenty of staff and excellent stock levels throughout. The store felt organised and the customer levels meant it was possible to relax and enjoy the shopping experience without worrying about bumping into other people and rushing to get out.
The car park was full so I thought the store would be busy. However all the checkouts were open so there was no queuing.
The store was spacious and easy to navigate. However, I saw quite a few empty spaces throughout the store. The store was busy with many customers but waiting time for the till was short and well managed by a staff who navigated me to go to a certain till.
TOTAL SCORE (100)
68
41
73
72
68