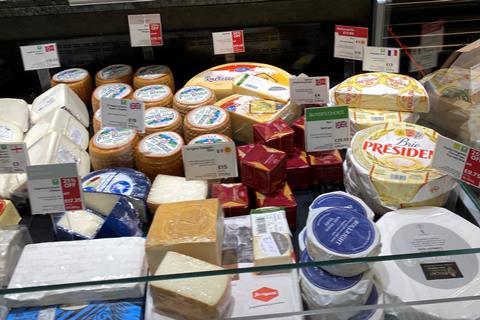 Availability was hit hard this week as the country basked in a mini heatwave, with supermarkets struggling to restock shelves on a late Friday afternoon shop.
Waitrose squeezed ahead of Sainsbury's to take the victory by one point. The winning store in Sheffield struggled slightly for availability, with four items missing (three out of stock and one not stocked), as staff worked to replenish gaps across fresh produce, bakery and beer.
However, staff were conscious of customers while restocking, standing aside to maintain social distancing, and wearing gloves. They were also "exceptionally friendly and polite", looking up out-of-stock products and suggesting alternatives.
"The store was generally spotlessly clean and tidy," our shopper added. "The aisles were free of obstruction and it was very easy for customers to navigate the store safely."
It did lose some marks at the checkout, however: the till assistant failed to greet our shopper or wipe down the conveyor belt and card reader.
Sainsbury's in Benfleet also scored strongly in all categories, with the best availability of the week thanks to just two missing items from the basket.
There was a minimal wait to get inside, with an antibacterial station at the entrance to wipe down trolley handles and for customers to clean their hands.
The store was calm and well stocked, with no empty shelves in sight. One or two restocking trolleys did present an obstruction, however.
Shop floor staff impressed our shopper, with help searching for hard-to-find items on her list. One worker walked her to the correct aisle while another checked the stockroom. Checkouts were well-managed, with floor markings to guide customers. However, marks were dropped for a longer than five-minute queue.
Asda at Hunt's Cross, Liverpool, was let down by a nightmare at the checkout, with long queues, frustrated customers and no management. There was a mistake on the receipt.
Four products were missing (two out of stock and two not stocked). However, our shopper reported many shelves stripped bare and empty boxes across the shop. Staff were "cheerful and friendly" when found, but there weren't many of them.
Many customers were also not paying attention to social distancing measures, as well as ignoring the one-way system. However, there was no queue outside the shop and the signage inside was "excellent".
There was a long wait for entry at Tesco in Sutton, but the queue was well managed.
Inside, sections were "bare and messy", the bakery aisles and meat chillers in particular, with three lines out of stock and three more not stocked.
Staff were difficult to find and not particularly helpful when tracked down, with one directing our shopper to customer services: she would not check for a missing item in the beer aisle as it wasn't her section.
Morrisons in Croydon was "calm and ordered", with hand sanitiser and helpful notices. However, its score was dragged down by very poor availability, with 14 products missing.
Very few staff were on the shop floor to refill shelves, with unmanned restocking cages and empty boxes blocking aisles. Our shopper found it hard to find staff – those she did locate were "busy and rushed".
There was no one-way system, which led to a breakdown of social distancing in places. Points were also dropped at the checkout, with long queues affecting the waiting time.
The Grocer 33 results
WEEK 3: Friday 26/06/2020 (4.00pm-7.00pm)
WINNER
Asda
Morrisons
Sainsbury's
Tesco
Waitrose
Location
Liverpool
Croydon
Benfleet
Sutton
Sheffield
Date
26/06/2020
26/06/2020
26/06/2020
26/06/2020
26/06/2020
Time slot
4-7pm
4-7pm
4-7pm
4-7pm
4-7pm
Shop starts
04.08pm
05:53pm
04.19pm
04.20pm
05:55pm
Visit Duration
01:38
01:06
01:26
01:20
01:35
Shop Duration
01:23
00:57
01:11
00:45
01:20
Car Park (10)
10
9
10
9
10
Signposting (up to 1)
1
1
1
1
1
Queueing time to park (up to 2)
2
2
2
2
2
Trolleys (up to 2)
2
1
2
2
2
Queueing time from parking the car to enter the store (up to 3)
3
3
3
2
3
Feedback (up to 2)
2
2
2
2
2
Very clear barriered demarcations for those entering/leaving the store. Excellent clear and abundant floor signage.
Barriers in place, staff at the entrance to guide you in but no queue.
The car park wasn't overly busy with plenty of spaces left. I did not see any staff actually managing queues to enter the store other than the lady at the entrance saying you could come in and also making sure everyone used the one way system but the queue was minimal when I arrived with only 2 people in front of me. There were bright orange barriers to make sure if there was a queue that people knew what to do and where to go. The multi story car park at the back of the store which you enter the store via a lift internally was shut so that they could control queues properly.
I felt the social distancing signs and process were being well managed with a couple of staff by the door controlling the flow of people going in.
The car park was quiet on arrival and I was able to park close to the store entrance easily with plenty of spaces empty on either side. The car park was clean and tidy and trolleys were stacked neatly in the trolley parks. There was plenty of disabled parking (and a bike park) but the parent and child bays had been cordoned off for collection customers only (it was empty both before and after the shop so I couldn't observe how well it was operating). The turning close to the store entrance had been blocked off by barriers, presumably for the safety of customers queuing to enter the store. There were two customers ahead of me in the queue, which was being managed by a member of staff. The store exit was on the other side of the store, so no need for a one way system. Customers had to collect their own trolley from the stack close to the entrance but there wasn't any evidence of anyone sanitising them or a sanitising station nearby. There was plenty of signage around such as markers on the floors for social distancing, café closure notice, guide to using the Quick Check self scan app and requests that customers shop alone where possible. There was umbrellas available for customer use. I entered the store just a couple of minutes after joining the queue although there were a few people already in the foyer so it was a little tricky to keep a 2 m distance.
Store standards (20)
11
11
17
10
18
First impression (up to 5)
2
3
4
2
4
Feedback
The store looked calm and empty at the entrance. Friendly and vigilant staff
N/A
You had to take a trolley from outside the store but as you entered there was antibacterial spray and blue tissue cloths to wipe the trolley and also antibacterial gel for shoppers to use. The store was calm and obviously not crowded as they are still limiting numbers inside.
Overall I felt the store was well managed but I did not see many members of staff when entering the store but the signs were self-explanatory.
The outside of the store looked clean and tidy with some colourful flowers in Waitrose branded planters and a good selection of compost and hanging baskets on display in wooden sheds. This was slightly let down by shelves of outside plants looking rather dried and wilted next to where customers were queuing to enter the store but overall first impressions were good. The foyer of the store was light and bright and had an attractive display of indoor plants and cut flowers on one side. There was a foot operated hand sanitiser just before you entered the main store and clear floor markings and a one way system in place. The store was relatively quiet and most visible staff were engaged in serving customers or restocking shelves.
Displays (up to 3)
1
2
2
1
3
Availability and replenishment (up to 5)
1
2
5
2
4
Feedback
Many of the shelves were stripped bare, or simply empty boxes. Very few staff stacking at this time. End of aisle promotions were often seasonal. Garden and barbecue/drink promotions seemed the most abundant. There was evidence of some larger family pack sized products, but not sure this isn't just Asda's typical style or a helpful addition in the current climate.
Eggs were stripped bare. A lot of things on the list were out of stock and very few staff in the aisles making replenishments though there were a lot of cages and empty boxes in aisles.
The stocks were well stocked. I did not see any bare shelves and there were a lot of staff wandering with full trolleys restocking
I felt some areas of the store were better maintained than others, the bakery aisle was particularly bare and messy, I noticed a couple of crates that were probably stacked there for someone to stack the shelves but overall bakery section was a mess. Other areas of the store looked bare such as meat and poultry.
As is often the case at this time on a Friday, there was a lot of restocking going on and a few empty shelves (mainly fruit and veg and the Bakery). There was a noticeably large amount of yellow stickered reduced price products throughout the store. Some services, such as the free coffee, café, salad and olive bars and rotisserie chicken were closed due to Covid restrictions. That said, I was pleased to see the fish and meat counters and delicatessen, fully open and very well stocked with impeccably displayed produce, the first store I have seen to open these services since the start of lockdown. As mentioned, the fruit and veg section was low in places and I noticed some of the green leafy veg looking a little yellow and wilted around the edges (it had been a very hot few days though). There were staff restocking in all areas with 'gaps' and they were all doing a great job of getting the fresh produce out quickly, unobtrusively and stepping aside to allow customers to pick up produce while maintaining a suitable distance.
Obstructions (up to 3)
3
0
2
2
3
Spillages (up to 2)
2
2
2
2
2
Condition of the store in terms of cleanliness (up to 2)
2
2
2
1
2
Feedback
I was quite surprised at the very low levels of stock in many of the aisles. The refrigerated stock was the most abundant. I got the impression that the time I arrived may have been a shift change as very few staff on the shop floor.
Store was light, bright and airy with plenty of stations for cleaning hands and wide aisles.
The only spillage I saw was down the milk aisle where somebody had dropped a pot of cream. It had a wet surface warning over it and someone was walking towards it with a mop/bucket.
Overall the store looked clean and well maintained.
The store was generally spotlessly clean and tidy. Other than the green veg crates deliberately stacked to block access points in the middle section of the store, the aisles were free of obstruction and it was very easy for customers to navigate the store safely. The only areas that were messy was the end till belt which looked like it was being used to stack a variety of returns or unwanted items and the tables and chairs stacked a bit messily in the exit lobby. Other than that that, top marks.
Store layout (10)
9
7
8
6
10
Did the store layout seem logical and intuitive? (up to 2)
1
1
2
2
2
Was it easy to navigate the store while also feeling safe? (up to 6)
6
4
4
2
6
Did the store offered any Click & Collect services? (up to 2)
2
2
2
2
2
Shop Floor Service (20)
14
10
18
11
18
Product location (up to 5)
3
3
5
3
5
Staff politness/responsiveness (up to 5)
4
3
4
3
4
Feedback
I interacted with two staff members. The first cheerfully told me the relevant aisle for the handwash (as it was not obvious and barely stocked). The second was stocking shelves and told me that organic milk wasn't available. Both kept distance and gave me accurate information in a friendly manner.
There seemed to be few staff on the floor, the ones that were there seemed very busy and rushed so spoke quickly and pointed but didn't go into detail on anything, telling me where to find things or if they weren't where they said there were none left.
I could not find the Wikinger hotdogs and a young assistance named Amy walked me to the aisle pointing to where they were. I could not find Flora light spread and asked an assistant called Gina, she checked the shelf and out the back confirmed they did stock it but were out of stock. I couldn't find the butternut squash soup mix and spoke to David. He said it was more of a winter thing so said they wouldn't have it. He did not check.
Dan was really helpful when I needed help with the pickled beetroot, he walked me to the aisle. Claire was not as keen to help when I could not find the sol beer and told me this was not her section and suggested I ask at customer services if there is any more in stock.
I engaged with 3 members of staff whilst completing the shop. All three were exceptionally friendly and polite, helping me find products, looking up items that were out of stock and offering suitable alternatives, although none of them offered to find out when out of stock items would be back in stock.
Was it easy to find a member of staff (up to 3)
1
1
3
1
3
Were staff easy to identify through their uniform or name badges (up to 2)
2
0
2
2
2
Staff presentation (up to 5)
4
3
4
2
4
Feedback
I was surprised by how few staff were in gloves and/or masks. It appeared to be a voluntary measure. The vast majority of customers in store were absolutely NOT paying attention to social distancing and I could see staff having to come quite close to customers in some instances.
Some staff were dressed in their own clothes making them difficult to identify. For example one female colleague was wearing a blue jumpsuit leading me to believe she was a customer until another staff member had a discussion with her.
N/A
N/A
Staff restocking were wearing gloves but not face masks and when I asked them to help me find items, all staff were careful to keep their distance. Staff serving customers at counters and tills were wearing gloves and plastic visors but not cloth masks. There were high plastic screens at the tills but no extra measures at the counter services. I noticed that it was very quiet when going through the tills, (much less friendly small talk than usual) both at the till I was at and those either side and I wondered whether staff had been trained to keep conversation to a minimum.
Tills and checkouts (20)
10
13
15
14
17
How well managed were the queues leading up to the till-operated checkouts in terms of maintaining order and social distancing? (up to 2)
0
1
1
1
2
How well managed were the queues leading up to the self-service checkouts in terms of maintaining order and social distancing? (Please observe after you've completed your shop, and include observations around attentiveness to customers requiring help due to flashing lights/unattended items in bagging area) (up to 2)
0
1
1
1
2
How long did it take to queue (prior to scanning) (up to 4)
2
2
2
4
4
Please rate checkout staff on their customer service and safety (up to 7)
5
5
6
3
4
Time for G33 items to be scanned (including payment) (up to 3)
3
2
3
3
3
Was the till receipt free of mistakes? (up to 2)
0
2
2
2
2
Feedback - please provide any further details/feedback on the tills and checkout:
The queues to the checkouts were VERY long and some customers seemed quite frustrated. There was no management of queues in evidence, instead it was left to customers to judge social distance. The self-service sections seemed inadequately staffed and customers appeared not to be social distancing effectively at these checkouts, leaving staff to have to get quite close if problems occurred. There was a bizarre till mistake, pasta salad showing as 'cat treats' on the receipt. I was charged £1.10 more than the cost of the pasta.
Bonnie was very friendly and helpful, making offers to scan things more slowly to allow me to pack.
The tills have large Perspex screens between them. There is markings on the floor to show you how far apart to stand and then the cashier will call you forward when there's enough space between you and the person being served.
N/A
There were markers on the floor showing customers where to stand, so till queues were largely self managed. I waited around for a while and it appeared that customers were doing a great job of maintaining distance on their own and so it was unnecessary for staff members to intervene. There was minimal queuing when I reached the checkout as the customer ahead of me was just finishing up and it was similar at the adjacent tills. During my shop I had noticed some queuing at the end of aisles, as at some points customers were shopping in pairs and standing next to each other, which made it slightly more difficult to pass safely (but by no means impossible). I did notice that many of paired up shoppers were young adults (possibly students due to store location) and were therefore not following the store request to enter one at a time unless having to shop with young children and I did wonder whether the store planned to 'police' that request if it became a problem at busy times. There was visible security guards at the entrance and exit, which was reassuring that the store had adequate measures in place to control any issues.
Availability score (20)
14
0
17
11
13
Of the 33 items on your shopping list how many were:
Available (up to 20)
29
19
31
27
29
Out of stock (-2 per item)
2
7
1
3
3
Not stocked (-1 per item)
2
7
1
3
1
Availability %
93.5
73.1
96.9
90.0
90.6
Please note down the items on your shopping list that were out of stock (please highlight the products that have managed to get a satisfactory substitutions)
Bagged watercress (substituted bagged rocket)

Tuna in olive oil (substituted brine)

No substitute: Eggs, limes, cherries, Blackwoods gin, Pukka pie

Substituted: own label coconut milk, Chicago Town Cheese Medley, Jersey Royals 450g

Gammon joint - they only had the smaller weight one.
Tesco Lamb Diced Leg 300G

Tesco Frozen Summer Fruits Mix 500G Sol.

Original Beer 12X330ml

Jam doughnuts - out of stock no alternative

Carrots - standard 1kg bag out of stock, they had loose carrots and other size bags but I didn't want the alternative

Thornbridge Jaipur ale - out of stock but bought another Thronbridge variety as a substitute

Please note down the items on your shopping list that were not stocked (please highlight the products that have managed to get a satisfactory substitutions)
Organic milk Chocolate wafers

Own brand (Blue Riband wafers)

No substitute: Cadbury Snack, J Heler Leicester Cheese, Sprite No Sugar 6x250g, Kettle Chips salt & vinegar 5x30g

Substituted: organic red onions, Andrex Classic Clean x4, Quorn vegan nuggets, Wensleydale butter

The butternut squash was not stocked - assistant said would be stocked in cooler weather.
Tesco The Deli Cooked Ham 6 Slices, 200 G

Tesco The Deli Roast Turkey 4 Slices

Tesco The Deli Roast Beef 4 Slices

Whitworths semolina - not stocked but got own label alternative
Please give any other details or info about your shopping trip, good or bad
Very short queue at the click and collect - seemed efficiently managed. Services were generally available. Open services were: Bakery (baking, but not serving customers), Optician, customer services, Toilets, Kiosk, Pharmacy, Lotto, deli/cheese, hot food/pizza. Closed services were: meat/fish, coffee machine, cafe, mobile phone shop. No cash machines or GP surgery available.It was refreshing to experience no queues at the store entrance and

I was encouraged by the very clear social distancing measures outside and excellent signage inside of the store. Inside the store though customers absolutely were not effectively social distancing, many blatantly ignoring the very clear one way systems in place. The checkouts were not being managed, and queues were VERY long. Customers actually seemed to manage social distancing well in the queue. I felt sorry for the self service checkout staff as they seemed to have a very large volume of customers for the amount of staff. Shelves were badly stocked and some of the fresh stock that was available had annoyingly short dates (many the very next day). Bit of a shambolic overall impression.

Great clearance offers on a table at the back of the store, cheese deli counter open which was nice to see. Really good selection of cheeses both there and on shelf. Whole aisles dedicated to queueing for tills. No one way system in place and I heard other shoppers complaining that it meant people would get too close while passing. Alison was very knowledgable.
This shopping trip was actually fine. I didn't have a major queue to get in (only 2 people in front of me) I sanitised my trolley with the antibac provided. The shop wasn't overly full and was easy to stay clear of people (except one old lady) the shelves were well stocked and only one person in front of me in the queue for the till.
Overall good experience.,
It wasn't immediately obvious that Click and Collect was on offer as I didn't see any signage advertising this service in store. There was temporary signage outside the store where the parent and child area had been blocked off as a customer collection point but it said 'Food only', so I presumed this was for click and collect but I couldn't confirm if the usual non food service was operating from the customer service desk inside.

The store was generally doing an excellent job operating within the current restrictions. It was immediately clear that all staff were performing their roles exceptionally well in the circumstances and doing so with a friendly demeanour and attitude. Customer flow was being managed very well with a good balance between keeping queues to a minimum without losing the ability to maintain a safe distance (although it was quiet when I visited and it would be interesting to see how they manage at busy times). There were a few things that I thought could be improved which were:

- at the till, the member of staff serving me didn't wipe down the belt area or card machine between customers. This is being done at other supermarkets and I find it reassuring. Similar with the trollies I previously mentioned, I'm sure they were being sanitised between customers but it wasn't visible at the time of my shop, so I couldn't be 100% sure.

- on the way in there was a foot operated hand sanitiser but on the way out there was just a plastic bottle balanced on a concrete post. I don't think customers generally want to pick up a bottle that may have been touched my many others before them (I used my own!). Perhaps another foot operated device would be better.

- there wasn't any additional measures at the meat and fish counters and deli. I've not seen these services open anywhere else, so I can't compare to other stores (and I don't know what the rules are around this) but I would expect to see something such as a higher plastic screen or similar, particularly as the produce is open to the air.

All of the above measures would be easy to implement and reassuring to the customer the store was going over and above to protect them from the virus, which is exceptionally important when customers might be prioritising safety over other considerations when choosing where to shop.

TOTAL SCORE (100)
68
50
85
61
86