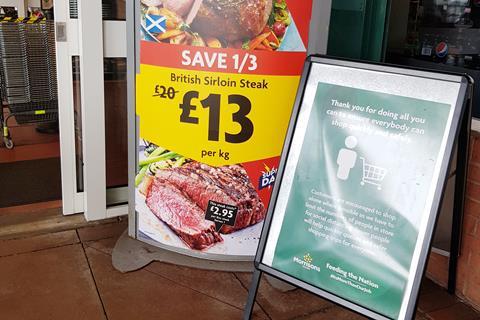 Availability made all the difference in this high-scoring week as Waitrose squeezed ahead of Morrisons. Although both retailers recorded impressive scores, Waitrose in Glasgow edged ahead with no products out of stock. Four items on the shopping list were not stocked.
The winning store lost a point for the car park as our shopper had trouble finding the entrance, but there was no queue to get inside the shop. The store was maintained at a high standard, with aisles free of obstructions and restocking trolleys placed to one side.
Our shopper felt the store was calm and the staff, who were busy replenishing shelves, helped to create a sense of order. There were plenty of helpful notices around the shop and hand sanitisers were in place.
A one-way system and wide aisles also contributed to full marks for layout. Our shopper didn't interact with staff, but was impressed by the team, though marks were lost as only some wore gloves and masks.
Four missing products at Morrisons in Livingston cost the supermarket the win this week, with four lines out of stock.
It impressed with full marks for car park, standards and layout, as well as almost perfect scores for shop floor service and checkout.
Our shopper found the store "bright and welcoming", with a well-managed queuing system. Everything was "very well-organised" and staff were "pleasant and eager to help".
Sainsbury's in the Surrey village of Knaphill wasn't far off the winning place. It managed to have the fewest missing items of the week, with just two products out of stock. The store only lost points because of a longer than five-minute wait to get in the store, but our shopper said the queue was well managed.
Once inside, our shopper felt safe and at ease thanks to wide aisles and clear floor markings to maintain social distancing. There was no one-way system and staff weren't wearing masks or gloves.
Most shelves were neat, tidy and well-stocked, but a couple of sections of the fruit & veg area were quite empty. Staff were busy restocking but were helpful and checked handheld scanners for missing products.
"This was a nice shopping experience," our shopper said. "Once inside it felt bright, airy, spacious and there were no queues at any of the checkouts."
Tesco in Liverpool also recorded a respectable score, with solid availability and consistent scoring elsewhere.
Marks were lost early on as the store doesn't have its own car park and our shopper was annoyed at having to pay in a multilevel car park nearby. However, there was no queue to get in and staff offered hand sanitiser at the entrance.
The one-way system was impressive, and friendly staff were on hand to help our shopper retrieve a forgotten product earlier in the shop. No staff wore gloves or masks and only some maintained a safe two-metre distance, though.
Points were dropped on checkout for the lack of interaction from the unfriendly till assistant.
Asda in Clapham had the most missing lines of the week (two out of stock and four not stocked). It also scored poorly for shop floor service, as staff told our shopper they were unable to help her locate products.
There were plenty of floor markings to remind shoppers about social distancing, but most people ignored them.
The checkout was a highlight of the shop, with clear marking showing where to wait, a short queue and friendly staff.
This week's results:
WEEK 2: Sunday 21/06/2020 (10.00am-1.00pm)
WINNER
Asda
Morrisons
Sainsbury's
Tesco
Waitrose
Location
Clapham
Carmondean
Knaphill
Liverpool
Glasgow
Date
21/06/2020
21/06/2020
21/06/2020
21/06/2020
21/06/2020
Time slot
10am-1.00pm
10am-1.00pm
10am-1.00pm
10am-1.00pm
10am-1.00pm
Shop starts
11:30
11:45
10:44
12:00
12:07
Visit Duration
01:32
00:44
00:54
00:50
00:40
Shop Duration
01:26
00:39
00:44
00:40
00:35
Car Park (10)
9
10
8
7
9
Signposting (up to 1)
1
1
1
1
0
Queueing time to park (up to 2)
2
2
2
2
2
Trolleys (up to 2)
2
2
1
0
2
Queueing time from parking the car to enter the store (up to 3)
2
3
2
3
3
Feedback (up to 2)
2
2
2
1
2
Staff were present managing the front of the queue but not the back. There were barriers, traffic cones and barrier tapes in place in the queue. There were large 'Social distancing - what to do' signs for all to view. There was one entrance and one exit - they were clearly separated.
Two security men managing customers entering and exiting the store.
The queue was only about 6 minutes and it was well managed with barriers and staff counting customer in and out. There were plenty of trolleys and baskets and staff were offering every customer a self scan hand held machine before they entered the store. There were markers on the floor for social distancing
The store doesnt have their own car park but is next to a multi level paid for parking. So obviously no trolleys in car park.
The car park is small and the entrance is narrow with the parking on an upper level.
Store standards (20)
15
20
17
16
17
First impression (up to 5)
2
5
4
4
4
Feedback
N/A
Very well organised store.
The store was very empty inside so there was plenty of space and room and staff guiding the way in. There were announcements through the speaker and markers and notices for social diatancing
A member of staff was outside to offer hand sanitizer, there were bars up so you could only go one way. The store had two levels and an escalator going both ways to the second floor, which had snacks, clothes, cereal, cleaning products. The lower floor had fruit and vegetables and frozen items. There was no que at all to enter the store.
N/A
Displays (up to 3)
2
3
2
1
1
Availability and replenishment (up to 5)
4
5
4
4
5
Feedback
The ailes were not messy and mostly well stocked. However, some of the items that were lacking were the different nuts in a special display, the jars of spices and the hand sanitizer.
All shelves and chill cabinets very well stocked and staff moving aside to let customers pass where required.
Most shelves were neat and tidy and well stocked. There were a couple of sections of the fruit and veg section which were quite empty and I couldnt see a staff member restocking but apart from that most other aisles were very well stocked
Availability was good, shop was very clean.
Staff were replenishing the shelves
Obstructions (up to 3)
3
3
3
3
3
Spillages (up to 2)
2
2
2
2
2
Condition of the store in terms of cleanliness (up to 2)
2
2
2
2
2
Feedback
N/A
Nice bright welcoming store.
There were staff restocking and packing shopping but the aisles are very wide in this store so not once did I feel like I was too close to either a customer or a staff member and many of the aisles were completely free of customers and staff
Very clean, lots of produce
Small sanitiser station at the entrance with a member of staff manning the station. No queue at the entrance and the store is maintained to a high standard.
Store layout (10)
9
10
10
10
10
Did the store layout seem logical and intuitive? (up to 2)
1
2
2
2
2
Was it easy to navigate the store while also feeling safe? (up to 6)
6
6
6
6
6
Did the store offered any Click & Collect services? (up to 2)
2
2
2
2
2
Shop Floor Service (20)
7
18
17
15
18
Product location (up to 5)
0
5
5
5
5
Staff politness/responsiveness (up to 5)
2
5
4
4
5
Feedback
I was told by staff that the Customer Service section wouldn't be able to help me find my items and that they themselves couldn't check either. And that if the items I was looking for were not there they must have sold out.
Very pleasant staff eager to help. Very helpful in every occasion I asked for assistance.
I didnt need to ask a member of staff but I listened in to two staff members who were trying to help a customer near me and they were being helpful and checking stock on the hand held machines etc. I have been in this store before and the staff have always been very helpful if I have needed assistance. Considering how quiet the store felt there seemed to be a lot of staff on the shop floor so if I had needed assistance it would have been very easy to find someone
Staff were polite and helpful, I asked about the quoina crisps, he looked through the crisp aisle and said didnt recognise the brand, but later i found them on another level in gluten free section. I asked about savoy cabbage and told they only had white/red cabbage. I had forgotten an item on the first floor and due to covid you couldnt go back but a staff member let me back through instead of leaving and re entering the store. The floor staff were lovely the check out staff wasnt helpful.
N/A
Was it easy to find a member of staff (up to 3)
2
3
3
2
2
Were staff easy to identify through their uniform or name badges (up to 2)
2
2
2
2
2
Staff presentation (up to 5)
1
3
3
2
4
Feedback
I was wearing a mask so was able to speak to staff at a normal, closer distance.
Very careful when assisting customers.
I didnt notice any staff wearing masks or gloves but I didnt see every member of staff on the till
N/A
N/A
Tills and checkouts (20)
18
19
19
16
20
How well managed were the queues leading up to the till-operated checkouts in terms of maintaining order and social distancing? (up to 2)
2
2
2
2
2
How well managed were the queues leading up to the self-service checkouts in terms of maintaining order and social distancing? (Please observe after you've completed your shop, and include observations around attentiveness to customers requiring help due to flashing lights/unattended items in bagging area) (up to 2)
2
2
2
2
2
How long did it take to queue (prior to scanning) (up to 4)
4
4
4
4
4
Please rate checkout staff on their customer service and safety (up to 7)
5
6
6
3
7
Time for G33 items to be scanned (including payment) (up to 3)
3
3
3
3
3
Was the till receipt free of mistakes? (up to 2)
2
2
2
2
2
Feedback - please provide any further details/feedback on the tills and checkout:
There were useful floor markers so you knew where to stand while waiting your turn to be served at the checkout.
Very pleasant young lady. I felt very confident doing my shopping in this store.
All tills now have screens around them but I didnt notice any of the staff wearing masks or gloves. There were no queues at any of the tills although there were markings on the floor of where to stand should there be a queue. All aisles at the checkout are wide so it is easy to feel safe and social distance
The store wasnt very busy so i was served immediately. The checkout girl, didnt make eye contact, ask me if i wanted bags or if i had a rewards card.
The checkout assistant was very helpful and recommended the tomatoes
Availability score (20)
12
12
16
15
16
Of the 33 items on your shopping list how many were:
Available (up to 20)
27
29
31
30
29
Out of stock (-2 per item)
2
4
2
2
0
Not stocked (-1 per item)
4
0
0
1
4
Availability %
93.1
87.9
93.9
93.8
100.0
Please note down the items on your shopping list that were out of stock (please highlight the products that have managed to get a satisfactory substitutions)
34g ASDA Ground Cinnamon £0.59 (17.3p/10g),
400g ASDA King Prawns £5.50 (£13.75/kg)
Elmlea Double cream sold out as on special offer of £1 (no substitute),
Belhaven Best Beer (no substitute),
Corn on the Cob 2 Pack (only 4 pack ldft),
Mixed Vegetables (small tin) - did get Peas and Corn mix.
Coleslaw 300g - I bought a small coleslaw instead and Heinz No added Sugar
Ketchup - I bought Heinz Reduced Sugar Ketchup instead
Naked sliced white bread- got brown instead.
Pepperonis -they only had mini ones.
N/A
Please note down the items on your shopping list that were not stocked (please highlight the products that have managed to get a satisfactory substitutions)
500g ASDA Basmati & Wild Rice £1.50 (£3.00/kg)
160g ASDA Smashed Avocado £1.65 (£1.03/100g)
150g ASDA Extra Special Large Canadian Scallops £5.00 (£33.33/kg)
4x250 Gordon's Ultra-Low Alcohol Gin & Tonic with a Hint of Grapefruit £5.50 (£5.50/lt)
N/A
N/A
Savoy cabbage
Charcoal cleanser
Alpro soya milk
Flip milk chocolate pretzels
7Up six cans
Please give any other details or info about your shopping trip, good or bad
People were not really paying attention to the floor markings at the start and end of each aisle (one way/no entry). Perhaps they need to be made more prominent.
Very good safe shopping experience.
There was not a one way system in place but there were plenty of markers on the floor in each aisle to indicate social distancing. This was a nice shopping experience as I was very surprised that on a Sunday morning there was only a 6minute queue to get into the store and then once inside it felt bright, airy, spacious and I was even more surprised how few customers were inside and there were no queues at any of the checkouts or self serve. I would definatley recommend this store to other shoppers who really want to social distance.
Staff were friendly, it looked like a new store, everything was neat and well stocked. Paid parking was annoying. staff except for checkout girl were very helpful. They had a one way in and a different way out, due to covid.
Click & Collect - Customer orders were labelled with name and the collection time and set up in the elevator
TOTAL SCORE (100)
70
89
87
79
90