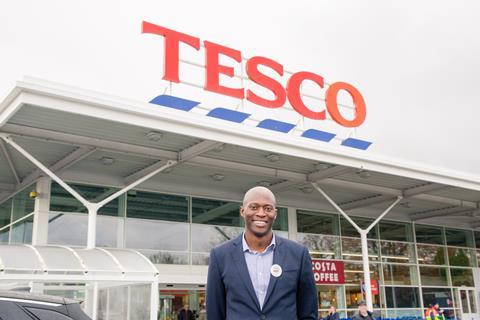 Winner: Tesco Bracknell
Store manager: Freddie Sackey-Addo
Size: 60,000 sq ft
Opened: 1988
Market share: 13.2%
Nearest rivals: Sainsbury's - 1.9 miles, Waitrose - 2.5 miles, Morrisons - 2.7 miles, Aldi - 3.0 miles
Store data source: Analysis by CACI. Call the market planning group on 020 7602 6000
Are you classed as a large superstore or a small Extra? It's a superstore but like some other superstores we have an extra non-food offer.

How have you adapted on non-food due to the internet? We're no different to the way the market's going, with sales going online. But we are trying to make sure we have the right offer, ie stationery, cooking equipment and things people like to touch and feel before they buy. If I look back at the past few weeks at non-food sales, I'd say it's going very well.

How are you looking forward to the rest of the 'golden quarter'? It's brilliant and if the run-up to Christmas doesn't excite you, you were the wrong person for the job. We've been preparing for weeks and I'm confident we are set to deliver Christmas.

Where did you work before coming to this store? I was working in property development for Tesco so it's been quite a change. It's something I wanted to do and something the company has encouraged so that staff have different skills.

How is being a store manager different? As store manager you have a lot of plates to spin. It's all about being on the coal face dealing with customers and there is a lot that can happen to manage on any one day. With property normally you are working 17-20 weeks in advance and it's a lot of dealing with outside suppliers and stakeholders.

Have there been any changes to the store of late? We've recently had a new freezer system. It caused a bit of disruption but hopefully now customers will be rewarded with a more reliable system and it's more environmentally friendly.

Has it surprised you how focused on the environment shoppers have become? Customers are demanding that we do more and we are responding. These days they are as interested in what we are doing about plastic as the price of a tin of baked beans.