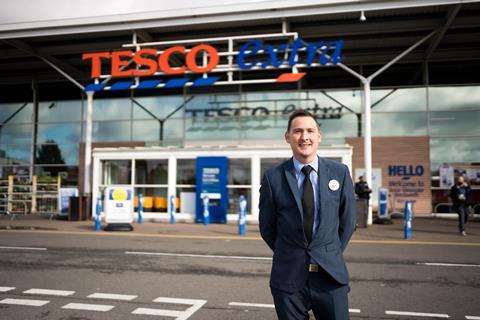 Winner: Tesco, Brockworth
Store manager: Matt Thompson
Opened: 2006
Size: 62,000 sq ft
Market share: 17.7%
Nearest rivals:
Sainsbury's – 2 miles
Morrisons – 2.4 miles
Lidl – 3.3 miles
Asda – 3.9 miles
Waitrose – 7.2 miles
Store data source: Analysis by CACI.
Call the market planning group on 020 7602 6000
Tesco is having a big push on its Clubcard Prices. How is that going? It's been very well-received. It's a great way to reward our loyal customers. It started with some great offers for Clubcard members on branded ice creams, followed by selling Terry's Chocolate Oranges for just 75p, which were both very popular with shoppers. The massive amount of press coverage around Clubcard Prices has helped too, as has Tesco's investment in a Clubcard champion stationed in larger branches to answer shoppers' queries on how Clubcard works.
You've been with Tesco for around 20 years. What's the best thing about working for the company? Tesco is a brilliant employer and I really like the team and customers. Retail is an ever-changing industry and the role gives me autonomy. I'm proud to be part of a business that's continually evolving, particularly when it comes to cutting down on plastic use, such as its trial of packaging seven own-brand cheeses in recycled soft plastic.
New CEO Ken Murphy said this week the online surge is here to stay. How have your dotcom sales been? Grocery deliveries have doubled since March, which means we've had to change the way the team works very quickly to ensure the supply chain meets demand, especially for our most vulnerable customers. That's been a complex process, but employees have truly been outstanding in how quickly they've adapted. Everyone from our delivery drivers to in-store pickers have really done themselves proud. There's also been a massive uplift in demand for our click and collect service because it requires minimal contact and is so convenient for customers.
Our mystery shopper experienced strong customer service. How do you reward staff for that? It's vital to recognise staff who go the extra mile in the moment, even if it's just by thanking them or writing a personal message. This is especially true if a shopper has taken the time to leave positive feedback about an interaction with one of the team. Everyone works so hard and it's important to take a step back and recognise what we've achieved.
How have employees taken to coronavirus safety measures? We have been engaging with the team about the importance of everyone playing their part, including wearing masks, since the pandemic began. This meant there wasn't a massive difference for us when the government made it compulsory for in-store staff to wear them. Wearing a mask for the entirety of your shift is not easy, but employees have been brilliant about it. We also monitor customer numbers coming into the store, offer hand sanitiser and have a marshal on hand to answer queries, plus the store is getting a traffic light entry and exit system next week. The light will go red if it's not safe for a new shopper to enter due to maximum capacity being reached, and green once a customer has left and a new one can come in.