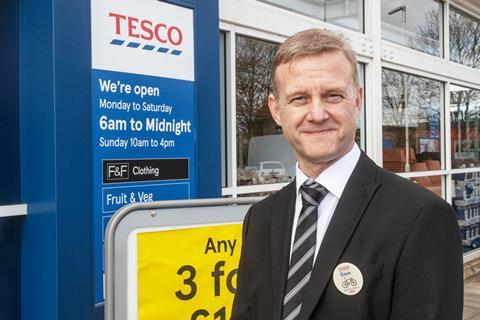 Winner: Tesco Canwick Road Trading Estate, Lincoln
Store manager: Dave Hobson
Opened: 1974
Size: 35,000 sq ft
Market share: 10%
Nearest stores: Morrisons - 1.4 miles, Lidl - 1.8 miles, Waitrose - 3.0 miles, Asda - 3.2 miles
Store data source: Analysis by CACI. Call the market planning group on 020 7602 6000
The store dates back to the 1970s. How do you prevent it from looking dated? From the outside the store does look old, but it's like a Tardis inside, with a much more modern layout.

What is your key focus at the moment? We're very focused on the customer shopping trip. Our two priorities are the tidiness and cleanliness of the store, and also availability of key products. We have been in the top 20 of Tesco's northern stores for availability for the last three quarters, with a score of 97.6%.

How is staff morale at the moment? I've worked for Tesco for 37 years and what really struck me is how happy the staff are here. They get along well and many socialise outside work. We got an 83% score in the latest Tesco staff satisfaction survey. I've got 141 people that work here, and turnover is very low. I've got lots of staff who have been here 20-30 years.

How does having a big flagship Extra a few miles away affect you? The shopping demographic for us is older. A lot of them use public transport or live locally and a lot don't like shopping in an Extra because it's too big for them. They like my store and my service and I know a lot of them personally.

How did getting rid of the counters affect the store? We went from a full deli to one of the new grab-and-go delis. There were some concerns that people would lose the element of personal service but in fact the sales from the grab and go have increased dramatically. It shows you have to change with changing customer demands.

You have a big F&F department for such a small store. Yes, it takes up a quarter of the store. We get a lot of customers coming in for what we class as stress items. Underwear and socks and that sort of thing. We get a lot of people going on holidays to places like Skegness and they come here on their way - and you certainly need your warm underwear there.