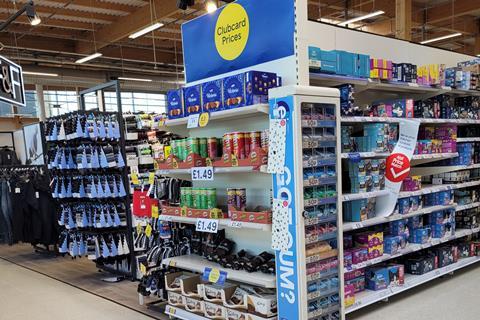 Asda bagged a fourth consecutive Grocer 33 win, but of concern to its new owners the Issa brothers and TDR Capital will be that for the second time this month arch-rival Tesco would have been cheaper with Clubcard Prices factored in.
At £55.53 Asda came in £2.92 cheaper than Tesco based on both retailers' shelf-edge prices. However, Tesco Clubcard users would have received an instant discount worth £3.77, making it 85p cheaper than Asda.
Asda offered the lowest price for 17 products and was exclusively so for seven, including the Ambrosia rice pud, apples, onions and Walkers crisps.
As has been the case in recent weeks, Asda seems to be struggling most in terms of managing inflation. Asda was 18.5% more expensive compared with a year ago. Morrisons' basket was up 16.8% on last year, while Sainsbury's and guest retailer Iceland's prices each climbed 13.6%. Waitrose was 10.3% more expensive year on year. The retailer proving the best at keeping inflation in check was Tesco, with prices up 6%.
Tesco offered the lowest price for a dozen lines and was exclusively cheapest for the chicken, peas and teabags – plus the ice cream with Clubcard.
Sainsbury's came in £3.17 more expensive than Asda at £58.70. It was cheapest for 11 products and exclusively so for the ham and the two-litre bottle of Diet Coke.
Morrisons was a further 8p more expensive than Sainsbury's at £58.78. Its sole exclusively cheapest item was the blueberries.
Guest retailer Iceland could only manage fifth spot. It was less than £1 more expensive than Sainsbury's and Morrisons, but £4.04 more expensive than Asda at £59.57.
Waitrose, which claimed a surprise third place last week, was a long way off the pace at £67.95.