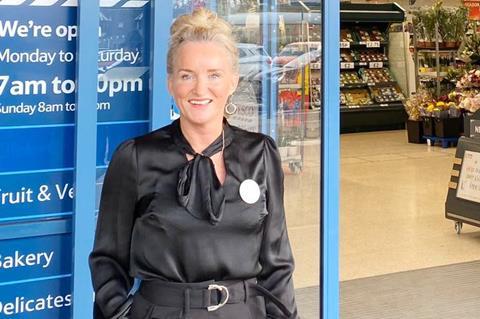 Winner: Tesco Cupar, Fife
Store manager: Ashley Van-Hoeven
Opened: 1996
Size: 23,000 sq ft
Market share: 42%
Nearest rivals: Aldi - 0.2 miles, Lidl - 0.4 miles, Co-op - 0.7 miles, Sainsbury's - 10.2 miles, Morrisons - 9.4 miles
Store data source: Analysis by CACI. Call the market planning group on 020 7602 6000
How long have you worked for Tesco? I've been with the company 23 years and for 13 years have done a job share with a colleague, working four days a week. But she has gone back to full time, so I returned from working as an area manager to this store a year ago.

What are the challenges of managing a small store? The trick is handling customers who expect you to carry the same range as the bigger stores they may shop at.

Have you made any changes to the range since you started? Since coming into the store I decided to increase the vegetarian and vegan range. There is a huge shift to plant-based food, so we've increased our range and made space by cutting back on our poultry range. That's ­certainly a sign of the times.

Do you think people like the Tesco vegan advert, or find it preaching? I think the reaction has been positive. Certainly there are a lot more people eating that type of food.

Speaking of ads, what do you think of the Back to the Future-style Christmas ad? It's very good and really catchy, we've had some good comments from customers. I think people always look out for the Tesco advert and other big ones like M&S and John Lewis.

Have you had any improvements to the store of late? Just recently we had a new LED lighting system installed. It's made the store much brighter and more customer-friendly. It's also much more environmentally friendly, which is good.

The Tesco Food Collection launches this week. How important is that for customers? I think people really get behind this and it's great that we supply such good charities as FareShare and The Trussell Trust. We always get a lot of support from our customers and we are trying to make sure that, as much as possible, we really target the food that families need.