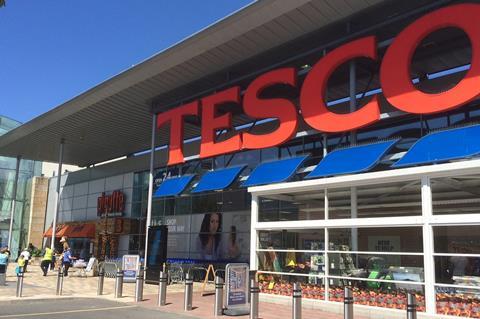 Tesco was the runaway winner this week with a whopping 92 out of 100 as it delivered a full basket and near flawless execution in standard, service and checkout.

Queues outside stores were considerably shorter than recent weeks on this Sunday lunchtime shop as customers regained confidence in availability at all times of day.

In Lewes, our Tesco shopper waited less than five minutes in the "well organised" queue, with cleaning spray and wipes available for trolleys upon entrance. The store was fully stocked, with the exception of the flour shelves, and staff were polite and "looked happy".

Our mystery shopper did, however, make note of "noticeably fewer new products" on promotion.

The efforts of staff to keep the store clean and stocked left our shopper "completely at ease". "This was probably one of the nicest shops I've ever had," he said.

It was a similar experience in Horsham as "an extremely tidy" Waitrose provided a pleasurable shopping trip, with no queue making "a lovely change" for our shopper. Availability was high for this week's vegan shopping list, but a few gaps saw marks lost.

Staff were "approachable and friendly", with managers pitching in to help fill shelves, though a number not wearing gloves or masks affected the score. Checkout was quick and easy, with no queues, and there was a separate checkout specifically for NHS staff.

Availability was hit harder at Asda in Otley, with eight products out of stock, including flour, basil, kitchen roll and Heinz baked beans - though our shopper was able to buy substitutions for most of the missing items. The eggs and tinned tomatoes fixtures were also empty, antibacterial handwash was depleted and the milk chiller was half-empty. The small store also lost points for a lack of other services.

However, it scored well for standards and "extremely polite and enthusiastic" staff, and the checkout experience gained full marks as the till assistant split the bill in two to allow our shopper to use contactless payment on her phone.

"Hats off to everyone working in retail - it can't be easy," our shopper added. "As well as the NHS and social carers, I'll be clapping this Thursday for everyone in grocery retail who puts themselves in harm's way so we can keep things relatively normal."

Morrisons in Wimbledon also scored full marks for the check-out experience, thanks to "very friendly and welcoming" till staff and a well-managed queue management system directing shoppers to conveyor belts as they became free. Staff were harder to find on the shop floor but shelves were mostly fully stocked and the checkouts were well-manned. The shop was "spotlessly clean and tidy" but a smaller store meant limited range and five not stocked lines.

The "cramped and narrow" aisles meant that despite limited numbers of customers in store, it was harder to maintain social distancing limits at times.

The small Sainsbury's in Wigston, Leicestershire, was the only retailer to score zero for availability, with five products on the list out of stock and another 11 not stocked. The store was quiet, but our shopper thought some sections, such as fresh, needed replenishing. Staff were also in short supply on the shop floor, with the exception of those managing the front door and on the self-checkouts. Our shopper struggled to find staff to help finding products.
Results this week:
WINNER
Asda
Morrisons
Sainsbury's
Tesco
Location
Otley
Wimbledon
Wigston
Lewes
Date
18/04/2020
19/04/2020
20/04/2020
21/04/2020
Time slot
12pm-3.00pm
12pm-3.00pm
12pm-3.00pm
12pm-3.00pm
Shop starts
12:05
12:48
12:00
12:23
Visit Duration
01:07
00:48
00:55
01:08
Shop Duration
00:49
00:44
00:50
01:03
Cost (refer to the receipt)
£57.76
£57.80
£44.88
£111.39
Car Park (10)
7
9
8
10
Signposting (up to 1)
1
1
1
1
Queueing time to park (up to 2)
2
2
2
2
Trolleys (up to 2)
2
1
0
2
Queueing time from parking the car to enter the store (up to 3)
0
3
3
3
Feedback (up to 2)
2
2
2
2
The system in place was very efficient and well managed. I polite female member of staff stood at the fairly narrow entrance and exit point (there was no other option based on the single door design of the store) and operated a one-in-one-out policy. I arrived just around lunch (12:09pm) so I expected there to be a reasonably large queue. There were approx 20 shoppers in front of me and I entered the store at 12.25pm, having queued at a safe distance to others throughout. There was clear signage around social distancing and how to play in store. There was also markings on the ground to ensure people kept their distance. Some hand sanitation option at the door and a member of staff sanitising the trollies would have been my only improvements in an otherwise well-managed process.
The store was quiet in the centre of Wimbledon. There were barriers set up to manage the queue from the car park and a security guard operating a one-in one-out system. Trolleys are kept inside the store and had anti-bac wipes to clean the handles. It was all very easy and quick.
Quiet, no queue to car park Staff were not visible from outside, they were just inside the store motioning customers to come in. There were clear markings to aid social distancing while queuing outside the store. The queue moved quickly and was not too long.
The parking and queues were extremely well organised. the store had a member of staff chatting to customers as they queued as well as clear signs. before you entered the store there was cleaning spray and paper towels to wipe your trolley handle. te store had a one in one out system in place.
Store standards (20)
17
15
14
18
First impression (up to 5)
4
3
2
5
Feedback
The store is fairly small and compact so it has no foyer as such. I was disappointed with the lack of sanitisers, however on the plus front every member of staff was un-phased by the current situation and that came across as a large positive when shopping under the circumstances.
The store was spotlessly clean and tidy. Shelves were well stocked throughout, apart from the expected areas, which had stocked bt were not full stocked.
Very quiet, open, staff practicing social distancing. Staff did not interact with me unless I approached them but they were present at the front of the store.
It was excellent
Displays (up to 3)
2
1
2
2
Display feedback
I didn't feel that the end of aisle offers or displays were particularly designed to cater for customer's specific needs in the Covid 19 crisis. There was one end of aisle with a huge amount of UHT milk (see photo) but nothing else really stood out. No large packs, or no 'must have' items (loo roll, kitchen roll etc) seemed to be more prominently placed than usual, they also seemed to be on shelf as per usual. Perhaps the compact nature of the store made large displays of bulky items a hindrance rather than a help. The store had minimal customers inside to help with social distancing, that it made shopping without bumping into others a lot better than usual (although saying that, the chilled aisle was a little loop that also incorporated the bakery and made things a little tricky to keep one's distance from others.
There wasn't really much in the way of displays relevant to the times. There was a big display of Sol beer at the entrance of the store. However, the store is medium sized so has less room for displays.
A small an ordinary branch, no special displays. Items such as pasta, rice and toilet roll were well stocked, while eggs and flour looked depleted. Some promotions which were relevant to the current climate
The displays in-store seemed mostly normal. some essential items such as toilet roll, tinned tomato's, pasta/rice looked to have more space allocated to them. there was noticably very few new products being promoted
Availability and replenishment (up to 5)
4
4
4
5
Feedback
I was pleased to find a number of staff (some masked and most with gloves) were busy replenishing throughout - I counted 5 in total in a small store. Stripped bare was flour, eggs, tinned tomatoes. Heavily depleted was antibacterial hand-wash. Milk was also half empty, but there was still plenty. I was surprised ( and pleased!) to find toilet roll & kitchen roll were all stocked up.
The store was well stocked in fresh and in all the chillers, as well as frozen. There was nothing in the store you couldn't get. BUt the shelves for tinned tomatoes and pasta were a little emptier, however, there was still stock available. Staff were replenishing shelves where necessary but there wasn't too much to be done.
Shelves were reasonably well stocked. Considering that I didn't see a single member of staff in the aisles, it seemed that there were few people working at the time. Some areas could have used replenishing, such as the produce section. There were two members of staff stood by the doors, but only one controlling the flow of customers.
Everything was available. only low stocked category was flour and fresh herbs
Obstructions (up to 3)
3
3
3
2
Spillages (up to 2)
2
2
2
2
Condition of the store in terms of cleanliness (up to 2)
2
2
1
2
Store layout (10)
6
6
7
7
Did the store layout seem logical and intuitive? (up to 2)
2
2
1
1
Was it easy to navigate the store while also feeling safe? (up to 6)
4
4
6
6
Were there any click & collect services available at the store and were they operating effectively? (up to 2)
0
0
0
0
Shop Floor Service (20)
17
10
11
18
Product location (up to 5)
3
0
0
5
Staff politness/responsiveness (up to 5)
5
3
4
5
Feedback
Extremely polite and enthusiastic lady on the door (such positivity was great to hear in the circumstances). Helpful young man directed me to one product I needed, describing it's position fro me on the next aisle - he was on top of a ladder at the time so I didn't feel he did anything wrong by not getting down!
Staff were getting on with their jobs. But it was difficult to find staff to ask for help. There just weren't many on the shop floor. It seems most had been placed on check outs, which seems a sensible decision. The store was well stocked so had no need to ask staff many questions, but when I did it took a while to find one.
When I asked a member of staff who was on the self-checkouts about the availability of an item, she was polite but largely unhelpful and did not offer to look. The lady on the checkout was lovely and took the time to converse with me.
All the staff were extremely well informed on the location of items and to answer questions or concerns customers may have had regarding covid-19. all staff were also polite and looked happy
Was it easy to find a member of staff (up to 3)
3
1
1
3
Were staff easy to identify through their uniform or name badges (up to 2)
2
2
2
2
Staff presentation (up to 5)
2
2
2
1
Staff maintained a safe social distance when conversing or engaging or helping you?
2
2
2
2
Feedback
Tills and checkouts (20)
20
20
15
19
How well managed were the queues leading up to the till-operated checkouts in terms of maintaining order and social distancing? (up to 2)
2
2
1
2
How well managed were the queues leading up to the self-service checkouts in terms of maintaining order and social distancing? (Please observe after you've completed your shop, and include observations around attentiveness to customers requiring help due to flashing lights/unattended items in bagging area) (up to 2)
2
2
1
2
How long did it take to queue (prior to scanning) (up to 4)
4
4
4
4
Please rate checkout staff on their customer service and safety (up to 7)
7
7
6
6
Time for G33 items to be scanned (including payment) (up to 3)
3
3
3
3
Was the till receipt free of mistakes? (up to 2)
2
2
0
2
Feedback - please provide any further details/feedback on the tills and checkout:
There was a lady manning the queue and directing customers. We were aware of when we could commence putting items on the checkout and the 2 meter rule was always in play. I was served by a lovely lady called Kate, pleasant, made conversation, chatted about the current situation, busy periods etc. We did have a little confusion over Apple pay (I tried to pay with my phone not realising that ASDA had a limit on Apple contactless payment (not all retailers do). After a bit of faffing around trying to get the payment to go through, she remembered the limit, apologised and found a way to split my shopping into 2 transactions without rescanning everything - which as perfectly fine and a minor blip in an otherwise good shop.
The queue was managed with stickers on the floor at the far end of the store funnelling shoppers toward the tills. There was also a separate area for self check-out. As the queue moved closer to the tills, there was a member of staff directing shoppers to the number till that was available. The staff member on the till was really friendly and welcoming.
Receipt was not mistake free - missing strawberries
The staff at till point were polite and all where wearing "we're all in this together" t-shirts. all tills had sneeze screens. a nice touch were the "Together we can do this posters" located behind the till staff
Availability score (20)
3
9
0
20
Of the 33 items on your shopping list how many were:
Available (up to 20)
24
25
17
33
Out of stock (-2 per item)
8
3
5
0
Not stocked (-1 per item)
1
5
11
0
Availability %
75.0
89.3
77.3
100.0
Please note down the items on your shopping list that were out of stock (please highlight the products that have managed to get a satisfactory substitutions)
Fanta Zero cans x 6/8 - no substitution, plain flour 1.5kg Substituted products - no substitution, OL Kitchen roll - wanted 4 pack, bought 2 pack instead as 4 was, OL Olive oil - bought premium version as all other OL was OOS Branded antibac spray - bought OL instead as OOS Bonne Maman Raspberry - bought OL premium alternative as OOS Heinz Bean 6 pack reducded salt/sugar - bought single can of OL beans as OOS OL White and Wheat Tortilla wraps - bought OL plain as OOS
Doritos Chilli Heatwave (other Doritos flavours available, but did not buy)
Frozen Quorn mince (vegan mince available in the chiller but did not buy)
Cauldron Original Tofu (bought a different Cauldron tofu variety instead)
Flora light- 500g subbed for 1kg Fever tree tonic- Mediterranean cans subbed for indian bottles Sainsbury's rice- 2kg subbed for 4kg Butterfly popcorn subbed for metcalfe popcorn Sainsbury's ciabatta rolls
n/a
Please note down the items on your shopping list that were not stocked (please highlight the products that have managed to get a satisfactory substitutions)
OL fresh basil
Tinned black beans (other pulses available but did not buy)
Miso paste (no substitute available)
Jackson's Yorkshire bloomer (other loaves available but did not buy)
New York sesame seed bagels (bought plain NY bagels instead)
Vegn avocado spread (other vegan spread available but did not buy)
Plant Pioneer Chorizo shroomdogs (subbed for LMC) Plant pioneer hot and spicy goujons Bol soup Tropicana Watermelon & starfruit Amoy thread fine noodles Florette wild rocket and baby kale Melon fridge bag Finger chillies JD Apple liqueur Listerine Teeth and gum defence Innocent Hazelnut milk
n/a
Please give any other details or info about your shopping trip, good or bad
Hats off the everyone working in retail backend and front end, supply and customer facing - it can't be easy. I think everyone I encountered today did a fine job and did their best to keep us safe in what feels like a whole new world! As well as the NHS and social carers, I'll be clapping this Thursday for everyone in grocery retail who puts themselves in harms ways so we can keep things relatively normal by doing our weekly shop.
The shop had very few customers and had a good range considering its small size.
The shopping experience was very good. The atmosphere at the store was calm and shoppers seemed at complete ease. You could see lots of effort had been put in place to ensure this. It was probably one of the nicest shops I ever had
TOTAL SCORE (100)
70
69
55
92