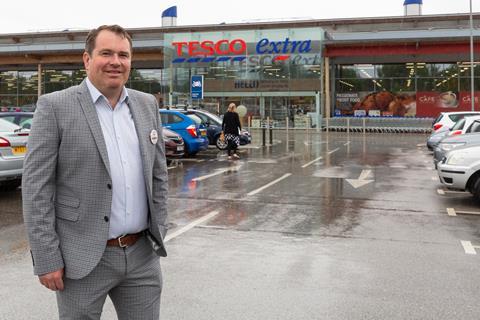 Winner: Tesco Lincoln
Store manager: Alex Boak
Open: 2014
Size: 80,000 sq ft
Market share: 22.4%
Nearest rivals: Waitrose – 1.1 miles, Asda – 1.6 miles, Morrisons – 2.9 miles
Store data source: Analysis by CACI.
Call the market planning group on 020 7602 6000
Availability was almost perfect this week. Are you back to pre-coronavirus levels? Pretty much. That is credit to distribution and suppliers, and also colleagues in store, whether through strong stock control routines or replenishment.
How has Tesco's ranging strategy helped keep availability strong? At the start, some suppliers reduced their range or sizes and we worked with that to offer customers some form of availability. Now, suppliers and manufacturers are getting back on track and we are reintroducing that range. The last few weeks we have been putting a lot of lines back into the store. The range is growing again.
Are you now trying to shift bulk stock bought during the height of panic buying? That is more store-specific. The bulk we got was on pasta, which recovered pretty quickly. We were sat on a lot of pasta, but in the main it has sold. There are some reduced-to-clear lines, but the reductions aren't heavy because they are ticking over. My back room is just like it was six months ago.
Social distancing was really strong in store. How are you maintaining that as lockdown eases? From the very off, the Tesco plan was impressive. The PoS packages and directions from head office on safety was very clear. It is very simple. Stay two metres apart, follow the directional signage. At the front of store, we have someone managing the flow of customers coming in. We have someone cleaning trolleys, as well as a sanitiser station. One thing we have learned is how to manage the flow on busier days, where we have a more active social distancing team in store. Ultimately, customers are aware how it all works now, so it has gotten easier. The key thing between us and our competitors is our PoS package is standout.
Any talk in the business at easing social distancing from two metres to one? Everything is always based on government guidelines and they still say two metres and where not possible it is one. But in a large Extra like this it is remaining two metres.
How many temporary colleagues did you hire and are any still working? At peak we took about 130 colleagues, roughly all on 15 hours. The one thing I would say is they were absolutely amazing. They came in with the best attitude possible and a determination to earn a living, provide a great service and be flexible. It really helped us move our plan forward.
What were they helping with? Our dotcom operation has doubled during the pandemic and that still is the case. I have about 70 temps still here and 45 of them are working in dotcom. Pick hours have changed from 6am until midday to 2am to 3pm.
How did you manage the surge in online demand? We have taken on nine drivers after being given extra vans. We opened up more delivery slots on a Saturday evening and a Sunday and really pushed it. We can offer here click & collect and home delivery from 6am till 11pm. We have 25 pickers to support the operation. Changing the collection hours from 8am to 6am has really helped the likes of paramedics, nurses, police, prison staff and other shift workers.
Has there been an increase in general merchandise sales as lockdown eases? Halfway through Covid we ran a 50% off promotion on clothing and there were a lot of other GM lines half price alongside that. It really supported given a great offer and pushing those items through the till and clearing the back areas. Clothing on the shop floor has recovered, but in the back areas we are not holding as much as normal. GM is mostly the same.
Did the reopening of the pubs have any effect in store over the weekend? We did expect it to be a little quieter, especially on beer, wine and spirits. However, locally, the weather was really poor. Yes, people went to the pub, but we didn't see an impact. It was basically just normal. If it was a hotter day, then maybe we would have seen a bigger impact. Potentially, the idea of queueing for the pub in the rain put people off and they came to the shop for a £7 case of Sol instead.
Tesco is ramping up the price war with Aldi. How is that strategy being felt in store? During the height of the crisis, customers were probably not as concerned with price, it was more about availability. But as it stands now you can see customers really focusing on our Aldi lines. A good example is the changes on health and beauty. You can really see the changes in what customers are choosing to buy before the pricing matching and after, with the PoS highlighting the price difference. Produce and meat of those matched lines just sell so well. The quality is the most important thing, and we are matching the price with better-quality products. We are on to a winner.